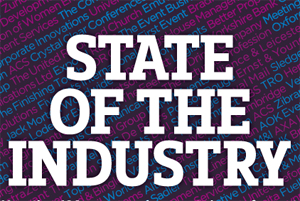 The economic downturn has had an unprecedented effect on the industry, with budget-conscious clients insisting on evaluating the success of events - those asking for ROI measurement went up from 17.5% in 2007 to 22.6% in 2008.
External forces
As clients reduced spending, the role of and investment in events was scrutinised. "In the second half of the year, there was greater emphasis on financial prudence as the economic slowdown started to bite," says TRO managing director Keith O'Loughlin.
Decision-making moved to increasingly senior staff which led to short lead-in times. "A lot of clients delayed budget sign-offs, which led to tight turnarounds - six to eight weeks," says BI head of events Mark Taylor. Agencies attribute increasingly short lead-in times to late budget sign-offs. "Clients held back with confirmations so they risked non-availability, which they preferred to cancellation fees," explains The Finishing Touch corporate events director Leigh Butterfield.
Grass Roots Eventcom director (client services) Lindesay Brown says some clients addressed budgets by consolidating many small events into one larger one, which maximised the use of infrastructure and staff time.
But with budget cuts came client sensitivity about perception. "Even if companies are doing alright, they don't want to be seen spending lots," says Zibrant managing director (sales) Fay Sharpe.
And as clients laid off staff, they also axed celebratory events. Butterfield says 5% of The Finishing Touch's clients cancelled Christmas parties last year: "If they were making redundancies they wondered how it would look to the other staff."
Christmas parties certainly took a hit last year, and some clients, particularly in the banking sector, cancelled to avoid scandal. But The Finishing Touch's Butterfield is optimistic that 2009 will be more festive as "staff need remotivating".
An obvious way to run cheaper events is to reduce their duration, and this move strengthened the popularity of day conferences. Clients cut the duration of overseas events from an average of 3.2 nights in 2007 to 2.9 nights last. The length of UK programmes remained static at 1.6 days.
Another quick cost-cutter was the use of cheaper venues, says AOK Events managing director Alex Hewitt, with a move away from five-star properties. And clients also began to drop 'extras' like gala dinners.
Event consolidation
Consolidating events was a practical way to conserve resources but Top Banana Team managing director Pete Saunders says big events were also due to mass internal communication requirements. "There were more larger, board-driven employee-engagement events as staff went through turmoil," he says.
There was also a greater emphasis on content as companies strove to communicate brand and business messages in a rapidly changing business environment. Fresh's Porter says: "Event messages shifted to communicating that firms were knuckling down to business."
Fortunately, this wasn't to the detriment of creativity. Grass Roots Eventcom's Brown observes that clients are still "keen to be the first to try new things" and demand creative, engaging audience programmes.
And while cash conservation saw procurement departments strive to minimise prices, many agencies adapted their working practices accordingly. "For some procurement professionals, it's about showing ROI, for others, it's about illustrating the correct methodology before the event," says Five Hats managing director David Waldman.
Incentive downturn
Clients are also moving away from incentives to focus more on launches as they focus on shifting products. "These are difficult times but products still have to be launched," says BI managing director Richard Bandell. "We've always done car launches but I suspect that proportion of our business will increase."
Most agencies noticed a fall in incentives and anticipate this will bottom out this year. "Clients across all sectors aren't committing to incentive travel but we're still getting inquiries," says DBMT managing director David Bottrill. This trend may in part be due to the difficulty in pinpointing ROI, according to Fresh's Porter, who anticipates that decline will be countered by ROI-measurable events. But it's also due to paranoia about extravagance. Zibrant's Sharpe says: "Clients still want to incentivise staff but they're doing things like taking 'lifetime experiences' out of destinations like Mauritius into the UK," she says.
Elsewhere, technology advances are shaping the sector and companies are experimenting with virtual meetings. "Other sectors are looking toward the pharmaceutical sector to see what conclusions it reaches in 2009," says Grass Roots Eventcom's Brown.
Destination trends
The most striking trend anecdotally that agencies reported was that clients were using the UK more, exacerbated by the weak pound, influencing clients to stick close to home. "There's a perception it's more responsible to do events in the UK," says BI's Taylor. "In the last quarter of 2008, we saw more financial clients staying in the UK."
This means clients are looking for non-traditional UK destinations like Norwich, and seeking out innovative venues. "Last year, we launched our Scouting for Venues system, where we match the personality and style of the brand with a venue," says Top Banana Team director (conferences and events) Duncan Highet.
Despite this, London retained the "top UK destination" title. However, the agency stats don't back the anecdotes, with the proportion of UK events sliding from 55% in 2007 to 45.8% in 2008, but this could be due to clients consolidating smaller events. Overseas, the US jumped to the number one destination, despite not rating a mention in 2007. In the Middle East, Dubai's popularity has fallen, while Oman has rocketed to top emerging destination and top destination pitched for the first time.
TOP 10 UK DESTINATIONS
1. London
2. Birmingham
3. Edinburgh
4. Scotland
5. Manchester
6. Midlands
7. Bristol
8. Home Counties
9. South Coast
10. East Midlands

TOP 10 OVERSEAS DESTINATIONS
1. USA
2. Spain
3. France
4. Barcelona
5. Italy
6. Berlin
7. Paris
8. Morroco
9. South Africa
10. Dubai

TOP 10 EMERGING DESTINATIONS
1. Oman
2. Croatia
3. Baltics
4. Montenegro
Vietnam
6. Australia
Estonia
Japan
Poland
Argentina
Have you registered with us yet?
Register now to enjoy more articles
and free email bulletins.
Register now
Already registered?
Sign in