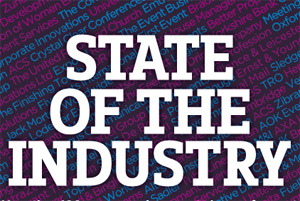 Redundancies corporate and agency side; budgets on hold or cut; public cynicism over corporate events at an all-time high - the challenges facing the UK events industry in 2009 are staggering. For the first time, C&IT has pulled together its annual Agency and Corporate surveys to create the State of the Industry Report. With more respondents than ever - 60 agencies and 50 corporates - it's C&IT's most comprehensive study for the UK events industry to date.
While many corporates and agencies report a decent 2008, their forecasts for the year ahead make for sober reading. According to the research, 72% of corporates have had budgets frozen or cut. Financial concerns topped the list of challenges for 2009, closely followed by redundancy fears and staff motivation.
Agency-side it's a similar story. Asked to describe the state of the market in last year's survey, 42% of respondents opted for 'excellent' or 'above average', with 58% thinking it 'average'. This year, the 'above average' figure plunged to 10%, and while 56% stuck with 'average', 31% found the market 'below average' and 3% 'poor'.
This manifested itself in event cancellations in the last quarter of 2008. With the financial sector under unprecedented pressure, it's no surprise that Bradford & Bingley - which suffered well-publicised financial problems and was subsequently acquired by Santander - has frozen all overseas incentive trips. Internal communications manager Caroline Baillie admits the bank's event programme was hit hard following its near-collapse last year. "Budgets will be cut," she says. "We've previously done overseas incentives, but these are unlikely to take place at all. Rates for conferences that do take place in the UK will be subjected to tough price negotiation as all costs will be under scrutiny."
Leigh Jagger, chief executive at agency Banks Sadler, is similarly frank: "It's going to be tough and anyone saying different is fooling themselves. We will be cautious and are not forecasting any growth. I will be very happy if we maintain last year's business levels."
Expansions and redundancies
While acquisitions and mergers dominated the past two years' surveys, 2008 brought that to an end. Overseas expansions did continue with big names such as THA putting £500,000 into four more European offices, while World Events launched a hub in Amsterdam, backed by smaller offices in Germany, Belgium and Bulgaria.
The European move has gone well according to World Events managing director Martin Parry, and - depending on results this year - there are plans for expansion into Asia. The agency's turnover fell £3.2m to £25.5m in 2007, but brought in pre-tax profits of £1.3m. It is predicting turnover of around £30m, backed by gross profits in the region of £1.6m, when it reports for 2008 this spring. "Our target was to better 2007 and we will have achieved that while investing in expansion," says Parry.
The less positive 2008 trend was increased job losses, with even big-name agencies cutting staff. BI lost 11 of its 116 employees in December, with pre-tax profits forecast to fall by 7%. "It was very difficult, but right for the business," explains managing director Richard Bandell. "We're not the first to have to do this and won't be the last."
Sector trends
A look at the chart indicating where agencies derive their revenues (page 21) tells its own story. Automotive and financial services both declined by around 3%, while pharmaceutical business doubled to 18.1%. The real surprise is the telecoms sector, which contracted from 15% to 7.1% of total agency business.
TRO receives some 60% of its business from the automotive sector and managing director Keith O'Loughlin has been watching the sector closely. "Some meetings were rescheduled into lower value venues in the third and final quarters of last year," he says. "We expect automotive to be less busy, so will keep business moving in other sectors, but the fundamental need remains so we do see an ongoing requirement."
Some corporates are still committed to events, albeit under heavy scrutiny of budgets. At Land Rover, global events and exhibition manager Gary Knight says there are no plans to cut any events. "Life goes on and dealerships still need to be served and motivated and so I'd estimate we'll do 150-160 events this year," he adds. "Some might be marginally scaled down, but we will be looking to get better deals from suppliers. Everyone is fighting for business, so we can be aggressive on price too."
As for financial services, all the agencies C&IT spoke to with clients in that sector said numbers were down, but how that will pan out remains to be seen. No doubt some events will be cut, but budget could be transferred into more publicly acceptable events, according to Roger Harrison, principal trainer at Zurich. "This could be Britain's year, as clients that previously travelled to the US and Europe will be more likely to stay at home," he says. "Training is likely to fare particularly well."
And some financial businesses flourish during a recession, adds CMM managing director Eamonn Hamilton. "Financial services are, of course, under pressure, but certain groups are very busy because of the state of the economy," he says.
Diversification is a key theme for the year, and even those agencies that specialise in the pharmaceutical market are looking to broaden their client base.
"Even with the pharma market there is a risk of having all your eggs in one basket," says David Waldman, managing director of Five Hats, a company which last year received 85% of turnover from pharma. "There is no such thing as a recession-proof sector."
So how can agencies plan the year ahead in such uncertain times? "Stay calm," says BI's Bandell. "Be disciplined with client payments, concentrate on what you are good at and don't give in on price."
But he admits it's going to be a tough test and Banks Sadler's Jagger agrees, noting that liquidity could be a problem for some. "Smaller agencies, unless they've got a good handle on their cashflow, will struggle," she warns.
Size may not be the defining issue, though. Many smaller agencies claim to be taking the same prudent approach. Top Banana Team, a 19-strong agency, is projecting turnover growth of £1m to £3.5m in the year to 31 January 2009. Managing director Pete Saunders says it's about getting the basics right. "To win new business, we are looking at specific companies where we know we can make a difference," he says. "But, the key is to not lose sight of what you've already got."
Any agency that is financially overstretched will clearly be hit hardest. But, if there are to be bun fights on price, the rest could be drawn in. Grass Roots Eventcom client services director Lindesay Brown has seen worrying signs. "We've seen competitors dropping prices to retain business," he says. "They are undervaluing their own and other agencies' services."
The test will come if clients focus on this. Zibrant managing director Fay Sharpe (sales) admits that while she will be looking out for this, it's a hard road ahead: "We review our business plan every three months and do a weekly key performance indicator report. This is going to be a year like we've never known and only the strongest will survive."
As 2009 continues, it will quickly become clearer who those agencies are.
Have you registered with us yet?
Register now to enjoy more articles
and free email bulletins.
Register now
Already registered?
Sign in