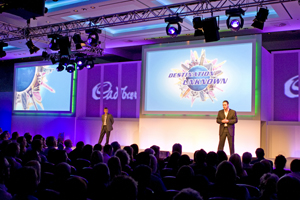 FACTFILE
Client: Cadbury
Event: National Sales Conference
Group size: 900
Agency: Four Brand Communications
Date: 18 September 2008
Venue: Sofitel Heathrow London
The brief: Cadbury holds an annual sales conference for staff across all of its sales channels, which include forecourts and newsagents, restaurants and leisure centres, wholesalers and grocery outlets. The event had been held at The Hilton Birmingham Metropole for the past few years, but for the 2008 event, Cadbury UK event and conference manager Sophia Fergusson wanted to find a new venue closer to London.
The conference's main objectives are to review the highlights of the previous year, motivate sales staff and brief them on plans for the forthcoming year, such as product launches, and advertising and marketing spend. The 2008 conference followed a restructure of the sales force, which involved changing employees' roles and taking on a number of staff, so it was also an opportunity to get everyone together to communicate the new structure and welcome recruits. "There were probably about 140 staff who were new to the company," says Fergusson. In addition, Cadbury planned to use the conference to unveil its first overseas incentive travel programme, Destination Unknown.
Challenges: Finding a venue that is accessible for staff travelling from all over the UK with capacity for 900 for a conference and on-site accommodation is not easy. Cadbury also wanted lots of on-site branding, so a hotel with a separate conference area was preferable. The company looked at several venues in and around London, including Wembley Stadium, but settled on the new Sofitel London Heathrow at Terminal 5. As the property did not open until July 2008, it was a building site for much of the planning process.
"We had to do a hard-hat tour when we first visited the hotel so it required a lot of imagination," says Sue Wesley, conference producer at Four Brand Communications, Cadbury's in-house design and production agency. "As with all new venues, there was a risk because we didn't quite know what to expect," she adds. The Cadbury conference was also the first large-scale client event to be held at the Sofitel.
Solutions: With 605 rooms and 45 meeting spaces, the largest of which can cater for a dinner or reception for up to 1,000, the Sofitel Heathrow London was an ideal venue for the conference. "It has a dedicated conference centre that comes with a foyer area on three levels, so we were able to brand it however we liked without being intrusive to other hotel guests," says Wesley.
As the property was still being finished while the event was planned, Fergusson and Wesley worked closely with the hotel's in-house team to ensure there were no problems in the run-up to the day. "As we were the first big conference, it was a learning curve for both us and them, and the team was very hands-on and hard-working. I think it was the first time a hotel general manager has been on the floor with me on the day of an event," says Fergusson.
Execution: Each annual sales conference has a theme, and 2008's was 'Battle for Britain', which focused on gaining market share over competitors. The day kicked off with a first-quarter briefing for around half the group, with the rest of the delegates arriving in time for lunch, before the afternoon's main session.
This included presentations from key company executives, all of which tied in with the Battle for Britain team, with speakers dressed in Top Gun-style outfits and military uniforms, and films and props used to make the presentations more interesting and engage and motivate staff. At the end of the main session, Cadbury officially launched its Destination Unknown incentive scheme, where it was revealed that the top 15 performers during the final quarter of 2008 would win a trip to New York with their partners.
The main room was then turned around for the evening dinner and entertainment, which included Bobby Davro and live band The Bogus Brothers. The room was dressed with graphics and statues from cities around the world to promote and build excitement around the Destination Unknown incentive, and delegates were given the option of wearing fancy dress.The following morning, there was an informal session called The Meeting Place, which allowed those staff who were new, or had recently moved roles, to meet and network with other colleagues from around the UK who already work in similar roles.
Verdict: "Using a new hotel was a challenge, especially having that many people in areas that have never been tried and tested before," says Fergusson. "We could have just gone back to the same venue we have used for the past few years, but the fact the team at Sofitel were so flexible gave the event a really positive feel and we worked well together." She was so impressed that Cadbury is going to hold another event at the Sofitel London Heathrow. Fergusson adds that feedback on the overall event was positive. "A lot of delegates have said how motivational the conference was," she says.
Have you registered with us yet?
Register now to enjoy more articles
and free email bulletins.
Register now
Already registered?
Sign in