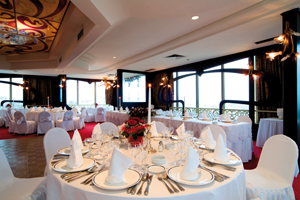 FACTFILE
Company: UEFA
Event: XXXII Annual Congress
Group size: Approximately 300
Agency: In-house
Date: 29 Jan - 1 Feb 2008
Venue: Various hotels/Hypo Expo XXI
THE BRIEF: European football body UEFA needed a continental city destination in which to hold its annual congress in the run-up to this year's European Championships. Croatia had recently come close to being awarded the 2012 tournament, so the organisation was familiar with Zagreb's infrastructure. Three days of conferencing had to be included in a full week's worth of set-up and events, and participants were travelling from every corner of Europe.
CHALLENGES: With two days of splinter meetings prior to the main congress, and more than 300 delegates arriving in Zagreb at various stages of the itinerary, organisers needed to source a number of suitable venues within a close radius of each other. Quality accommodation, effective security and strong transport links were all paramount to the congress' success. "The UEFA event was a fantastic endorsement of what the city can offer," says Jadranka Cubric, congress executive at Zagreb Convention Bureau.
SOLUTION: The centrally located Sheraton Zagreb was chosen as the main event hotel - hosting a press office, central information stand and leading delegates, with further participants accommodated in the nearby Westin. The five-star Regent Esplanade was used to host one of the dinners, with the recently unveiled Hypo Expo XXI designated for the main congress.
EXECUTION: Splinter meetings were held in the Sheraton's conference rooms for the first two days of the event, focusing on preparations for both the 2008 and 2012 Championships. A celebratory dinner took place in a glass-fronted marquee in the grounds of the Regent Esplanade before events moved to the state-of-the-art Hypo Expo XXI the following morning. The main hall was set up classroom-style with a panel of speakers on stage, making the most of the on-site technical and translation facilities. Delegates were taken to the Westin in the evening for cocktails and a round-table dinner in the property's Crystal Ballroom.
VERDICT: "The working relationship and facilities at the Congress centre were excellent and, being close to Zagreb city centre, meant the guests who were not involved in the Congress were able to have interesting sight-seeing excursions," says UEFA communications director William Giallard.
L'UEFA choisit Zagreb
UEFA a choisi Zagreb pour son congres annuel, en vue du championnat d'Europe de cette annee. Deux jours de reunion et trois jours de conference rassemblant 300 participants ont precede le congres annuel ; des sites proches les uns des autres etaient donc necessaires pour organiser l'evenement. Le Sheraton Zagreb, de par sa situation centrale, fut choisi comme lieu d'accueil principal des participants, les autres etant heberges a l'hotel Westin, a proximite. L'hotel 5* Regent Esplanade a servi de cadre au diner de gala et le tout recent Hypo Expo XXI a accueilli le.
UEFA wahlt Zagreb
In diesem Jahr hatte sich die UEFA entschieden, ihren Jahreskongress zur Vorbereitung der Europameisterschaften in Zagreb abzuhalten. Der dreitagigen Konferenz mit 300 Teilnehmern ging eine zweitagige Tagung voraus, daher benotigten die Veranstalter geeignete Hotels, die relativ nah beieinander lagen. Das zentral gelegene Sheraton Zagreb wurde zum Hauptveranstaltungshotel erklart. Weitere Gaste wurden im nahegelegenen Westin Hotel untergebracht. Das Galadinner fand im luxuriosen Regent Esplanade, die Konferenz selbst im kurzlich eroffneten Hypo Expo XXI statt.
La UEFA elije el Zagreb
La UEFA, opto por el Zagreb para la celebracion de su congreso anual de preparacion para los campeonatos de este ano. La conferencia de tres dias para 300 asistentes estuvo precedida por dos dias de reuniones, por lo que los organizadores necesitaron una gran cantidad de instalaciones proximas entre ellas. El centrico Sheraton Zagreb fue elegido como hotel principal del evento, y varios participantes se alojaron en el cercano Westin. El Regent Esplanade (cinco estrellas) acogio la cena de gala y el recientemente inaugurado Hypo Expo XXI el congreso principal.
Have you registered with us yet?
Register now to enjoy more articles
and free email bulletins.
Register now
Already registered?
Sign in