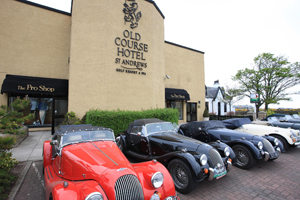 FACTFILE
Client: Garage Albert Morgan dealership
Event: Incentive
Group size: 130
Agency: In-house
Date: 9-14 May 2008
Venue: Old Course Hotel Golf Resort & Spa, St Andrews
THE BRIEF: The largest Morgan car dealership in Europe, Garage Albert, in Belgium, organises an annual reward and incentive scheme for clients who have bought at least three Morgans over the past 50 years. The Winter Rallies adventure tours aim to encourage fun, rivalry and a sense of community among Morgan owners.
CHALLENGES: In the past, Garage Albert owner Thomas Stammet has organised the Winter Rallies in Belgium, France, Luxembourg and Malvern Link, home of the UK Morgan factory. For 2008, Stammet required an inspiring destination with a driving circuit, culminating in delegates staying at a luxury hotel for a final day with an evening of recreational activities, encapsulating the spirit of the chosen location.
SOLUTION: The success of the 2007 tour around Malvern Link inspired Stammet to look further north for this year's event. "Few other countries can match Scotland's vibrant history and heritage and scenic driving splendour," says Stammet. "When we matched this against the country's famous traditions for whisky and golf and its reputation for a warm welcome, St Andrews came out on top as our choice of destination."
EXECUTION: The event brought together 130 participants, with 65 luxury Morgans. An 800km round-trip of Scotland was devised, ending at the five-star Old Course Hotel, Golf Resort & Spa in St Andrews. Called the Scottish Green Rally, guests completed the drive and arrived at the hotel, where they could experience golf, spa treatments and an evening sampling more than 200 whiskies from every distillery in Scotland.
VERDICT: Garage Albert's Stammet states that the round-trip of Scotland went according to plan with no mishaps, while the amenities at the Old Course Hotel Golf Resort & Spa and the final evening's activities were exactly what the drivers needed after their long drive. He says: "The Old Course Hotel's location, views and reputation really captured the essence of Scotland. It was an unforgettable journey."
Les Morgan entrent en competition
Le Garage Albert en Belgique, premier concessionnaire de voitures Morgan en Europe, organise chaque annee un programme incentive pour ses clients fideles. Cette annee, Thomas Stammet, proprietaire du garage, a rassemble 130 participants et 65 Morgan de luxe a St Andrews. Ils ont parcouru 800 km autour de l'Ecosse, le circuit se terminant a l'hotel de luxe 5 etoiles Old Course Hotel, Gold Resort & Spa, a St Andrews. Le Rallye Vert ecossais incluait golf, seances de relaxation et degustation de plus de 200 whiskies.
Morgan-Besitzer auf Rallye-Fahrt
Das belgische Unternehmen Garage Albert, Europas grosster Morgan-Automobilhandler, organisiert ein jahrliches Incentive-Programm fur treue Kunden. 2008 brachte der Besitzer des Unternehmens, Thomas Stammet, 130 Teilnehmer mit 65 luxuriosen Morgan-Oldtimern nach St. Andrews. Die Teilnehmer fuhren 800 km quer durch Schottland und beendeten ihre Tour im erstklassigen Old Course Hotel mit Spa und Golf-Resort in St. Andrews. Zur "Scottish Green Rally" gehorten unter anderem Spa-Behandlungen und einige Runden Golf. Ausserdem wurden uber 200 verschiedene Whiskysorten probiert.
Morgan adopta el espiritu rally
El mayor concesionario de coches Morgan de Europa, el belga Garage Albert, organiza un evento de incentivo anual para sus clientes mas fieles. En 2008, el dueno del garaje, Thomas Stammet, reunio en St Andrews a 130 participantes, con 65 Morgans de lujo. Condujeron 800km por las carreteras escocesas, para terminar en el Old Course Hotel de cinco estrellas, que cuenta con un golf y un spa en St Andrews. El Scottish Green Rally incluyo golf, tratamientos de spa y la cata de mas de 200 whiskys.
Have you registered with us yet?
Register now to enjoy more articles
and free email bulletins.
Register now
Already registered?
Sign in