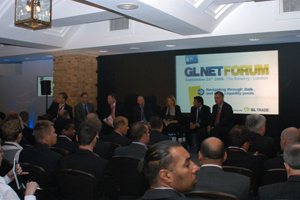 FACTFILE
Client: GL Trade
Event: Annual GL Net Forum
Agency: Inhouse
Group size: 700
Date: 25 September 2008
Venue: The Brewery, London
Budget: Undisclosed
THE BRIEF: Paris-based GL Trade is a global financial software solutions company, operating in more than 50 countries. For the past seven years, the company has hosted the annual GL Net Forum, a one-day educational and networking event for the financial industry, at The Brewery in London. This year's event featured 40 exhibitors, eight sponsors and ten media partners, and aimed to attract around 750 attendees.
CHALLENGES: With the target audience for the event including traders, exchanges, asset managers, investment banks, brokerage houses and private investors, the current economic climate was a challenge. GL Trade group events manager Helene Mante says the company was concerned the financial situation could affect delegate numbers. In addition, two weeks before the event, there was a fire in the Channel Tunnel, which affected the Eurostar timetable and meant longer journey times for delegates travelling from mainland Europe.
SOLUTIONS: To make it worthwhile for financial delegates to attend, Mante says: "We had to make sure we had a very strong programme and high-level speakers". As well as being a great opportunity for networking, the event included discussions on industry trends and product innovations, with speakers including the director of marketing at the Tokyo stock exchange, as well as executives from global banks and big technology firms.
EXECUTION: The event kicked off at 8.30am with coffee and registration, with the first break-out session 'How far can STP go in commodities?' starting at 9am. This was followed by two of the main conference sessions. The attendees then broke for lunch, which was sponsored by Kas Bank. In the afternoon, there was one final conference session and two further break-out sessions, and the day ended with a cocktail party, giving delegates, sponsors and exhibitors more time for networking.
VERDICT: GL Trade considered this year's event was another success, attracting more than 700 attendees. "We are pleased with the success of this year's event. We had very good and enthusiastic figures, especially considering the market situation, and the latest Eurostar incidents," says Mante.
Le GL Trade se retrouve au Brewery
GL Trade, editeur de logiciels financiers base a Paris, a tenu son GL Net Forum annuel au Brewery, a Londres. En raison de la crise financiere mondiale et l'incendie qui a perturbe le trafic de l'Eurostar, Helene Mante, responsable evenements du groupe GL Trade, etait soucieuse quant a l'impact sur les delegues concernes. Pour promouvoir l'evenement, la societe a mis en place un programme ambitieux porte par des professionnels de haut niveau, attirant ainsi plus de 700 participants. Mante declare: "Considerant la situation actuelle du marche, ces resultats sont tres satisfaisants et encourageants."
GL Trade tagt in The Brewery
In diesem Jahr hielt das Software-Unternehmen GL Trade mit Sitz in Paris sein alljahrliches Treffen in The Brewery, einer Brauerei in London, ab. Angesichts der Finanzkrise und der durch das Feuer im Eurotunnel erschwerten Anfahrt nach London war Eventleiterin Helene Mante besorgt, dass dies die Zahl der Teilnehmer beeintrachtigen wurde. Das Unternehmen organisierte daher ein umfassendes Programm mit interessanten Vortragen und schliesslich wurden mehr als 700 Teilnehmer registriert. "In Anbetracht der Marktlage haben wir eine sehr gute Teilnahmequote erzielt," so Mante.
GL Trade en The Brewery
GL Trade, empresa parisina de software financiero, celebro su "GL Net Forum" anual en The Brewery (Londres). La crisis financiera global y los problemas tras el incendio del Eurostar inquietaban a su responsable de eventos, Helene Mante, por su posible impacto negativo en las cifras de la empresa. Se organizo un solido programa con oradores expertos para hacer de este un evento ineludible, lo que atrajo a mas de 700 asistentes. "Conseguimos unas cifras excelentes, especialmente teniendo en cuenta la situacion del mercado," afirma Mante.
Have you registered with us yet?
Register now to enjoy more articles
and free email bulletins.
Register now
Already registered?
Sign in