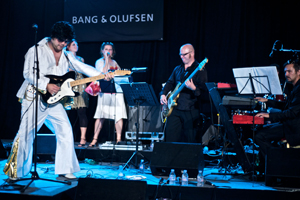 FACTFILE
Client: Bang & Olufsen
Event: Annual dealer conference
Group size: 1,300
Agency: CAT Productions
Date: 29 August-10 September 2008
Venue: Hotel Martinez, Cannes
THE BRIEF: Bang & Olufsen's (B&O) annual dealer conference has a series of aims - to instill confidence and excitement among its top dealers and introduce a range of products to the market. "In addition to this, our event is essentially about relationship-building," says Thomas Asger Hansen, international commercial training senior manager at the audio and video provider.
CHALLENGES: With 1,300 delegates from across the globe, arriving in groups of 350 for two-day events that were run back-to-back across a ten-day period, precision planning was the order of the day. Bang & Olufsen turned to Danish agency CAT Productions to assist with the logistics. A further challenge presented itself in the form of Bang & Olufsen's strategy to host large-scale conferences in venues that its enterprise division has worked within, which therefore also double up as a showcase of its products.
SOLUTIONS: The Hotel Martinez was selected due to its location in Cannes, as the airport boasts a good route network, making it easily accessible for the global audience. Furthermore, the Concorde Hotels & Resorts property proved an ideal brand fit, as Hansen explains: "At Hotel Martinez, the rooms are equipped with our products, so we get recognition from dealers that we are a high-end brand within a suitably high-end backdrop."
EXECUTION: Bang & Olufsen's event needed to evoke a very special experience for its dealers, says Gitte Harder Pecqueux, director of business and development, Hotel Martinez. "B&O wanted to create an intimate atmosphere across the two-day period, which could be recreated again and again for the five groups." The search was on to discover a hidden Cannes location that the group could hire exclusively. They found a small island, Sainte-Marguerite, just off Cannes, which was home to a small fort. The group left on a boat before enjoying workshops and presentations within the fort, plus picnics on the beach.
VERDICT: Both the venue and the location worked well for the brand and the sheer volume of dealers visiting over the ten-day period, explains Hansen. "The event and banqueting teams on site were excellent and the feedback from dealers has been very good. While some of the meeting rooms at the Martinez need a bit of investment, we would certainly use the venue again."
Bang & Olufsen a Cannes
La conference annuelle de B&O visait a stimuler l'interet des vendeurs pour une nouvelle gamme de produits. Les delegues, par groupes de 350, ont assiste a une serie d'evenements sur deux jours a l'hotel Martinez, a Cannes. L'agence danoise CAT Productions a conduit le groupe sur l'ile Sainte-Marguerite pour un programme d'ateliers & presentations, suivi d'un pique-nique sur la plage. "L'organisation des evenements et festivites sur place fut excellente, et la reaction des participants tres positive," a declare Thomas Asger Hansen, responsable formation chez B&O.
Bang & Olufsen in Cannes
Bang & Olufsens jahrlich stattfindende Handlerkonferenz soll Fachhandler aus aller Welt fur die neuen Produkte des Unternehmens begeistern. Die 1.300 Gaste nahmen in Gruppen zu je 350 Personen an einer Serie von zweitagigen Veranstaltungen im Hotel Martinez in Cannes teil. Die danische Agentur CAT Productions fuhr mit den Gruppen zur nahe gelegenen Insel Sainte-Marguerite, wo Workshops und Prasentationen organisiert worden waren, gefolgt von einem Picknick am Strand.
Bang & Olufsen en Cannes
La conferencia anual de Bang & Olufsen cuenta con levantar pasiones por una gama de nuevos productos entre los comerciantes mundiales. Los 1.300 delegados, en grupos de 350, asistieron a eventos de dos dias en el Hotel Martinez (Cannes). La agencia danesa CAT Productions los condujo a la isla de Santa Margarita, donde habia talleres y presentaciones, seguidas de un picnic playero. "Tanto el evento como los equipos de los banquetes fueron excelentes, los comentarios de los comerciantes fueron muy positivos," afirmo el responsable de formaciones B&O, Thomas Asger Hansen.
Have you registered with us yet?
Register now to enjoy more articles
and free email bulletins.
Register now
Already registered?
Sign in