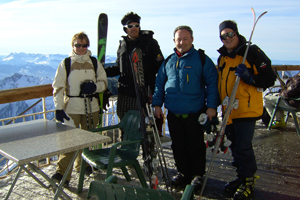 FACTFILE
Client: Vitol
Event: Corporate ski and team-building
Group size: 150
Agency: Ten80 Events
Date: February 2008
Venue: Concept One Chalet
THE BRIEF: Vitol, a major trading firm in the world energy marketplace, briefed Chamonix-based agency Ten80 Events to organise a three-week corporate ski event during February 2008 that met two different objectives. The event needed to include a team-building exercise for staff from its Geneva headquarters, which had to be fun, challenging, competitive and inclusive to both skiers and non-skiing staff. "Our client also wanted to maximise the value of the chalet over the three weeks to include elements of client entertaining," says Ten80 Events director Alistair Slinn. The agency managed to negotiate a three-week booking in luxury chalet Concept One, and the staff team-building exercises took place during weekdays, with three VIP-style client entertaining events held over the three weekends.
CHALLENGES: The key challenge was creating an event within the mountains that catered to skiers and non-skiers, as well as coping with a wide range of ages and mobilities. There was also a high turnover of participants over the three-week period, which added logistical challenges, with a new group of participants arriving from Geneva each morning at the same time as the previous group was departing, as well as clients arriving at the weekends. Another issue to contend with was the highly changeable weather conditions, and there was, in fact, one day when it snowed so heavily that the ski lifts had to be closed. "This not only meant we couldn't do the activities, but also that we could not reach the restaurant that we had been using throughout the event," says Slinn. "An added complication was that the clues to the team-building treasure hunt related directly to the ski area of Les Grands Montets."
SOLUTIONS: To make sure the event involved everyone and catered to varying abilities, Ten80 Events organised a team-building treasure hunt that contained a wide range of activities, including snow shoeing, igloo building and off-piste skiing. Dealing with the high turnover of participants required the whole process to be run like a military exercise to avoid mistakes, according to Slinn. As one group arrived in Chamonix, France, they were transported straight to a ski-hire shop for breakfast, a briefing and to be kitted out with ski equipment. While this was happening, the vehicles returned to the chalet to pick up existing guests and return them to Geneva. On the day that heavy snow forced the closure of the lifts, Ten80 Events relocated the group, including all the instructors and guides, to the next nearest ski resort that was open. This was Les Houches, about a 30-minute drive away. During the journey, Ten80 worked with the guides to devise new clues relevant to Les Houches, found another restaurant and briefed the teams on the rules of the game.
EXECUTION: Each week day, a new group of participants would depart from Geneva at 7.45am and arrive at Concept One chalet in Chamonix at around 9am. They were then transferred to Sanglard Ski Hire in Argentiere to discuss ski levels with instructors and get kitted out. They were then split into two teams and received a briefing on the rules of the game. Each team was equipped with a map, road book and ski instructor and given clues to help them find destinations. Non-skiers were also given a guide and sent off orienteering through the forest to find clues, wearing snow shoes and keeping in touch with their skiing team mates via walkie-talkies. Each time the teams arrived at a correct destination they received a word clue to the overall puzzle. The more destinations reached, the more words they collected to help them solve it. The first team to obtain all the words and solve the overall puzzle were the winners. The afternoon was spent at leisure, with delegates either skiing with instructors, or on their own, while those who wanted to relax could return to the chalet. Champagne was served at 7pm, followed by a four-course dinner. The group departed the following morning. For the client-entertaining at the weekends, Ten80 organised VIP treatment, including full-time ski guides, the best tables at the best restaurants, plus a fully chauffeured service throughout.
VERDICT: Vitol managing director David Fransen described the event as successful for Vitol. "I really enjoyed my day, and the pleasing thing for me was that everyone in Vitol Geneva enjoyed their day, whether skiing or walking, drinking or eating, in snow or sunshine."
Sur les pentes, avec Vitol
Vitol, societe de courtage en matieres premieres, a charge Ten80 Events, a Chamonix, d'organiser un evenementiel de trois semaines au ski, incluant activites de 'teambuilding' pour le personnel et les clients. Ten80 organisa une Chasse au tresor (ski de piste, a raquettes et construction d'un igloo) mettant en competition deux equipes qui devaient reconstituer un puzzle. Durant les trois semaines, des groupes de dix arrivaient de Geneve - activites le matin, apres-midi libre - un repas gastronomique en soiree, dans le luxueux chalet Concept One, ou ils sejournaient. Le week-end, les clients beneficiaient de moniteurs de ski a plein temps, chauffeurs et des meilleurs restaurants. Selon David Fransen, directeur general de Vitol : "Chez Vitol Geneve, tous ont apprecie les activites et divertissements, dans la neige ou au soleil."
Vitol begibt sich auf die piste
Vitol, eine internationale Olhandelsfirma, beauftragte Ten80 Events aus Chamonix mit der Organisation eines dreiwochigen Ski-Events fur Skifahrer und Nichtskifahrer mit Teambildungsaktivitaten fur die Belegschaft der Genfer Hauptgeschaftsstelle sowie als Entertainment fur Kunden. Ten80 organisierte eine Schnitzeljagd mit Snowshoeing, Ski fahren und Iglu bauen. Drei Wochen lang trafen pro Tag zehn Teilnehmer aus Genf ein. Fur den Vormittag waren Aktivitaten organisiert, der Nachmittag stand zur freien Verfugung. Das Abendessen wurde im luxuriosen Concept One Chalet serviert, wo die Gruppe ubernachtete. Am Wochenende wurden Skifuhrungen und ein Essen im besten Restaurant fur die Kunden organisiert. Vitol-Geschaftsfuhrer David Fransen meinte: "Der Tag hat allen gefallen, ob mit Ski fahren oder Wandern, Essen oder Trinken, im Schnee oder in der Sonne."
Vitol, en la cumbre
Vitol, importante empresa del sector energetico, encargo a Ten80 Events (Chamonix) organizar un evento de esqui de tres semanas para fomentar el espiritu de equipo entre el personal de su sede (Ginebra) y los clientes. La principal dificultad era crear un encuentro satisfactorio para esquiadores y no esquiadores. Ten80 organizo una busqueda del tesoro con marcha con raquetas, esqui y construccion de iglus: dos equipos enfrentados buscaban pistas para completar un puzzle. Cada dia llegaban grupos de diez de Ginebra; por la manana realizaban actividades, tenian la tarde libre y, por la noche, celebraban cenas gastronomicas de cuatro platos en el lujoso chalet Concept One, su alojamiento. Los fines de semana, los clientes estaban invitados a guias de esqui, restaurantes selectos y choferes. David Fransen, Director General de Vitol, afirma: "Todos los participantes de Vitol Ginebra disfrutaron su dia."
Have you registered with us yet?
Register now to enjoy more articles
and free email bulletins.
Register now
Already registered?
Sign in