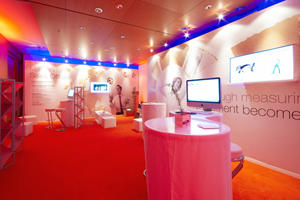 FACTFILE
Client: SCA Containerboard
Event: Customer event
Group size: 180
Agencies: Saatchi & Saatchi/Satis&fy
Date: 24 September 2008
Venue: Axica Berlin
THE BRIEF: SCA Containerboard, a division of global consumer goods and paper firm SCA, supplies paper to box and packaging firms. The company decided to organise its first pan-European event, inviting key customers from throughout the continent. "The purpose of the event was to introduce the supplier of choice marketing and sales programme to our customers and to have an inspiring dialogue with them about the way we work together," says Jean-Paul Resimont, vice-president and managing director of SCA Containerboard. The company turned to Belgium-based Saatchi & Saatchi's Business Communications division to help organise the event.
CHALLENGES: Serge Dekoninck, managing director of Saatchi & Saatchi Business Communications, says one of the key challenges was attracting customers to the event. "These were chief executives and managing directors, and we had to convince them to fly to another country and leave the office for two days," he says. "It was important that we could tease them with the location and venue." The Axica congress centre in Berlin, which was the chosen venue, also posed challenges. Its close proximity to the American Embassy means there are strict rules for the delivery of materials. In addition, nothing can be stuck to the walls in the Axica rooms, meaning that any structures have to be self-supporting.
SOLUTIONS: During a trip to Berlin to find a suitable venue, Saatchi & Saatchi visited the Frank Gehry-designed Axica centre, which fitted the client's brief of an inspiring location, and one that could be used to help seduce customers to come to the event. An image of the building was used in the invitation, and email and printed communications with customers were followed up on a local level with direct communications.Saatchi & Saatchi worked with local German event specialist Satis&fy on the event. "They were used to organising events at Axica so knew all the rules and regulations, which was a big help," says Dekoninck. To get around the issue of not being able to actually stick anything to the walls, Saatchi & Saatchi had to be creative with the design of the four areas - for example, a wall of boxes was created to line the walls of one meeting room.
EXECUTION: Delegates arrived in Berlin on the morning of the event, which kicked off at Axica at around midday with a welcome lunch.The main presentation, to outline SCA Containerboard's communications strategy, started at approximately 1.30pm and lasted for around an hour, after which the customers were encouraged to spend the next several hours visiting four areas set up at Axica to learn about SCA Containerboard's range of products and services. Delegates were transferred to the nearby Westin Grand hotel, where they were staying overnight, to freshen up and relax before the dinner and entertainment back at Axica. Delegates departed the following morning.
VERDICT: SCA Containerboard communications manager Christine Meul was impressed with Axica as a venue. "This is a brilliant place and it really fits well with the spirit of the SCA brand and what we wanted for the event," she says. "The event was very well organised and the first reactions from our customers have been really positive." She adds that the company will definitely consider doing another European event on this scale in four to five years' time.
SCA inspire ses clients cles

SCA Containerboard, division de la fabrique de papier SCA, fournit du papier d'emballage. Son premier evenement europeen visait a communiquer sa strategie marketing et ventes. La division Communications Entreprise de Saatchi & Saatchi fut chargee de trouver un lieu unique et un contenu attractif destine aux PDG et DG de ses clients cles. Axica, le centre de congres de Berlin, signe Frank Gehry, fut choisi et Saatchi & Saatchi loua les services de l'agence locale DMC Satisfy pour respecter la procedure rigoureuse. Les delegues assisterent a une premiere presentation avant de visiter quatre secteurs 'produits & services' de l'entreprise. La soiree s'acheva par un diner. Christine Meul, responsable Communications de CA Containerboard, declare : "L'organisation evenementielle etait parfaite et les premieres reactions de nos clients tres positives."


SCA inspiriert seine Kunden

SCA Containerboard liefert Papier an Verpackungsfirmen und wollte seine Kunden uber eine neue Marketing- und Verkaufsstrategie informieren. Saatchi & Saatchi wurde beauftragt, einen aussergewohnlichen Veranstaltungsort fur ein aussergewohnliches Event zu finden. Man entschied sich fur das Axica-Kongresszentrum in Berlin, und Saatchi & Saatchi bat die ortliche Agentur DMC Satisfy, bei der Einhaltung der strengen Vorschriften des Zentrums zu helfen. Die Teilnehmer besuchten zunachst die Hauptprasentation und anschliessend vier entsprechend den Produkten und Dienstleistungen des Unternehmens gestaltete Bereiche. Den Abschluss bildete ein festliches Abendessen. Die Kommunikationsleiterin von SCA Containerboards, Christine Meul, erklarte: "Die Veranstaltung war gut organisiert und die Ruckmeldungen unserer Kunden waren ausserst positiv."


SCA inspira a sus clientes clave

SCA Containerboard, una division de la empresa papelera SCA, deseaba organizar su primer evento europeo sobre su estrategia de marketing y ventas. Encomendo a la division de comunicacion empresarial de Saatchi & Saatchi encontrar unas instalaciones unicas y crear un contenido atractivo para los CEO y DE de sus clientes clave. Seleccionaron el centro de congresos Axica de Frank-Gehry (Berlin) y recurrieron a los servicios del prestatario local German DMC Satisfy para cumplir las estrictas normas del complejo. Los delegados asistieron a una presentacion principal y visitaron cuatro areas en torno a las lineas de productos y servicios de la sociedad. Por la noche se celebro una cena. La responsable de comunicacion de CA Containerboard, Christine Meul, afirma: "La organizacion del evento fue fantastica y las primeras reacciones de nuestros clientes han sido extremadamente positivas."
Have you registered with us yet?
Register now to enjoy more articles
and free email bulletins.
Register now
Already registered?
Sign in