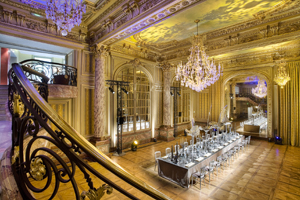 The Incentive
Most incentive activities in Paris focus on what the 'city of lights' is famous for - its culture, heritage and gastronomy.
First-time visitors will inevitably want to see some of its iconic landmarks, but don't just follow the well worn path, says Cyril de Fontenay, director of sales and marketing at DMC, La Fayette Travel. "Go backstage at the opera house or behind the scenes at the Eiffel Tower to see how they work," he suggests.
Treasure hunts are also a popular way to familiarise groups with Paris. Visitors including Accenture, Barclays and Honda have discovered the authentic heart of Paris this way. For the quintessential French experience, travel by Citroen 2CVs as organised by 4 Roues Sous Un Parapluie ('four wheels under an umbrella').
Alternatively, explore Paris' charming cobbled streets through a camera lens. Paris Hors Piste combines a treasure hunt with well known film locations, enabling groups to put their Spielberg skills to use. Or travel firm Isango organises photographic tours of the key sites. "We've organised them in the Latin Quarter, as there are some interesting backdrops there," says product manager Justin Mandal.
For fans of haute cuisine, Isango offers small groups of gourmets the chance to try their hand at French cooking in the home of a countess. For the less gastronomically inclined, it also offers wine-tasting or a perfume-making workshop with the opportunity for individuals to create their own signature scent. If living, drinking and eating like a Parisian isn't enough, delegates can even learn how to act like one at the French Courtesy School in the chic area of Saint Germain des Pres.
Fashionistas are spoiled for choice in Paris with numerous boutiques on their doorstep, not to mention personal shopping and concierge services offered by luxury department store Printemps or VIP shopping privileges with a UUU (Ultimate Luxury for U) membership card from agency FashionID.
The Management Forum
"Paris offers an endless array of venues guaranteed to impress, and the list of venues keeps evolving," says Paris Convention & Visitors Bureau conference and incentive marketing manager Corine Bernadou.
One of the latest to open its doors to private parties of up to 150 is the International Diplomatic Academy, located in the prestigious Avenue Hoche. "It's a really beautiful place to use for meetings and gala dinners," says La Fayette's de Fontenay.
On the same road is Salon Hoche, a classical French property boasting four meeting rooms, the largest of which can seat 300 delegates. Another popular venue is Pre Catelan, famous not only for its delightful location in the Bois de Boulogne, but also its high-quality catering from Lenotre. "You can combine a wonderful lunch or dinner with a meeting for 100 in the beautiful salons," says Sophie Gambino, assistant manager of DMC Metropolis Incentives.
Many of Paris' museums also have space for hire. Melanie Delaplanche, account manager at First Protocol, suggests Musee Jacquemart-Andre for its superb art collection. "It is not a new venue but it never fails to impress," she says.
When it comes to eating out, she recommends Maison Blanche. "It has contemporary design and amazing views of Paris, so it's an ideal venue for busy people who don't have time to discover the city," she explains. For a more unusual dinner venue, Holly Brett, account director at World Events recommends the wine cellars, Les Crayeres des Montquartiers. "It's a really flexible space," she says.
After dark, P&MM's client services director, Chris Clarke, suggests tapping into classic Paris with a trip to one of its famous cabarets. Bobin'o is the cool new kid on the block or, for larger groups, he suggests hiring the entire Moulin Rouge.
The Annual Conference
The number of large venues in Paris has grown in recent years and helped to put the French capital on the map for congresses and exhibitions.
The Palais des Congres boasts 41,000m2 of conference and exhibition space, including the stunning Grand Amphitheatre, which was revamped last year. At La Defense, the Espace Grande Arche's 9,500m2 of space is ideal for corporate events and mid-sized exhibitions. A similar capacity is available at Espace Champerret, which had its three exhibition halls renovated this summer and a new glazed pavilion built to make the venue stand out.
Another popular choice is the Carrousel du Louvre, which offers 7,100m2 space divided into four elegant meeting rooms. Half of all the 40 largest stocks registered on the Paris stock exchange hold their shareholder meetings here.
Well known chain properties - Intercontinental Paris Le Grand, Marriott Rive Gauche and the recently renovated Hilton Paris La Defense - also offer a choice of spaces, some of which are surprisingly large and opulent, such as the Westin Paris' Concorde ballroom.
To escape from the buzz of the city, visit the decadent Pavillon d'Armenonville, on the edge of the Bois de Boulogne. Alternatively, step back in time at La Conciergerie, which includes the remains of the oldest Parisian royal palace.
The Palais Brongniart offers an historical setting of a different sort - it's the former home of the Paris stock exchange. Nowadays, the vast auditorium is more likely to play host to private groups. At the other end of the spectrum are stark, contemporary venues like the new 104 or L'Usine, a converted factory near the Stade de France, both of which give event planners scope to decorate how they wish.
DIRECTORY PARIS
Paris Convention & Visitors Bureau
Contact Corine Bernadou +33 149 52 53 96
Email cbernadou@parisinfo.com
Web www.parisinfo.com
Have you registered with us yet?
Register now to enjoy more articles
and free email bulletins.
Register now
Already registered?
Sign in