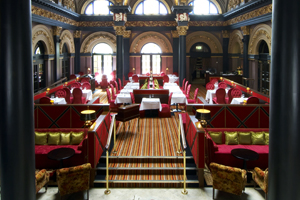 £140 Day-delegate rate
Solution The Merchant Hotel
Number of rooms 26
Largest meeting space holds 40
Tel 028 9023 4888
Web www.themerchanthotel.com
The lowdown Set in the Cathedral Quarter, the five-star, 26-room Merchant Hotel is now widely regarded as the jewel in Belfast's hotel scene and is the result of a £10m transformation of the former 19th-century Ulster Bank building.
The Grade I-listed property is Italianate in style, characterised by the huge dome surrounded by sculptures depicting science, poetry, sculpture and music above its Great Room restaurant. The Bar is home to the rum-based Mai Tai, which the hotel claims is 'the world's most expensive cocktail'. There is also a nightclub, Ollie's Club and a chic private residents and members' bar. The bedrooms are opulent, and five named suites, which are set around the dome of the former banking hall, are each uniquely designed with four-poster beds and open fires. Its private meeting and dining rooms can cater for small groups of up to 40 and can also be customised to meet most requirements. By 2011, the Merchant will have completed an expansion, which will see another 60 rooms added, as well as meeting and spa facilities. In the meantime, incentive groups can hire the hotel's chauffeur-driven Bentley.
Verdict Terence Brannigan, chief executive of Ireland's largest supplier of facilities management services, Resource says: "The Merchant's central location, excellent food and high-quality facilities and service make it an ideal location for us to meet with clients. We regularly use the hotel's members' bar and private dining room for business meetings. When we rebranded the company in November 2006, the Merchant's Great Hall was the ideal venue to host our business breakfast briefings."
Agency MCI Belfast also recently used the property as a backdrop for a reception on behalf of a retail franchise firm before moving guests to the nearby Odyssey Arena for a screening of Sex and the City.
"It's ideal for small meetings of about 20 people theatre-style or dinner for groups of 16," says MCI Belfast managing director Lesley Maltman. "Its appeal is in the spectacular design and kudos of its guestbook. We did an event there last August and Meryl Streep attended because she was already staying at the hotel."
£160 Day-delegate rate
Solution The Europa Hotel
Number of rooms 240
Largest meeting space holds 750
Tel 028 9027 1066
Web www.hastingshotels.com
The lowdown This four-star property, located in the heart of Belfast, and once infamous for being the most bombed hotel in Europe has since hosted pop stars and presidents. Its history during the troubles and its inextricable tie-in with the Northern Ireland peace process has meant it's a regular haunt for famous faces. It also remains a firm favourite among the capital's meeting planners including MCI Belfast and clients such as Northern Bank, the Chartered Institute of Public Relations and the American Consulate.
In March 2008, its former basement nightclub was transformed into a 665m2 events space. The Europa Exhibition Centre can hold between 40-50 exhibition stands and has a capacity of 550 delegates theatre-style or 600 for a standing reception. It has its own private access from the street and can be completely blacked out for functions. Following a recent £7m extension and refurbishment to the hotel itself, another 25 rooms have been added, bringing the total to 275, which includes one Presidential Suite, five junior suites and 91 executive rooms. Including the Exhibition Centre, the Europa offers 17 conference suites and the Grand Ballroom - one of Northern Ireland's largest hotel function spaces - is suitable for up to 750 guests theatre-style or 500 for an awards ceremony.
Easy access via the car park ensures it is suitable for car launches and it is ideally positioned next to the city's Grand Opera House and within close proximity to the Waterfront Hall and Odyssey concert venue.
Verdict David Warwick, founder and managing director of Warwick Events says: "Working with the Hastings Hotel Group on a conference for the Society of Information Technology Management, I suggested we turn the Elephant Rooms nightclub under the Europa into an events space. Since completion, a number of exciting events have taken place there and I look forward to a long and successful partnership with the Europa to bring national and international business to Belfast."
£210 Day-delegate rate
Solution Hastings Culloden Estate and Spa
Number of rooms 105
Largest event space holds 600
Tel 028 9042 1066
Web www.hastingshotels.com
The lowdown When this magnificent Gothic Bishop's Palace was built, it was positioned to benefit from splendid views and the shelter of the Holywood Hills. Now, some 130 years later, guests can enjoy its secluded surroundings overlooking Belfast Lough, just five miles from the city centre. Inside, the property's fine antiques, valuable paintings, and Louis XV chandeliers make the hotel a much sought after venue.
The Culloden is equipped for events of any size and offers eight purpose-built conference suites and boardrooms. The Cumberland and Stuart suites are ideal for larger functions - the latter can seat up to 600 for a banquet. It also has its own reception area and a private marble atrium entrance via the Lady Jane Tower. BMF Conferences staged the 13th annual Northern Ireland Economic Conference there on behalf of BMF Business Services in October.
For incentive groups, the Culloden offers tailored programmes at its E'spa facility. Pre-arranged tee-off times can also be organised at the nearby Royal Belfast Golf Club, while horse riding and sailing facilities are close by and Belfast city centre is ten minutes away.
Verdict Independent financial advisor, the Tenet Group, hosts training and development sessions at the hotel three times a year. Tenet Group events coordinator Amanda Hallinan says: "In addition, we attend its Christmas Party nights. This is a fantastic informal social event for our advisers to get together. The facilities at the Culloden are fantastic, flexible, modern and well looked after. Special praise has to go to the events team, who are knowledgeable, polite and remember our little quirks."
INCENTIVE OPTIONS
Belle Isle Castle Estate Cookery School
Ideal for gourmets
Belle Isle Castle Estate on the northern tip of Upper Lough Erne, County Fermanagh boasts a renowned cookery school. Run by resident chef Liz Moore, it is in an idyllic location close to the main courtyard of the restored 18th-century castle. It specialises in fresh, seasonal produce from the estate and delegates get the full hands-on experience.
Web www.belleisle-estate.com
Helicopter Treasure Hunt
Ideal for thrill seekers
Incentevents offers Helicopter Treasure hunts around the eight islands of Belle Isle. Two helicopters can transport eight delegates in each for a morning's ride that can be combined with Snipe shooting from a boat on one of the lakes.
Web www.incentevents.co.uk
City tour
Ideal for history buffs
Guided tours of Belfast take in the splendour of City Hall with its Whispering Gallery, as well as the magnificent Queen's University, founded in 1845. The tour will continue to the prestigious Parliament Buildings at Stormont, built in 1932, following the partition of Ireland. See the sectarian murals in the west and complete the tour at the Ulster Folk & Transport Museum.
Web www.belfastconventionbureau.com
Pub circuit
Ideal for the craic
The Crown Liquor Saloon, with its ornate tiled Victorian exterior and gas-lit interior is an ideal starting point for a tour of Belfast's pubs. A Blue Badge Guide will escort delegates around the city's most historic pubs, including White's Tavern, the Kitchen Bar and McHugh's - Belfast's oldest building.
Web www.belfastconventionbureau.com
Belfast Castle
Ideal for traditionalists
A traditional Irish Evening at Belfast Castle allows delegates to taste local produce beginning with a Black Velvet reception and enjoy an evening of traditional Irish music, dancing and the 'craic'. The Castle offers panoramic views of Belfast Lough.
Web www.belfastcastle.co.uk
DIRECTORY BELFAST
Belfast Convention Bureau
Contact Belinda Hawthorne, 028 9023 9026
Email BelindaH@belfastvisitor.com
Web www.belfastconventionbureau.com
Have you registered with us yet?
Register now to enjoy more articles
and free email bulletins.
Register now
Already registered?
Sign in