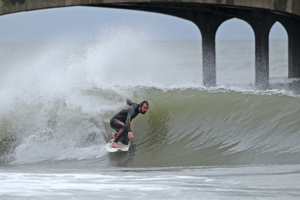 The UK's political parties are no longer the only big groups that are attracted to the south coast resort of Bournemouth. Corporate groups from BT, Serco and Standard Life have all been drawn to the seaside town's wide variety of hotel and meeting facilities and vibrant nightlife.
"Our business tourism figures for the financial year 2007/8 show that the value of Bournemouth's meetings industry is up by nearly 12 per cent on the previous year," says Clive Tyers, head of conferences, exhibitions and events at the Bournemouth International Centre (BIC).
A new marketing approach this year has seen the Bournemouth International Conference Bureau (BICB) promote the town at this year's International Confex and Event UK, with a surf-themed campaign, to tie in with the launch of Europe's first artificial surf reef in the Boscombe area of Bournemouth. So far, the strategy appears to be working - the stand won Best Destination Stand at Confex and the BICB's booking figures are up 125 per cent on the same period last year.
Business tourism is estimated to have brought £127.6m investment into the town, of which £73m is attributed to the BIC and Pavilion.
The BIC continues to attract the big-hitting conferences - the Liberal Democrats, Royal College of Nurses, Unison and the Police Federation were among the groups using its exhibition and meeting spaces this year. But Bournemouth also appeals to corporate groups wanting a coastal retreat with a wide choice of venues. Tate & Lyle held a conference earlier in the year at the Captain's Club in nearby Christchurch. "We wanted to get everyone out of the office and away from London to meet somewhere that was fairly easy to get to," says Geraldine Carroll, PA to the firm's directors.
Pickled Egg Events has also used venues in Bournemouth to entertain corporate groups from Samsung and Canon. "Bournemouth is appealing for its nightlife," says event manager Georgina Knight. Popular venues for after-hours entertainment include Aruba, a Hawaiian-themed bar, the Landmarc, a converted church now used for exclusive event hire, and 2020, Bournemouth's glamorous new 'super club'.
One of the problems Bournemouth has suffered from is a lack of top-quality accommodation. While there are some high-end four-stars: from the Highcliff Marriott to De Vere's Royal Bath and the Carlton to East Cliff Court, the town still lacks a central five-star property. But, at the lower end of the scale, the CEM's Hockey says that there has been huge investment by some three-star properties to bring up the quality. For example, Durley Dean, a Victorian townhouse, reopened in August with a contemporary look after £4.2m cash injection from its new owner, Folio Hotels.
Domestic and international access should prove easier too, with more carriers using Bournemouth Airport. Ryanair flies to 15 destinations from there and the airport is investing £45m in expanding its offering.
With plans for a four-star hotel offering training for hospitality students, it is clear Bournemouth is intent on being taken seriously as a destination for C&I. This should help see it through any economic uncertainty and, as the BIC gears up to celebrate its 25th anniversary, ensure that C&I business is still going strong in the city by the time of its golden jubilee.
DIRECTORY BOURNEMOUTH
Bournemouth International Conference Bureau
Contact Karina Gregory, 01202 456546
Email bicb@bournemouth.gov.uk
Web www.bournemouthconferences.co.uk
Have you registered with us yet?
Register now to enjoy more articles
and free email bulletins.
Register now
Already registered?
Sign in