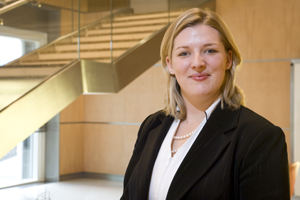 Thomson Reuters has just been placed 44th in Business Week's global brand ranking, and Kate Coldwell has every reason to feel proud. As global head of the Office of the Chief Marketing Officer in the company's Markets Division, she played a key role in launching the brand following the Thomson Corporation's acquisition of Reuters on 17 April this year. The launch and globally synchronised unveiling of the branding was the biggest to date in Coldwell's career and included events staged across the globe. Coldwell's own name in corporate circles was made early in her career, when she became Cable & Wireless's youngest ever director at just 23. Seven years on, she provides strategic guidance to Thomson Reuters Markets' 25-strong events team, who are based across the world and organise some 550 events each year. These include conferences for 2,500 and 'news-maker' events that attract the likes of Tony Blair, through to small forums for clients.
Holistic approach
Events are very important as long as they're done in balance with the other tools at our disposal. I do think you can overdo them and people can be bombarded with requests for conferences. But events can be really valuable and when you get that right mix they are phenomenally powerful.
Agents of change
Sometimes you can get slightly stuck in a rut and end up doing the same thing year after year. We use agencies to keep our events fresh and to help us change and tweak things in a subtle way so we stay true to our events programme, but continue to make it engaging for the delegates and guests.
Getting the ball rolling
I was president of the student union at my sixth form college in Farnborough when I was 17, and I remember putting together the party, which I wanted to be a ball. So we went all out to develop an event for our 2,000 students.
Simple ain't easy
It's ironic that the events that appear to be seamless and straightforward tend to be those that have been the most complicated to organise.
Ice cool in a crisis
One nail-biting moment came at a New Year party at the Gherkin. It was very sophisticated and everything had an underwater theme including the food. Guests were due to arrive at 6.30pm but the ice for the oyster bar didn't arrive until 6.20pm. We rescued the situation and no one ever knew but it was quite concerning.
Team tactics
It's essential to make it clear where both your supplier and your own team's roles start and stop. You must ensure suppliers are part of the extended team because a 'them and us' mentality can be damaging and counter productive.
The feeding of the 400
We're spoiled for choice of venues in London. The Gherkin and the Tower of London are excellent. We're good up until about the 400-guest mark but then it becomes a bit tricky for larger groups.
Less can be more
During an economic downturn, you need to increase your marketing dollars to ensure you are ahead of the competition. It's about being rigorous, applying simple and practical rules, doing less but better, and ensuring everything you do has an impact on your clients.
Earning my wings
I'd be a pilot if I had to choose an alternative career. I spent three years doing basic flying training with the RAF, which sponsored me through university. Then I went on to get my private pilot's licence. You have to use your brain and connect with the aeroplane. There's a great sense of freedom about it. But there are hair-raising moments, especially when the weather changes or you're flying near a huge commercial airliner.
CAREER HIGHLIGHTS
Professional
2001 Cable & Wireless, director of network development and strategy
2004 Thomson Financial, head of strategy, Europe
2006 Reuters, global head of marketing communications
April 2008 Thomson Reuters Markets, global head, Office of the Chief
Marketing Officer

Personal
Hobbies Flying - especially in summer, playing tennis, horse riding,
golf
Favourite restaurant Hakkasan in London
Dream car One of the new soft-top Bentleys
Favourite hotel The Anantara, Maldives
Favourite city Paris
Have you registered with us yet?
Register now to enjoy more articles
and free email bulletins.
Register now
Already registered?
Sign in