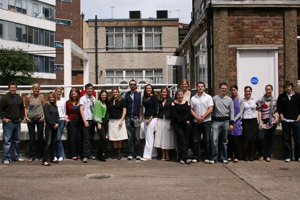 - Location
Shoreditch, London
- Staff
25 full-time employeees, plus occasional freelancers according to need.
- What's the lowdown?
The young agency has grown its C&I offer by bolstering its team with additional staff, and achieved significant business wins in the FMCG sector. This year, it also moved office from Putney Bridge to Shoreditch.
- How's business?
Agency founder and director, Matt Smith, says business is going strong. It achieved revenue of £3.5m in the year end to December 2007 on the C&I side of the business. Smith forecasts revenue to be up 50% by the end of this year, which he says is an achievement given the challenging financial situation worldwide. "We have a clearly targeted sales strategy for the industry sectors that we work in and have expanded it into new ones," he says. In 2008, the company recruited seven new staff to handle C&I work, taking the total to 13.
- What are your financial targets for the next year?
Black Tomato is holding off setting firm financial targets due to uncertainty about the global economy. Smith says: "We haven't pinned down exactly what we are looking to achieve because there has been a lot of change over the past three months in terms of client budgets. In any normal year, the targets would be done and dusted. It will be another growth year but probably not as aggressive as 50%."
- What's your growth strategy for 2009?
"The main things are winning new accounts and introducing a fuller range of our services to existing clients," says Smith. "Our sales team will go out and talk to people to raise awareness about Black Tomato. We are trying to put in as many pitches as possible as we have a good conversion rate."
- Event highlights for 2008
An incentive to Istanbul for a building sector company's 300 dealers, which include chartering a private plane, five-star accommodation and day excursions. Also a client entertainment and conference event for a telecoms firm saw 80 delegates fly to Beijing, with a gala dinner at the Great Wall and a visit to the Forbidden City among other activities.
- What industries have strong business potential in the current climate?
Smith believes the insurance, law and FMCG markets still look promising at this stage. "We think these industries will be slightly less badly affected by the world's sensitive economic situation," he says.
- Currently pitching for
A Las Vegas incentive programme for a retailer that will involve around 360 delegates, a New York weekend incentive in February for 60 guests of a technology distributor, and board meetings in Dubai/Abu Dhabi for TV channels, which will include travel by Rolls Royce and seaplane in March.
- How will global financial troubles impact on the industry?
"There will be fewer events out there as client budgets decrease, so we will all be fighting harder to win new business," predicts Smith.
- Expansion plans
The agency is opening an office in New York early next year. "We will definitely be pushing our C&I services there," says Smith. If this is successful then - longer term - the possibility of openings in Sydney, Cape Town, Moscow and Beijing would be investigated.
- Dream client
Smith says: "Probably Diageo because it has a great portfolio of brands and it's always forward thinking."
Have you registered with us yet?
Register now to enjoy more articles
and free email bulletins.
Register now
Already registered?
Sign in