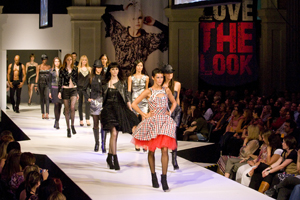 FACTFILE
Company: New Look
Event: Conference
Group size: 850
Agency: Fresh Group
Date: 23 September 2008
Venue: Old Billingsgate, London
Budget: Undisclosed
THE BRIEF: It is seven years since fashion retailer New Look last had a large-scale staff gathering and, in that time, the number of employees has doubled and the chain has expanded into international markets. It now has stores in the UK, Ireland, France and Belgium, franchise operations in the Middle East and its first opening in Russia is planned for December.
As such, the group wanted to bring key staff together to highlight its progress to date and future plans, according to New Look head of communication and social responsibility Marie Tysall-Blay. "We have become a much more international company and so we wanted to be able to tell people how much we've achieved, where we are now and our vision for the future."
CHALLENGES: Although agency Fresh Group had the brief some time in advance, Tysall-Blay only joined New Look seven weeks before the event. Central London had been chosen as destination, but a specific venue had yet to be confirmed, says Fresh account director Lee Ashton. "For numbers like these, London is difficult, so venues were always going to be hard to come by," he says.
Even once client and agency had settled on Old Billingsgate, outside forces came into play, as Tysall-Blay explains. "Although we had access to the venue from 6.30am on the Sunday, the roads around the building were due to be closed for a road race, so we only had two hours in which to unload," she says.
With staff coming from all over the UK, Ireland, France, Belgium and the Middle East, there were logistics to organise, plus accommodation for people travelling for more than three and a half hours.
On the day, only one issue surfaced. New Look used Billingsgate's mezzanine level for part of an experiential tour in the afternoon and, with lighting and heavy drapes in place to deaden the noise, the temperature shot up.
SOLUTION: Although securing a venue was a challenge, Fresh director Julie Besbrode says she has the team in place to find the right space quickly. "We shortlisted three places, and Old Billingsgate is in a good location and is a great blank canvas," she says.
Regarding the short loading time, Tysall-Blay says it was all about being organised: "We had to stick rigorously to the timescales we had in place," she says.
While some of the areas of the experiential tour remained warm despite the air conditioning being on full, Fresh acted quickly to bring the temperature down, sourcing fans early in the day.
EXECUTION: Guests arrived from 9am for registration and coffee before heading into the main auditorium. An introductory video highlighted how New Look has grown since its last conference and this was followed by presentations from senior staff introducing plans for the day, business performance and plans for the future.
A mid-morning break in proceedings enabled the group to relax in the large areas to the side of the main space, where coffee and juice bars had been set up. More sessions in the main auditorium followed, which defined the New Look brand, customer profile and the retailer's buying process, before a standing buffet lunch of 'international tapas', created by Red Snapper.
After lunch, delegates were split into groups of around 50 to begin the experiential tour. This included a three-stage customer and brand exhibition on the ground floor, as well as a 'Christmas at New Look' show. Groups then headed up to the mezzanine, where they entered the Culture & Values areas, which focused on New Look's charity commitments, then an area where groups put on headphones to hear a motivational speech by the retailer's HR director. The last section highlighted results of a regional staff survey and included a video kiosk where delegates could feedback on the day. The final section off the tour was the New Look Time Tunnel, a multimedia tour of the company's history from when it opened its first shop in 1969.
Delegates then reassembled in the main auditorium for a live Q&A session with senior staff, compered by former Atomic Kitten star Liz McLarnon. This was followed by a 'vision and focus' address from chief executive Carl McPhail before the staff awards.
The day's finale took the form of a fashion show, and among the models on the catwalk were two male and two female New Look staff who had won an internal competition to become models for the day.
As staff left the venue - collecting goodie bags on the way - directors were waiting on the red carpet outside to thank them and get feedback. Following the event, a fashion-style magazine with information from the event was sent out to stores, with a DVD of highlights.
VERDICT: "The event met all the objectives in that we were able to communicate how we have progressed as a company, how we are currently trading and where we're going," says Tysall-Blay. "It achieved what we wanted in that it was a celebration; we created a buzz and conveyed the pride there is in the company. We have had a lot of very positive feedback from all levels of the business and I really feel that people left feeling proud of the organisation that they work for."
Have you registered with us yet?
Register now to enjoy more articles
and free email bulletins.
Register now
Already registered?
Sign in