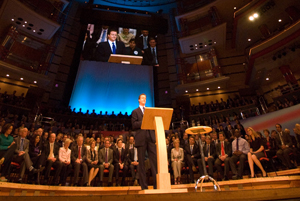 There are few UK events that are bigger or more complex than the annual party political conferences, with thousands of delegates, fringe meetings, exhibitions and accommodation to be planned against a backdrop of security concerns. This year, C&IT was granted behind-the-scenes access to the Conservative Party's event in Birmingham and the Labour Party's conference in Manchester (see p31) to see how these events progress from early planning to the carefully stage managed events we see on TV.
THE CONSERVATIVE PARTY, BIRMINGHAM
FACTFILE
Organisation: Conservative Party
Event: Conference
Group size: 10,600
Agency: Fingerprint Events (production agency Blueway)
Date: 28 September - 1 October 2008
Venue: ICC Birmingham
Budget: £2.5m - £3m
The party was keen to move away from traditional seaside destinations for the 2008 conference and chose the ICC Birmingham as the venue. The event attracted 10,600 delegates, more exhibitors than ever before and media from across the world, and was regarded a success by all stakeholders, and the party will take the conference back to Birmingham in 2010. Below those involved talk about their roles.
CLIENT: Robert Ashman, head of conferences, Conservative Party
It's the first time the conference has been held in Birmingham. We were keen to move it around and we needed a venue that could take 10,000-15,000 delegates with meeting rooms and exhibition space. It also needed at least 4,000 beds within a ten-minute walk or 6,000 beds within a 20-minute walk. We also needed a venue we could secure easily with a four-star hotel close by that could be booked. The ICC Birmingham met these requirements and Birmingham was also attractive because of its central location and transport links. We had 94 exhibitors - up 25 per cent on last year - so we needed sufficient space to accommodate them. People were positive about using a modern conference centre that was well staffed and it was good to be part of the city rather than taking it over, which has been the case in other destinations. Everyone in Birmingham worked hard on welcoming the delegates and we are bringing the conference back to Birmingham in 2010.
VENUE: Emma Coldicott, senior logistics event manager, venue management, ICC Birmingham
All 12 of our event managers worked on the floor for the conference and in total there were 600 ICC staff involved. One of the biggest challenges was management of the fringe sessions. Normally, there would be between 20 and 40 fringe events, but at this conference there were around 250 on site and each had its own organiser and technical requirements. At one point, we had 23 fringe sessions taking place within an hour. We created a bespoke Conservatives online ordering page with a link to our website. It enabled fringe session organisers to order and pay for everything from breakfast catering to flowers and entertainment.
CATERING: Wes Johnson, catering operations manager, ICC Birmingham
We fed 14,000 people over the course of the event. This included catering for about 250 fringe sessions at the ICC with a 30-minute turnaround. To put this into perspective, each year we do around 500 events. On the Monday night alone we catered for 90 fringe events. The Conservatives have a food outlet brand, General Wellbeing (GWB), that they use at all their events, including this one. All the food has to be fresh, locally sourced, fair trade, organic and made on site. We found new suppliers to meet the criteria. We had roving 'food angels' on site, informing delegates of eating options, and set up an additional five eating areas, which boosted capacity from 250 to 800 diners.
TECHNICIAN: Kevin Birch, senior technician event IT, ICC Birmingham
There were 800 media representatives at the conference, as well as exhibitors, and they all had technical requirements. Understanding clients' needs is paramount and some require numerous circuits like telephone lines, ISDN, and internet feeds delivered to various points throughout the venue. Our main concern for this conference was delivering all the services that were ordered on time. With so many circuits and over 1.5 miles of cable used, our team had to work quickly and efficiently without sacrificing quality. The Mall area, which was used by exhibitors, was particularly challenging because it's not ordinarily a public area and doesn't have the existing infrastructure. We had to be resourceful in getting the services there and ensure temporary wiring was safe and neat. All the services were in place by the preceding Friday lunchtime, which gave us a day's grace for last-minute requests.
SECURITY: Stuart Hyde, assistant chief constable, West Midlands Police
We had four primary concerns - ensuring the site is safe and secure, that it looks welcoming and that the officers are friendly and approachable, and that it's a successful event. We completed a risk assessment, which led us to bring in the National Barrier Asset, which are heavy metal barriers that will stop something like a truck driving into the venue. They were decorated with flowers so the area was not only secure but welcoming. We also diverted traffic from the top of Broad Street. A few days prior to the conference, the ICC was closed and thoroughly searched. We carried out security checks of all visitors and staff, and there was a security checkpoint in front of the venue. Although there were armed officers on site, there wasn't an overt show of guns.
AGENCY: Azahar Hussain, director, Fingerprint Events
We were in charge of everything other than the presentation and staging side of the event. We oversaw 380 fringe events that took place in the secure zone. These ranged from a boardroom meeting for 20 to a reception for 400. The Conservatives were the first organisation to have an exhibition in the Mall area, so we had to negotiate with the ICC on this and it worked out well. There were hundreds of press representatives from throughout the world so we had to liaise with them to create a seating plan. We also had to ensure the media were set up inside before the construction of the exhibition stands. People were impressed with Birmingham as a destination and I know some corporate delegates have expressed interest in using the ICC for their own events now they have experienced it.
TIME LINE
Feb 08: Media planning meeting, security area lockdown confirmed
Apr 08: Registration opens, weekly meetings begin
Aug 08: Deadline for registration, press and tech requests
Sept 08: Hotel bookings confirmed
22 Sept: Set building, accreditation issued
24 Sept: Security briefing
28 Sept: Conference
......................................
THE LABOUR PARTY, MANCHESTER
CASE STUDY
Client: Labour Party
Event: Party conference
Agency: In-house
Group size: 2,500 in the main hall, 10,000 in total
Date: 21-24 September 2008
Venues: Manchester Central, plus venues across the city
Budget: Undisclosed
The Brief: The party wanted to be able to enclose the venue and main hotels within a single 'island site'. The hall needed to seat 1,500 on the main floor, plus raked or balcony seating for at least 1,000. In addition, the party required space for hundreds of fringe meetings - 25 at the smae time - receptions of up to 500 delegates and 4,000m2 of exhibition space. Accommodation was needed for up to 10,000 people within reasonable distance of the hall, with at least 350 rooms in the four- or five-star bracket.
Challenges: Security was key and security clearance for staff meant regular briefings between Labour, Manchester Central, the police and private security firm Group 4, seven months ahead of the event. "We had hundreds staff who had to be accredited," says Manchester Central client services director Heather Bell.
Access to the venue was required a week ahead. There were around 90 off-site fringe events across the four days, which meant lining up another list of venues.
Solutions: Labour's 2006 conference had been held in Manchester - the first time a big party conference had taken place away from traditional seaside destinations - and was a success, so Labour director of corporate services and communications Jackie Stacey was keen to return to the city.
A detailed 'get-in' schedule was prepared in conjunction with the venue and police to cover everyone with access to the site, including the media. In addition, a Conference Services department was set up at the Premier Travel Inn, in sight of the secure area. Four marquees were erected within the island site to provide extra function space.
Execution: The centrepiece of each day of the conference was the keynote speeches. The session that grabbed the headlines, of course, was Prime Minister Gordon Brown's address, having taken the unprecedented step of being introduced by his wife.
Outside the formal presentations in the Central Hall, seminars and satellite meetings took place across the four days in the venue's 14 meeting rooms and in the marquees.
Coffee breaks and dining took place at temporary buffet sites across the venue, as well as more formal options in Manchester Central's restaurant areas. The biggest was the Victoria Bar. Hall says: "We opened the fire doors to create an al fresco dining space. The weather was good and it was a great success," says Bell.
Verdict: "It went completely to plan," says Stacey. "Our objectives were met, and both venue and city have been popular with delegates and the media. We look forward to returning to Manchester in future."
Have you registered with us yet?
Register now to enjoy more articles
and free email bulletins.
Register now
Already registered?
Sign in