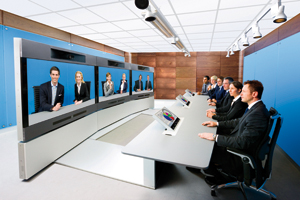 With clients slashing budgets and coming under increasing scrutiny for staging events in far-flung destinations, video-conferencing and new virtual meeting technology is an economical and low-profile alternative to face-to-face meetings.
Some venues are investing heavily in this state-of-the-art equipment in anticipation of corporate demand booming in 2009, and there are reports of companies canning international conferences in favour of virtual meetings. But other venues are holding off purchasing the technology because their clients are acquiring it independently and installing it in their own offices.
"We have invested £100,000 in installing a Telepresence Room, which we launched in October. It offers a life-like, high-definition conferencing facility that provides a viable alternative to face-to-face meetings. With the current market conditions, I have no doubt the demand for it will grow more."
Hetty Dawson, marketing manager, 51 Buckingham Gate Taj Suites and Residences
"A lot of companies see that e-communication offers cost and environmental benefits. I think its use will grow this year, but I don't think it's a direct response to the downturn. The technology has improved and its popularity would grow even in the best economic times."
Peter Ducker, executive director, HBAA
"Our video-conferencing facilities are used about once a week, which is quite high. A number of clients have been installing 'next generation' video-conferencing equipment in their offices over the past six months. I think more will install it in 2009 due to budget cuts, and the technology improving and becoming more affordable."
Tim Cordon, general manager, Radisson SAS Hotel London Stansted Airport
We are seeing growing demand. Clients' travel budgets are being cut so they have to either stay within the UK or communicate in a different way. I think it will become even more popular in 2009. We are managing an annual conference for an international recruitment client in February. They flew people around the world last time, but next year it will be simultaneously telecast globally. Cost efficiency was a key factor in that decision.
Dale Parmenter, managing director, DRP Group
"We only had about two or three enquiries about video-conferencing in the past year and a half. But in the past month, suddenly we had ten enquiries. So in October, we installed the ISDN lines that enable our clients to use their video-conferencing equipment here."
Tammie Fowler, head of events, The Royal Yacht, Jersey.
Have you registered with us yet?
Register now to enjoy more articles
and free email bulletins.
Register now
Already registered?
Sign in