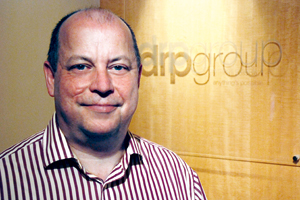 Location
Two offices: one in Covent Garden, London and the other in Hartlebury, Worcestershire
Staff
57
What's the lowdown?
DRP Group recently expanded beyond Worcestershire, its base for the past two decades, and opened an additional office in central London. "A lot of our clients are based in London, so we knew we had to be central to really make our presence felt," says group managing director Dale Parmenter. "Our new London office is really an extension of what we can do in Worcestershire."
How's business?
According to Parmenter the agency had a great 2007. "We budgeted for £4.3m turnover and achieved £5.5m. In terms of net profit, we budgeted £600,000 and did £1m," he says. Investing in facilities and buildings, as well as bringing a growing number of services in house, was key to the agency's success. "We also increased the team with 12 new staff, with different skills, which allowed us to increase our capacity," Parmenter adds.
What are the financial targets for the next year?
The agency is aiming for turnover in excess of £6m and £1.3m net profit.
How will this be achieved?
Investment is key to hitting that target, according to Parmenter. "We have opened our Covent Garden office, added a further 1,850m2 of technical and set-construction facilities in the Midlands, and invested some £300,000 to date this year on new equipment, with more to follow," he says. "On the client front, we've doubled our marketing budget with the view of winning new business, while building stronger relationships with existing clients."
What trends are emerging in the industry?
Parmenter says: "Clients are looking at ROI and the effectiveness of their events rather than just focusing on the event as a 'must-do' annual bash. This means it's easier to make the client focus on strategy, which leads to greater innovation and effective ways of communicating. All this is being intensified by the current economic situation."
Targeting any new sectors?
DRP has a good spread of clients across many different markets but is keen to attack both the medical and pharmaceutical markets. Parmenter adds: "We have looked into the financial sector and we think it offers a lot of opportunities despite the unfavourable economic climate."
Recent client wins?
New clients include Lloyds TSB. Among the events the agency has run recently is an event in Venice for online recruitment firm Monster's largest clients including Google, IBM and HP.
Expansion plans
DRP has an aggressive growth plan and is looking at the potential of a US satellite office either in New York or Boston. "We are committed to pursuing our model of a 'vertically integrated' business being able to offer incredible levels or service, flexibility and added value," says Parmenter. "We are on the look-out at the moment to make an acquisition, but we're not interested in being acquired as we're having so much fun."
Dream client
"I'd have to be really selfish and say Aston Martin," says Parmenter. "We'd do business with them really cheaply so long as they gave us a car."
Have you registered with us yet?
Register now to enjoy more articles
and free email bulletins.
Register now
Already registered?
Sign in