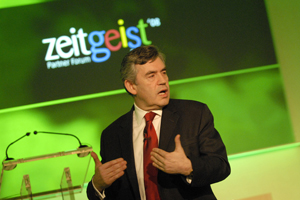 FACTFILE
Client Google
Event Zeitgeist conference
Group size 600
Agency Brand Fuel
Date 18-20 May 2008
Venue The Grove, Hertfordshire
Budget Undisclosed
THE BRIEF Google's 'Zeitgeist' event brings together the company's most senior clients and industry partners from across the EMEA region with a remit to "position itself as the thought leader in the industry. And, reflecting the search engine's online presence, the guestlist was an appropriately stellar affair. Speakers included the likes of Prime Minister Gordon Brown, Queen Rania of Jordan and author Salman Rushdie, while the delegates were all senior players from FTSE 500 companies from across the region.
"This is our flagship external conference and we look to bring together the top technical minds and thought leaders," explains Google head of events (EMEA) Vish Patel. "This is not a Google conference as such - there is no Google branding - this is designed to establish where the industry is and where it is heading, which is why it's called Zeitgeist, meaning 'the spirit of the times'."
CHALLENGES This was the third year the Hertfordshire property The Grove had hosted the event and the mission was to make it bigger and more impressive than the previous two - no mean achievement given that Google had hired the hotel exclusively in 2007, bringing 300 delegates to the 227-bed property.
"This year the numbers increased significantly to 450 during the day, which meant we had to find accommodation for 100 people off-site," says The Grove's sales and marketing director Tracey Greaves. "For the main gala dinner, numbers rose again to 600, 200 more than we've ever catered for in one sitting, which meant we had to get things exactly right."
Google also wanted the entire event broadcast live on Youtube, which meant securing enough bandwidth at the hotel to make sure there were no technical hitches and that the visual quality matched the brand's standards.
Meanwhile, getting the high-calibre speakers and delegates in the same room at the same time was also a tough call, according to Patel. "We had 38 speakers and a very high-profile client list, so just getting Zeitgeist into their calendar was a major achievement," he says. "They had to know that we had created something that was going to make a big impression on them."
SOLUTION Greaves worked with a number of hotel partners to accommodate delegates not staying at The Grove. Transporting these guests was one of several examples where timing had to be spot on, she says. Food service was another. "For example, during the gala dinner, we had seven minutes to serve starters to 600 people, so we had to take on extra staff and make sure they were briefed precisely."
Meanwhile, The Grove also worked closely with its internet service provider, the Google events team and agency Brand Fuel (which produced the event), to make sure the right technological back up and bandwidth was in place.
Brand Fuel came up with the goods in terms of creative production and ensured Patel was satisfied with the design and content of the event. "We wanted all our guests to have a similarly impressive experience, and Brand Fuel was the creative backbone," he says.
EXECUTION In order to make arrival as painless as possible for delegates, some guests began arriving at The Grove on the Saturday, with the majority arriving throughout Sunday. The event kicked off with a welcome reception with drinks and buffet dining for 450, using the venue's centrepiece Mansion house, plus connected reception areas, lounges and the Glasshouse restaurant. Food stations were placed throughout these areas and there was also a mobile sushi station, with chefs preparing to order as they went.
Monday, the main conference day, was entitled 'The Changing Landscape' and was designed to showcase trailblazing companies and leading entrepreneurs from the technology industries, as well as examine the technological development of economically emerging countries. Proceedings kicked off at 9am with an opening keynote address from Prime Minister Gordon Brown.
Sessions continued throughout the day, interspersed with coffee breaks and a buffet lunch. Thanks to the good weather, delegates were able to dine al fresco if they wished. An accompanying partner programme for some 40 people had also been lined up for the Monday, which included a day in London and a private shopping trip to Harvey Nichols. Guests returned to the hotel in time for the conference to conclude at 5.30pm.
In the evening, pre-dinner drinks began at 7pm with guests gathering in the Mansion, moving through ornamental gardens (which had been specially lit), into a large, glass-fronted marquee on the lawn.
Entertainment was a key feature. Two stages had been subtly placed within the main dining area in order to surprise diners when performers appeared. These starred some of the top acts as featured on Google-owned Youtube, which again broadcast the performances.
"In 2007, we commissioned Sadler's Wells to create a bespoke performance for us, so it was a struggle to top it," admits Patel. "After long research we created a shortlist of 20 acts and brought in a choreographer to help train them before choosing the final list."
Guests were seated by 8pm and after the introductory speeches, starters were served and the first performers took to the stage. There were four acts in total, and after dinner, one side of the marquee was removed to reveal the space for the rest of the evening's entertainment. Decked out in all-white, this was complete with dancefloor, stage for a live band and relaxation areas.
Tuesday was the final day and was themed 'The User Phenomenon', focusing on topics such as consumer habits, user-driven content and social networking. Again, kicking off at nine, the event was wrapped up with a final buffet lunch before guests to headed off.
VERDICT While The Grove's Tracey Greaves admits this year's increase in numbers did give the venue a new challenge, responses indicate she and her team got it right. "We knew we could cater for 600, but you have to ask yourself if you can do 600 covers at our usual five-star level,'" she says. "The feedback has been the best so far and we were incredibly pleased with how it went."
Patel got a similarly positive verdict from his audience: "The overall view from the top people at Google and from our clients was that Zeitgeist was a phenomenal success," he says. "Our president had said that last year's event was the best he'd ever attended and we're pleased to say he thought this was better than the best."
Have you registered with us yet?
Register now to enjoy more articles
and free email bulletins.
Register now
Already registered?
Sign in