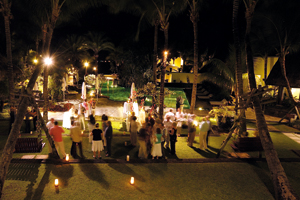 THE BRIEF: Mercedes-Benz UK Commercial Vehicles runs an incentive, the Diamond Club Prestige. The top award this year went to 15 UK dealer employees - from sales staff to sales managers - plus partners.
Mercedes-Benz UK national dealer sales manager (trucks) Gary Brown says: "To become part of this elite club, they have to sell a lot of vehicles, win new customers and improve figures year on year."
He adds that the incentive never takes delegates to the same destination twice. "We wanted a relaxing time, with two evenings and one day together."
DBMT has run the programme for several years. Account manager Hayley Trussell says this year it was decided to run a twin-centre incentive combining an initial safari in South Africa with a beach destination.
CHALLENGES: Trussell says finding a beach destination within reasonable distance of Johannesburg offering luxury hotels and an array of activities was challenging.
Once Mauritius had been chosen, Trussell had to co-ordinate flights and accommodation, which was no mean feat as the popularity of Le Touessrok meant availability was limited. Also, because delegates would be able to choose their activities at short notice, DBMT had to arrange them with short lead-in times.
Although the resort offers a number of restaurants, Mercedes-Benz wanted one evening off site. Trussell says: "We needed an exclusive and impressive venue not too far from the hotel."
SOLUTION: Mauritius fitted the bill for the beach leg of the trip. As well as offering beaches and activities, the destination is only a four-hour flight from South Africa, and in Le Touessrok, Trussell had the ideal resort. "It offers everything that Mercedes-Benz expects for such a well travelled group," she says.
It was important for delegates to have the same standard of room so Trussell was determined to secure the luxurious Frangipani Island suites. "We went backwards and forwards between the resort and airlines until we found a date that suited everyone," says Trussell.
To co-ordinate activities for delegates, DBMT made arrangements a few days ahead while the group was still in South Africa. The agency also secured private venue L'Etoile, a 30-minute transfer from Le Touessrok, for the gala dinner.
EXECUTION: The group arrived in Mauritius in the mid-afternoon after flying from Johannesburg. They were transferred by 4x4s with police escorts to Le Touessrok. After checking in and relaxing at the resort, the delegates met at 7.30pm for drinks outdoors followed by dinner at the property's Safran restaurant, which it took over exclusively. The group spent the next day at leisure, making use of the resort's spa, golf course, beaches and other facilities, and had dinner at the onsite restaurants. The following day, the group met at 9.45am for a full-day catamaran cruise with snorkelling and swimming stops and on-board barbecue.
Delegates spent their final day at leisure and were driven to L'Etoile for dinner, plus entertainment by traditional performers. On 12 May, the group departed Le Touessrok at 9am and were transferred by coach to the airport before flying back to Heathrow with Virgin Atlantic.
VERDICT: "DBMT exceeded the brief by a mile," says Brown. "It was far better than we could ever have imagined. Of the 15 dealer staff, 13 wrote personally to thank me. Le Touessrok was so exceptional that it seemed like a six-star resort."
FACTFILE
Client: Mercedes-Benz UK Commercial Vehicles
Event: Incentive
Agency: DBMT
Group size 34
Date: 8-12 May 2008
Venue: Le Touessrok
Budget: Approximately £2,500 per delegate
Have you registered with us yet?
Register now to enjoy more articles
and free email bulletins.
Register now
Already registered?
Sign in