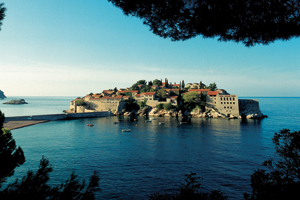 Like its Balkan neighbour Croatia, Montenegro is witnessing rapid growth in its tourism industry. Arrivals and overnights from the UK market grew by more than 20 per cent between 2006 and 2007, according to National Tourist Office of Montenegro director Sasa Radovic.
"The UK is a nation of pioneering travellers and this tradition continues," he says. "Visitors are rapidly coming to appreciate the beautiful nature, pristine beaches and diverse history of Montenegro. This is underpinned by extensive investment in both our airports, Tivat and Podgorica, an improving infrastructure and new, varied and stylish accommodation options."
The launch of the first direct flights from the UK by Montenegro Airlines in June is likely to encourage more UK groups to visit the country. The airline currently flies twice a week between Gatwick and Tivat, and this will increase to three times a week from September. Montenegro also founded a convention bureau earlier this year to provide support for event planners interested in organising meetings and incentives in the country.
Where to stay
The Hotel Splendid Conference & Spa Resort, the first five-star property in Montenegro, opened in 2006 and already boasts an impressive corporate client list including Audi, Porsche and Siemens. The luxury resort is situated near Budva and offers 322 rooms and 19 suites. Its 3,000m2 conference floor includes the Hall of Dynasties, which can seat 782 delegates, and a spacious terrace overlooking the Adriatic up to 400. The hotel also has a spa and wellness club, helipad and three restaurants. The nearby four-star Queen of Montenegro has 255 rooms and suites, as well as several meeting spaces, the largest of which can seat 95. There's also a casino, wellness centre and several bars and restaurants.
Outside Budva, the Bianca Resort & Spa set in in the mountain village of Kolasin offers 102 rooms and a meeting space for up to 50. Kotor has several boutique properties including the 12-room Amfora, and the Vardar, with 18 double rooms, four junior suites and a presidential suite. Properties in the pipeline include a 300-room Four Seasons in Tivat, due to open in 2010, while Aman Resorts is investing at least £32m in the renovation of island resort Sveti Stefan, the Hotel Milocer and the construction of a new property, the Kraljicina Plaza.
Where to eat & drink
The major hotels on the Budva Riviera offer various restaurants, such as the Window of Montenegro, a fine-dining restaurant at the Hotel Splendid, or the
Oj-Ha Tavern restaurant at the Queen of Montenegro, which serves up traditional fare. DMC Talas recommends Porto on the main Budva esplanade overlooking the old town, offering seafood specialities and national fare, and Tri Ribara in the small fishing village of Rafailovici. The Citadel or Budva Fortress in the old town is ideal for gala dinners and cocktail receptions. It can seat 180 inside, or 100 on the terrace for dinner or 300 for a cocktail reception.
The buzzing nightlife in Budva means groups can party in haunts such as the Trocadero club, spread over three storeys with DJs, live music and capacity for up to 2,000 revellers, or Latino club Hacienda Bar.
Incentives
Budva is one of the oldest settlements on the Adriatic. Its old town with narrow streets, squares and old churches are worth exploring. Beicici beach is perfect for volleyball, barbecues and water-sports such as paragliding, water-skiing and diving. For those looking for adventure, there are several excellent paragliding destinations in Montenegro, the most famous being Brajici, a 760-metre outcrop, with Becici beach as its landing place.
DMC Talas suggests taking a boat along the Riveria to explore its smaller coves and beaches. Head to Kotor, a Unesco-protected site on the north coast, or trek inland to Skadar Lake, the last asylum of pelicans in Europe for a cruise, and stop off on the water's edge for a picnic lunch. Bjelasica Mountain, is ideal for a 4x4 driving adventure, and to see the Biogradska Gora, one of the last primeval forests in Europe, while history buffs might appreciate the mediaeval Morca Monastery, built in 1252.
TOP TIPS
Montenegro Airlines launched its first direct service from Gatwick to Tivat in June. It will run three times a week.
The best time to visit is between May and October when the temperature is between 20degC and 26degC
Local DMC Talas M operates out of Budva
The ideal group size is 60-100 delegates, according to Andrew Harvey, co-founder of Unique World, which represents Splendid Hotel
DID YOU KNOW?
Montenegro declared independence on 3 June 2006 and is still the newest fully recognised country in the world
The country has the world's second deepest canyon after the Grand Canyon
The Boka Kotorska Bay is the most southerly fjord in Europe
Lake Skadar, the largest lake in the Balkan Peninsula, is the last asylum for pelicans in Europe
Montenegro has three Unesco World Heritage sites: the old city of Kotor, the Tara Canyon and Durmitor
VOX POPS: WOULD YOU PITCH MONTENEGRO?
Tina Morris, managing partner, Adding Value
It is a destination we'd consider pitching because clients are always looking for something to be the next big thing. It's got a certain mystique and cachet about it and I know they are developing some really great resorts out there as well as the old Sveti Stefan, which I'm keeping an eye on.
Matt Smith, company founder, Black Tomato
Montenegro is a bit rustic, but it's a beautiful country and has a stunning coastline, so I think it would work well for more adventurous clients. Infrastructure is there in terms of DMCs and ground handlers, but it's a bit limited on accommodation. When Aman Resorts comes on board in Sveti Stefan it should help.
Corrina-Jayne Hughes, business develop-ment manager, Kuoni Events
It's an upcoming destination, but we haven't had any client enquiries in the few months I have been in this role. I think access was a problem in the past as you couldn't fly direct, but that's improved so we would definitely consider pitching it to clients.
DIRECTORY MONTENEGRO
Montenegro Convention Bureau
Contact Danica Ceranic, +382 81 23 51 55
Email: mice@montenegro.travel
Web: www.montenegro.travel
Have you registered with us yet?
Register now to enjoy more articles
and free email bulletins.
Register now
Already registered?
Sign in