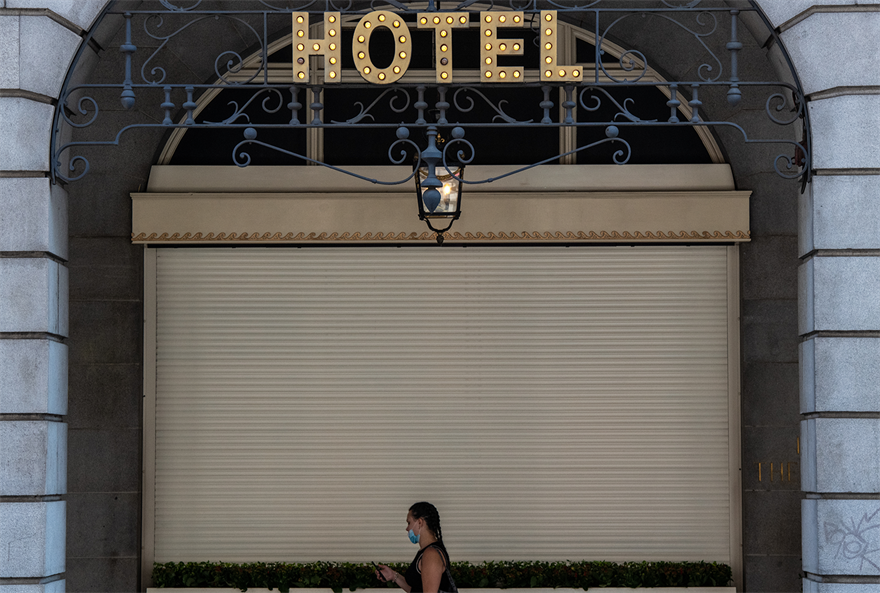 The government confirmed yesterday that restaurants, pubs and hotels will reopen in England on 4 July, when the two-metre social distancing rule changes to 'one-metre plus'.
Pubs and restaurants in England can reopen both outdoors and indoors with more hand-washing, ventilation and table service.
People may have to register their names and contact details before going into these establishments to help contact tracers identify people who have been in the same place if someone tests positive for COVID-19.
Industry associations have generally welcomed the new guidelines, but say the government must provide specific support for events.
Jane Longhurst, chief executive of the Meetings Industry Association (MiA) said: "We were extremely disappointed that yesterday's announcement did not provide any clarity for our sector. Without a start date, the social distancing reduction to one metre is totally irrelevant and has a potentially devastating impact on our industry."
The Business Visits and Events Partnership's (BVEP) said it is "shameful" and "a bitter pill" that Boris Johnson's announcement lacked specific reference to events.
"While we all welcome the relaxation of physical distancing measures, which has come as a result of sustained work by the BVEP and its partners to provide strong evidence as to how this will benefit the industry and make its survival more likely, it feels like we disappeared today," said Simon Hughes, BVEP chair.
"Despite a significant amount of planning work being done by the industry over recent weeks and, more importantly, the lack of any indication as to when live events can resume, once again the events industry has been ignored.
"As a result, the BVEP continues to warn that the sector is at significant risk of major business failures, resulting in substantial job losses, and will now strongly push the government to provide further support for the industry beyond October.
"I will be asking for an urgent meeting with our colleagues at DCMS, who have been very supportive during this entire period of uncertainty, and will continue to press strongly for further support for those in the industry that have been so badly affected and impacted by the enforced pause of live events."
The BVEP has previously warned that if the industry is not allowed to open up quickly, it risks losing more than £50 billion of direct spend and the loss of over 500,000 jobs.
These sentiments were echoed by Lex Butler, Chair of HBAA, who added: "The introduction of one-metre plus social distancing makes meetings and events just about viable, keeping it at two metres they would not have been.
"The requirement for everyone to identify themselves as they arrive is an additional safety measure and giving everyone the confidence to visit venues and meet again safely is the immediate priority for our industry.
"Even so, many thousands of people in the business events, accommodation and meetings industry will still be made redundant in the coming days, weeks and months. The industry still needs extra financial support – a special extension of the furlough scheme, continuing business rates relief, commercial rent relief, a delay in payment of corporation tax and a reduction in VAT on accommodation and meetings packages – until Spring 2021 to keep businesses alive."
Air corridors
Joss Croft, CEO of UKinbound, representing the UK's inbound tourism sector, welcomed the news that the government is on the verge of agreeing 'air corridors' with a number of countries.
However, he sounded a note of caution, adding: "While some businesses will hopefully be able to recoup a small proportion of their losses over the much shorter summer season, many businesses, especially those that rely wholly or mostly on inbound tourism, will have gone through the equivalent of 'three winters'. They will need further financial support if they are to survive."
Jane Pendlebury, CEO of the Hospitality Professionals Association (HOSPA), said the one-metre rule is "a huge relief" for hoteliers, but that there will still be a significant reduction of customers.
"The proposed one-metre distancing, equating to a two-metre diameter of space, allows for around 45% of revenue," she said. "If hoteliers and other restaurateurs are creative in their approach, they can work to increase those margins by implementing a variety of measures. This at least gives them a chance to head in the right direction, enabling the opportunity to develop a workable service.
"No doubt there'll be muted celebrations in hotels all around the country as we look to start moving forward again."
Thomas Dubaere, COO of Accor North Europe wholeheartedly welcomes the new measures. "Our focus throughout this pandemic has been supporting our staff and guests and it is vital that as measures are relaxed, we all continue to play our role in maintaining vigilance."
Accor is introducing extra hygiene measures including elevated hygiene facilities, greater use of technology in areas such as check-in, introducing cashless systems, increasing Grab & Go food services and a new partnership with AXA to provide medical support to guests.
Dubaere added: "It will clearly take time to return to normal, but each extra step we can take along the way will help the industry rebuild and do what it does best for society and the economy, which is to provide great experiences and help bring people together."
Have you registered with us yet?
Register now to enjoy more articles
and free email bulletins.
Register now
Already registered?
Sign in