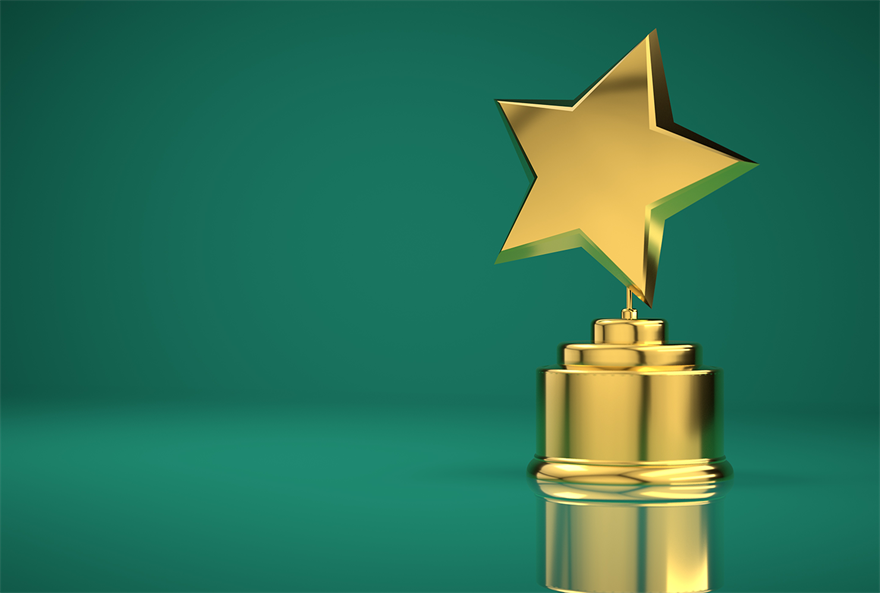 Rebecca Brennan-Brown is the founder of The New Black Studio.
Conferences are held daily, site visits are now virtual, and even product launches are being moved online. But one type of event seems to be trailing behind; awards.
Award ceremonies are more complicated, but without a doubt, still achievable. However, just because something is feasible, doesn't mean it should be done.
So what's next for award ceremonies and how can they be done digitally?
Step one: Decide on the purpose of your award ceremony
This should be the first place you start when planning any event, as when you have the end goal in mind, you can navigate through decisions in a considerably more straightforward way.
The purpose of your award ceremony might be to generate revenue, to commemorate a year of hard work, or to make a statement. Events can definitely be multi-purpose, but for this exercise, try to keep your KPIs to a maximum of three.
Step two: What do you want to recreate?
Now you know the purpose of the event, work out which feelings you want to replicate. Perhaps you would like your attendees to feel inspired, or celebrated, or connected.
Again, deciphering these points is paramount to deciding which direction your award ceremony will take next. An event to make attendees feel celebrated looks quite different from one where the aim is to educate.
Step three: Reschedule, or go virtual?
So now you know what you're trying to achieve and how you want your attendees to feel. Let's look at the options. Can you replicate those feelings online, or would it make more sense to reschedule?
For the purpose of this exercise, I'm going to say the goal of this awards ceremony is to generate revenue, and we want attendees to feel celebrated.
In this scenario, you have to weigh up if you can appropriately meet attendee expectations on a virtual platform. Using this example, you can unquestionably generate revenue from an online award ceremony, but just the same as any event, there must be a value exchange. For someone to part with their (or their department's) hard-earned cash, you'll need to offer something in exchange. This is where feeling comes in.
You can also make an attendee feel celebrated from home. Consider sending them something in the post to have when they tune into their online awards. Maybe it's the ingredients for a fancy cocktail or a handwritten letter from the host. There are ways to manage this, you just need a little imagination.
There are many positives to moving your event online. For one, the cost significantly reduces thanks to lack of venue hire and not having to pay for three-course meals for all your guests.
There are, of course, negatives. Nothing will ever compare to the sound of two clinking glasses over a toast. But a glass of wine is better than no wine at all, right?
Step four: Engage your attendees
You can engage your attendees right from the moment they receive the invitation to months after the event with a few clever tricks.
Your invite should spark excitement and intrigue, which is hard to do over email, as much as the free webinar invites do try their best. Online is the norm now, so where safe and possible, bring something back to real life. Send your attendees a beautifully printed invitation, prompting them to add the date to their diary. Pay for this using some of the money you've saved on not hiring a fancy London hotel.
You can take this as far as you like. It's now possible to send attendees boxes which contain everything they would typically receive at an event. From keynote speeches by Joanna Lumley to three-course meals, party cannons and trophies. You can get it all sent directly to your guests in a box.
Of course, there are plenty of other ways to engage. Event apps have never been more useful, and having a funny keynote has never been as paramount. Just as with a live event, engagement is key to the success of your online awards.
Step five: Choose your platform
On 29 of May, RuPaul's Drag Race held the Season 12 Finale online. This is an event usually held in front of thousands of people live and streamed to another 700,000 through Netflix. If RuPaul can do it, we can too.
Though admittedly, there seems to be an immense gap in the market for a platform which can replicate a gala dinner. We've been searching high and low for a programme which allows group conversations between 10 people while still being tuned in to the 'main stage'.
However, that doesn't mean it's not possible. When you boil the requirements down, all you truly need is the ability to have breakout sessions (so people can speak privately on their tables), and a way to announce the awards. A plus-side would be to have the ability for winners to dial-in for an acceptance speech, although we all know how long they can go on for…
Step six: Don't forget the extras
Will your marketing team be live-tweeting during the event? Will you facilitate drinks after? How can you bring in sponsored elements? All the points we've talked about today tie together, but none more so than sponsorship.
Posting your attendees an invite allows a sponsored opportunity on the envelope. Sending a box enables complete branding to the sponsor's colours. And if you have a platform which shows detailed analytics including the sponsored elements, this data will be incredibly helpful. All of these ideas are ways to get back to our very first point of purpose, increasing revenue.
Events are likely to be hybrid for some time, if not forever. Finding ways we can peacefully and safely marry virtual with physical will only continue to gain importance, so like everything up until this point, we will figure it out.
This article was written by Rebecca Brennan-Brown at The New Black Studio. The views expressed in this article do not necessarily represent those of C&IT Magazine.
For more features and breaking news sign up to C&IT Magazine's daily Newstracker.
Have you registered with us yet?
Register now to enjoy more articles
and free email bulletins.
Register now
Already registered?
Sign in