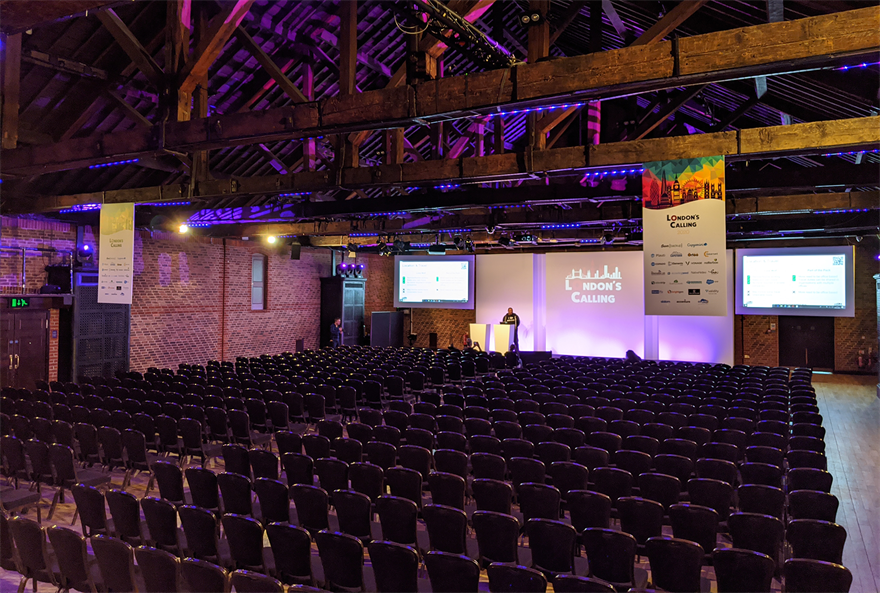 Objectives 
London's Calling is a 'Community Conference' for people who work with Salesforce to allow them to spend the day learning, networking, and having fun together. 
Its aim is to give the Salesforce community a platform to share their knowledge of Salesforce products and learn how they can get more from it.
However, about one month before the planned day of the event (20 March) London Calling received feedback from some international speakers that they were unable to attend. Either companies were asking employees not to travel or their countries were imposing lockdowns. 
This was becoming a growing trend and the decision was made to move to a virtual format. 
The event
The conference featured multiple streams of talks conducted at the same time for the audience to choose from. There was also an additional Demo Jam for sponsors to showcase their products (three minutes per company) and a keynote speaker at the end of the day.
With all the attendees watching from their own homes, there was a reduced on-site setup for a minimal number of speakers and sponsors. It meant there was no need for the extra furniture and large screens that were originally ordered. However, London's Calling did keep some banner branding in place to help with the TV recording format.
The most critical setup was the technical one, ensuring that the rooms used for live speaker streaming were ready to go, while the rest of the content was pre-recorded for London's Calling TV.
The tech team already had the ability to provide a TV streaming service. In previous years content had been streamed on YouTube or behind a free registration form on the London's Calling website.
At 9 am, the conference kicked off London's Calling TV with three presenters live in the TV studio, while two remained self-isolating at home.
The home team assisted attendees with any login queries, to get as many people as possible logged into the live stream site, as well as managing sponsors and keeping an eye on what was streaming and the timing of the day.
By 10 am there were more than 3,000 people watching the show.
Talks were either 20 or 40 minutes long with a 10-minute break between each session for attendees to select their next option. This time was used to feature sponsor adverts and do live-to-camera pieces with any speaker or sponsor at the TV studio.
At midday, the Demo Jam was hosted over Zoom with 10 sponsors showcasing their product in three minutes.
To round off the day, at 5 pm the keynote speaker Julian Treasure was introduced. He was online to live-stream his talk, but unfortunately, the connection failed. However, he had earlier pre-recorded a version of the talk in case of such an eventuality and this was used instead.
Challenges
In the weeks before the event, as news of COVID-19 grew, the team discussed possible contingency options should the event have to be adapted. With one week to go the decision was confirmed that it would be best to move from an in-person event to a virtual one. 
To postpone the conference would have felt like cancelling it so close to the event date. The team pushed on, wanting to deliver something for the attendees and sponsors, as opposed to pausing indefinitely or risking clashing with future Community Conferences dates.
The venue team was very supportive and allowed London's Calling team onto the premises a day early to set up branding and to record segways to be used during the content breaks.
London's Calling spoke to the venue regularly to amend logistics for the day, responding to an ever-changing scenario; from the change in format, the numbers of people expected on-site, and food needed. 
Verdict
"We, as the London's Calling team, pulled together to re-imagine our day from a majority in-person event to a virtual one within a very short amount of time due to the ever-changing COVID-19 situation. 
"We felt it was important to continue to deliver an event to our attendees, sponsors and speakers who had already put so much effort into making our fifth year. 
"We are grateful to The Brewery and other providers who helped the day to be a memorable success, considering the situation we faced. We look forward to working with you all again next year and hope to provide an in-person event with an enhanced virtual experience."
– Amanda Beard-Neilson, Francis Pindar, Kerry Townsend, Louise Lockie and Todd Halfpenny, London's Calling organisers. 


FACT FILE
What: Salesforce Community Conference
When: 20 March 2020
Where: The Brewery, London
Who: London's Calling
How many: 650 delegates for the planned live event, but 3,000 online

For more features and breaking news sign up to C&IT Magazine's daily Newstracker.
Have you registered with us yet?
Register now to enjoy more articles
and free email bulletins.
Register now
Already registered?
Sign in