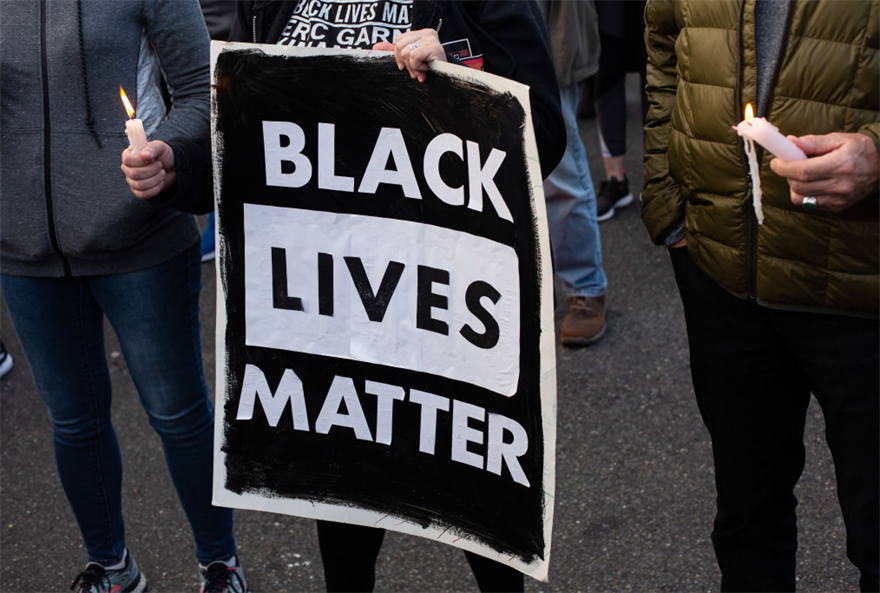 This week we have seen the world unite to fight against an issue that shouldn't exist in the first place - the inequality between those of different skin colours.

I'm not going to go down the path of preaching about the right and wrong ways to show your support for the black community or your indignation for the acts that continue to happen. But I will say that the first step in the right direction is recognising that there is a problem that needs addressing. And it seems people are starting to, given the number of those that turned their Instagram stories or grid posts black in support of the cause on Tuesday.

Some haven't gone beyond that, and this article is not designed to shame or guilt them. It's not a competition. But I will say that if you're white don't be afraid to speak up, don't fear that you may come across as insincere because you haven't suffered, it is white people (the 'privileged') that have the power to use their voice so that the plight of BAME communities can be heard by those that need to hear it.

And this isn't a call to get the events industry to take to the streets and campaign for racial equality, although it's great to see people are. It is much simpler than that. What I am saying instead is that the events industry needs to wake up to the power it has to actually make meaningful, long-lasting changes.

All too often I hear the words 'I'm just an event planner' as people self-deprecate themselves because of their profession, comparing themselves to doctors or politicians who 'really make a difference'. But I challenge this perception on two counts.

Firstly, as someone working in events you are making decisions that directly impact the experiences hundreds, sometimes thousands, of people will have. From the speakers that they hear from and the videos that they watch to the food that they eat and the countries that they visit. This is powerful.

So I call for you to use this power to promote equality. Create inclusive experiences for all cultures, have a diverse line-up of speakers and be conscious of the messaging your sending. Is a black person going to feel welcome to an event that has been 'whitewashed'? By unconsciously making a demographic feel unwelcome you are segregating them.

The second way I'd like to challenge this perception of event planner 'helplessness', is to address anyone that manages a team. Not just business owners (although the duty I'm about to express is even greater for them), but anyone that has ever been a line manager and recruited someone. Are you truly embracing equality when hiring?

Again, this comes back to accidental segregation. You're separating black people from working with white people in the same company, and therefore you're preventing them from sharing ideas, experiences and important bonds with each other - the absence of which is the foundation for racism. Most racists haven't had opportunities to work or socialise with someone of a different colour to them, and there lies the problem.

I've attended countless industry networking events over the years and yet I could probably count on one hand the number of black event professionals that I have met. There is no excuse for this. It is an issue, and there are ways to address it. From changing your strategies around attracting talent, to recognising unconscious bias when assessing talent.

The beauty of MICE is that so many people 'fall into events', it doesn't require years of studying to qualify for a role in this exciting and dynamic industry, just the right transferable skills and attitude. So you cannot blame the school system or the talent pipeline for not providing enough diverse entry-level applicants (an excuse often used in the STEM subjects). The problem is you're simply not welcoming diversity, you're not being inclusive.

How do you solve this problem? Firstly awareness, recognising the issue, and secondly collaborate. Stop being afraid to have awkward conversations with black people, it's this fear that helps to maintain these divides. If you're unsure if your event or hiring process is inclusive why not include people of colour in the decision-making process. Don't be afraid to collaborate to fix the issue.

Even after writing this piece, I asked a very close friend of mine, one of the few black people in the industry, to read it to check I wasn't being too obtuse. In fact, we've had a number of open and honest conversations about this issue free from awkwardness, discomfort and fear. I encourage you all to do the same.

Lockdown and quarantine have taken away the material and the unessential, they've taken away the distractions and chaos of our normal lives, they've caused us to stop and reflect. And in that period of being still, the most important issue has been highlighted, and kickstarted a necessary movement. It's made us all focus on the fact that all lives should be treated equally and yet (despite what we might have thought) they are not.
For more features and breaking news sign up to C&IT Magazine's daily Newstracker.
Have you registered with us yet?
Register now to enjoy more articles
and free email bulletins.
Register now
Already registered?
Sign in