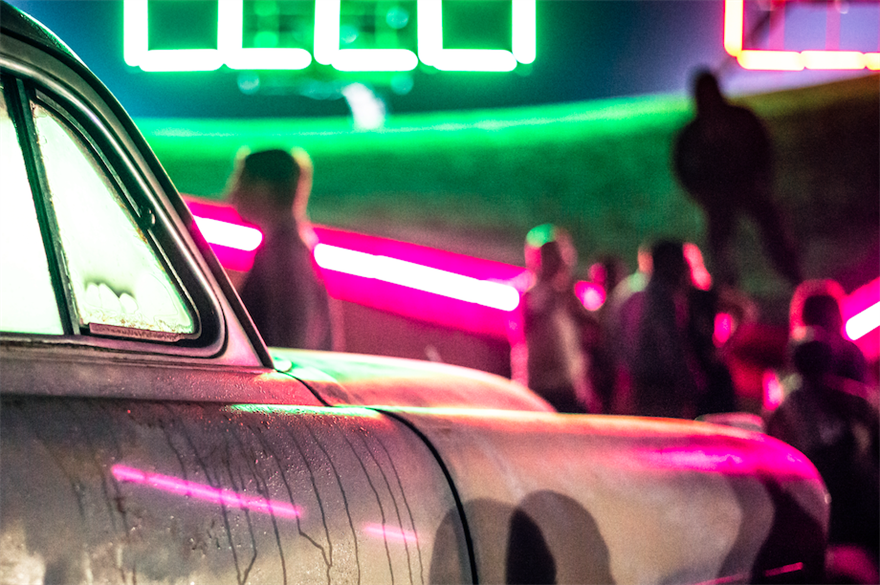 Robert Dunsmore is an independent creative director working in the events industry.
I recently tweeted a reply to Fayola Douglas' article which suggested that drive-in cinemas could be a popular way to hold social distancing events in the future.  
My tweet said:
"Years ago I scripted a dealer thing for a hire car fleet launch – 200 delegates picked up in the car, driven to a field to a giant (rave) inflatable and presented to via the in-car media – got laughed at…"
C&IT asked me to write a short piece on the topic, and I thought why not?
See the thing is to be brave, embrace change and opportunity and if you excuse the pun – drive it. We are event professionals and we are at our best when we create bravely.
The drive-in event model in the aforementioned article does this.  
Mainstage festivals, who are running a touring drive-in cinema, have artfully re-crafted existing infrastructure with wit, charm and nostalgia to come up with a positive experience model for event social distancing.
This is not new. The first patented drive-in was opened on June 6 1933, by Richard Hollingshead in New Jersey. He re-created it as a solution for people unable to comfortably fit into smaller movie theatre seats after making a mini drive-in for his mother. His super-inclusive-family-friendly-anything-goes-festival format was a hit. 
People and purpose 
As a July premiere beckons for the drive-in cinema and the hospitality industry in general, there is a lot of talk about hybrid-blended-twinned-virtual-live-online event formats and various technical delivery that everyone is suddenly an expert in. It is all dazzlingly technical and operational and kind of people-less.
Take the drive-in format. I could discuss the height of the stage, the refresh rate of the screen and what kind of zinc tiles cover the awning but I would already be missing the people and the purpose of the event and telling you as good as nothing.
The event will not consist of this or the space between them. It's more – so much more. It's about the connections they share, the relationships between the experience of the night and the audience's version of it. Laughter, actors on the big screen, music as the sun goes down, the sweet aroma of crushed popcorn in the footwell, a stolen smile in the dark.
As this wave of audience memories rise, the event soaks up the energy like a sponge and expands.
The measure of your event is the sum of your audience's experience.
Create bravely
Doing nothing is not an option.
It is up to us to take the leading roles, be a whole industry of superheroes. Accept that many current event design practices have reached their sell-by date and stock up with new ideas – or like the drive-in social distancing model, re-purpose old ones to apply to a new social era of events.
Be bold and act fast.
After an extreme pause, the future will fast-forward and arrive quicker than ever before. Be ready for it. The future may look like the events industry, even feel familiar, with infrastructure that looks the same - but people make audiences, and the people will be different.
The audiences of 2020 will exist in a new culture, a new society, with new realities and expectations. 
Being bold involves risk and that's OK – because you are the superheroes, you are worth it, and your audiences expect it.
Robert Dunsmore is an independent creative director. The views expressed in this article do not necessarily represent those of C&IT Magazine.
Have you registered with us yet?
Register now to enjoy more articles
and free email bulletins.
Register now
Already registered?
Sign in