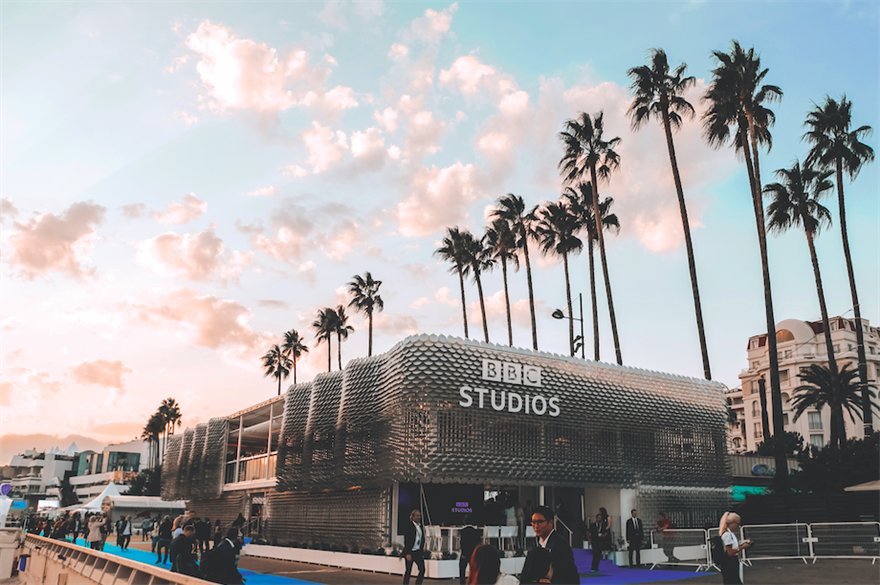 Cannes may be known for its glittering film festival, but it was British design rather than Hollywood stars that wowed the crowds at the launch of BBC Studios' new exhibition space at MIPCOM 2019. 
Held at the famous resort town on the French Riviera, MIPCOM brings together TV and digital content executives for four days of creative exchange, networking, screenings and inspiring talks. 
BBC Studios, the broadcaster's commercial production and distribution arm, required an awe-inspiring pavilion which reflected the best that Britain has to offer, while being reusable and recyclable. 
The aim was to launch the newly merged BBC Worldwide with BBC Studios to its global partners and clients at a festival that was expected to draw record crowds, with more than 13,500 registered delegates and over 2,330 production and distribution companies. 
The brief was to create a gamechanging, world-class brand experience that represented the unmistakably British, bold and inspired spirit of BBC Studios. The pavilion also needed to be versatile enough to allow for daily changes in the event schedule, whether it was a network showcase, private sales meeting, or evening function. 
Revolutionary space 
The overall idea and project direction came from Cheerful Twentyfirst, a London-based agency with more than 10 years of Cannes build experience. The agency was tasked with building a revolutionary space that reflected BBC Studio's ambition to continue as leaders in their industry. 
The project culminated in a unique, two-storey temporary pavilion that could be reused in years to come. To achieve this, the agency headed up a collaborative project involving the best of British craftsmanship, design, engineering, stage and set build, and creative direction. 
The game-changing design that emerged at MIPCOM combined the design cues of a permanent build with a reusable stand that also addressed the increasing demands for sustainability.
With 'resources' and 'the environment'; the current watchwords of an industry that is being questioned over its responsibilities, BBC Studios' eye-catching appearance at Cannes led the way in creatively combining form and function. 
Alongside Cheerful Twentyfirst, creative direction was supported by Christine Losecaat, an Emmy award-winner who was appointed MBE for services to the creative industries in the UK. 
Giles Miller Studio designed the stunning external façade, Universal Design Studio collaborated on the interior design, with Yorkshire-based Stage One working to deliver the manufacture and construction of the stand.
Challenges 
Unlike traditional exhibition stands at MIPCOM, The Pavilion was designed to have a lasting sustainable legacy. Built from raw, recyclable materials and designed to facilitate modular assembly, its innovative technology meant it has the capacity to travel globally to any other relevant event for BBC Studios.
In comparison to a conventional single-use exhibition stand, the agency had prescribed that the construction of the pavilion had to be a "model of efficiency and turned into a gamechanging asset". 
That meant it had to continue to see a strong return on investment as a sustainable and reusable exhibition icon for BBC Studios, according to Cheerful Twentyfirst. 
The space featured an open-plan reception with lounge and refreshment areas, seven private meeting rooms, four semi-private meeting rooms and a second-storey hosting space complete with coffee and bar station. 
The external petal façade, designed with curtain-like flexibility, opened to create another element to the structure – a viewing platform above the bay that was perfect for sunset drinks.
The ambition to deliver a unique, and what appeared to be a 'permanent' structure, was limited by minimal build and de-rig time. This informed the modular nature, reusability and speed of the build programme on-site, so there had to be new solutions in design and build phases.
Building occupational health and safety clearance was also important. Nothing like it had been built before at MIPCOM, so there were no appropriate regulations that could be used for the proposed build.
After significant modifications in design and material, the pavilion was able to meet the requirements for a temporary structure, while maintaining the perception of permanence. Cheerful Twentyfirst had to draw on its substantial events experience and work closely with stand builders Stage One Creative Services, to make sure the challenges were met. 
This also involved important partnerships with French civil engineers and the Mayor of Cannes. The specifics of the build site also meant there were severe weight load restrictions and a unique integrated weight-loading distribution system was engineered, making this stand the first of its size to be built there. 
Just to test them even more, the coastal French location was hit with record-breaking rain just two days into the four-day festival. Cheerful Twentyfirst, in partnership with Stage One, used savvy on-site engineering and strategic problem solving to hold the torrential rain at bay overnight. 
And with minor roof adjustments, rainwater was diverted, meaning the pavilion opened on time, as usual, the following morning.
FACT FILE
Who: Cheerful Twentyfirst for BBC Studios
What: Pavilion at MIPCOM 2019
Where: Cannes, France
When: 14-18 October 2019
Have you registered with us yet?
Register now to enjoy more articles
and free email bulletins.
Register now
Already registered?
Sign in