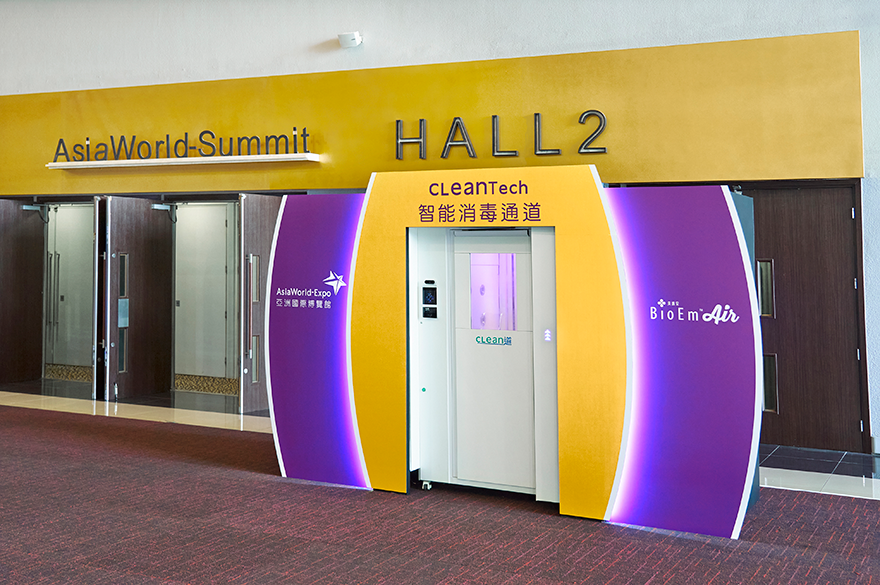 Post COVID-19, the first priority for event planners will be to offer a healthy, safe environment for everyone. AsiaWorld-Expo's innovative 'CleanTech' installation is a quick, clever and impressively green approach to the issue.
What exactly is it?
As one of the leading exhibition and conference centres in Hong Kong, AWE has partnered with biotech and sanitising company BioEm to produce the world's first three-in-one disinfection device that can be installed at venue and exhibition hall entrances prior to visitors entering. 
It combines three elements – air sanitising and purifying technology, anti-bacterial application, and negative room pressure – to provide effective, non-toxic sanitisation.
How does it work?
The pod's first door automatically opens once the person standing outside has passed the built-in temperature check sensor. 
If no fever is detected, once a person steps inside the pod, it disinfects their clothes, plus items such as bags and laptop cases they're carrying into the venue. It does this by activating two types of solution within the negative pressure pod. Once finished, the second door opens and access to the hall is granted. The whole process takes just 12 seconds from start to finish.
The pods can also be configured to individual event planners' needs and size of an event, including for wheelchair users and people visiting with children. AWE plans to deploy the devices at upcoming major trade exhibitions and conventions once COVID-19 restrictions are lifted and the world is on the road to recovery.
What patented solutions are used and how are they effective?
The first solution is BioEm, a scientifically tested natural botanical disinfectant that uses plant extracts (Mentha Spicata, Arteannuin, Matrine). It can kill a variety of viruses, including SARS coronavirus, H3N2 (Human Influenza) and H5N1 (Avian Influenza) with a 99.99% kill rate. A range of indoor bacteria and microorganisms such as Staphylococcus Epidermidis, Cladosporium Sp, and Escherichia Coli can also be killed.
The second is Aegis Intelligence, a tested non-toxic and environmentally friendly solution that sterilises surrounding objects harbouring potentially dangerous microbes – a single application lasts for up to 12 months. The process is similar to applying water droplets covered with fine puncture needles that physically break bacteria cells. It works in conjunction with photocatalysis tech, which actively attacks viruses and bacteria attached to objects by using sunlight or artificial light.
What other measures will be used to safeguard venues and visitors?
Alongside masks and hand sanitiser, organiser and staff offices can be disinfected using BioEm, while all doors and door handles at major entrances, escalator handrails, lift and lift buttons, toilet facilities, and restaurant chairs can be treated with Aegis Intelligence to kill bacteria. To protect the health of all frontline, catering and serving staff, their uniforms can be disinfected with Aegis Intelligence. 
How is the venue being used at the moment?
In recognition of AWE's approach towards effective sanitisation and pro-active pandemic prevention efforts, the venue has been set up as a temporary test centre and COVID-19 specimen collection facility for inbound overseas travellers, to help ease the demand on hospitals for isolation wards in these challenging times. Adjacent to Hong Kong International Airport and the Hong Kong-Zhuhai-Macao Bridge, AWE is strategically located for this purpose.
What extra help is available to event planners right now?
AWE is the appointed venue by the Hong Kong SAR government and as such, is currently offering to waive 100% rental charges for organisers of exhibitions and conventions with more than 400 participants (over 50% of which are non-local). Those with postponed events can benefit by confirming new schedules now, while organisers currently planning future events are also entitled to it by planning shows at AWE directly after the coronavirus outbreak is under control.
As Irene Chan, AWE CEO, concludes: "A safe and healthy environment is as equally important as state-of-the-art facilities."
For more information on AWE's innovative CleanTech pods, please visit www.asiaworld-expo.com/covid19 or to find out how AWE can help with event bookings, email sales@asiaworld-expo.com
Have you registered with us yet?
Register now to enjoy more articles
and free email bulletins.
Register now
Already registered?
Sign in