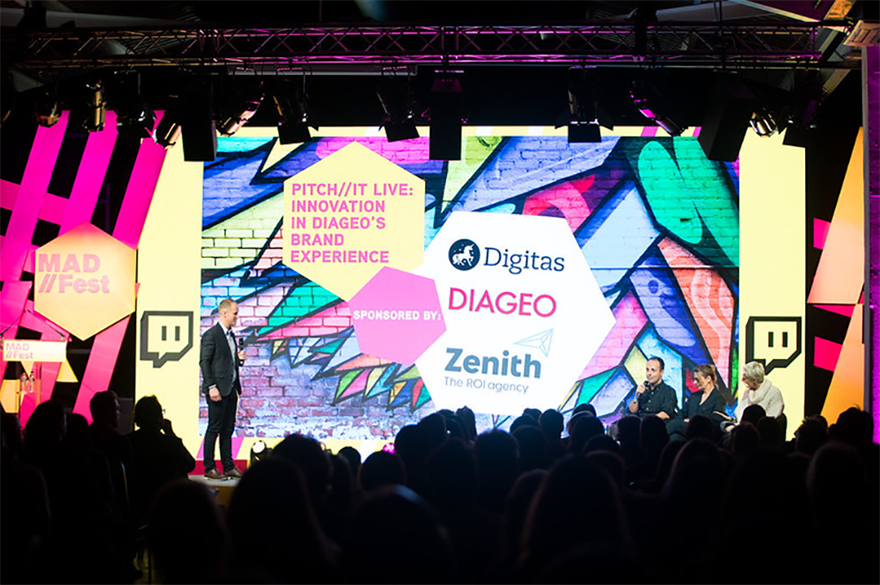 The marketing, advertising and disruption festival, aka MAD//Fest, was co-founded by Dan Brain and Ian Houghton, who say they had seen the good, the bad and the ugly in industry events over the years and wanted to do something different.  
They spoke to friends in marketing, advertising and tech to find out what they wanted from an event. Then, armed with a whiteboard, sharpies and coffee, they sketched out MAD//Fest. After finding an investor in Derek Jones at Mediatel in 2018, they then had five and a half months to create an event for 3,000 marketers.
The first event and the follow-up in 2019 both sold out, even with increased capacity for 4,500 attendees. This year's event is due to take place in November and C&IT caught up with co-founder Dan Brain to find out how preparations might have changed in light of current events.
How much of a challenge was it to put the first MAD//Fest together from scratch?
With no website, brand recognition, videos, testimonials, re-bookings or track-record five and a half months before the show was due to take place, we made decisions quickly, called in lots of favours and assembled a small, agile team who were determined to make MAD//Fest a success.
It was pretty challenging to convince people to speak, attend, sponsor or exhibit at a completely untested festival in an industry with plenty of choice for events. Thankfully for us, people genuinely wanted MAD//Fest to work and we had fantastic support from our investor Mediatel, our industry contacts and the wider market.  
Attendees at MAD//Fest 2019
What makes MAD//Fest different from other marketing conferences?
Lots of events have great content and large audiences. Few can say they have the world's top CMOs and disruptors speaking, an audience that's 90% buyers and an 'expo' that is in fact a giant connected pub (sponsors buy picnic tables and mini lounges instead of exhibition booths).
While many aspects of the show have a pop-up pub feel to create a distinctive and more natural networking environment, we invest heavily in the production of stages and meeting areas.
This blend has helped to create a unique experience where people can have fun, do business and get inspirational ideas on the big screen. Winning 'Best Networking Event' at the UK Conference Awards was pretty cool and evidence that with a bit of creativity, a USP and a lot of hard work, you can go toe-to-toe with better-resourced competitors.
How have your plans for this year changed due to coronavirus?
We've rolled our summer MAD//Picnic event into MAD//Fest in November. We don't have a crystal ball but there's every sign the market will be hungry for high-quality events by Q4. 
This year's MAD//Fest theme is 'Emerge Stronger' (pictured below), and I think that having been unexpectedly denied live events for the majority of 2020, there will be high demand for shows that can deliver demonstrable value. However, frivolous events that many view as jollies will be heavily scrutinised. 
How do you apply the principles of MAD//Fest to creating digital events?
My inbox is jammed with invites to webinars, online conferences and seminars that feel like traditional conference content dumped online.  
Everyone is learning and the pressure on event organisers to deliver digital products quickly is immense. But if we learned anything with MAD//Fest, it's that you need to create a unique experience and a point of differentiation.  
I'm not sure anyone has quite nailed this in digital events yet, but I'm sure we'll see lots of brilliant creative formats over the next year.
Do you think live events will change significantly post coronavirus? 
It's too early to say with any certainty. I think large scale international events will be back, but it might take a while for the true global gatherings to return. What's clear when we speak to customers and clients is that people do want live events to take place and that they're missed in the current climate.
We're going to have a huge amount of digital innovation and new formats will emerge. I expect to see hybrid formats that combine global scale and local intimacy.
Call me a traditionalist but it's a bit like going to a Chemical Brothers gig or watching one on YouTube - online is good, but you can't beat a real-life experience.

For more features and breaking news sign up to C&IT Magazine's daily Newstracker.
Have you registered with us yet?
Register now to enjoy more articles
and free email bulletins.
Register now
Already registered?
Sign in