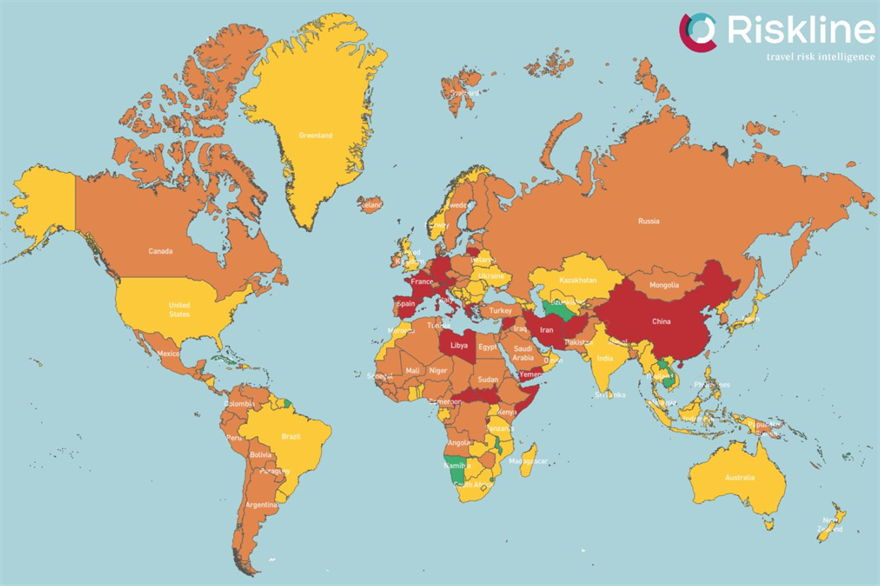 Global destinations, nation-states and countries have been rated as extreme to medium travel risks, by Riskline.
The risk intelligence company has reiterated that the outbreak has had a severe impact on international travel. That includes disruptions to flights and other modes of transport, as well as lockdowns and movement restrictions, with little to no prior warning.
Riskline has again restated that anyone travelling should make sure they are in good health, exercise good hygiene practices and be prepared for unexpected disruptions to their travel plans.
The World Health Organization (WHO) declared the COVID-19 outbreak a global pandemic on 11 March. Travellers from affected countries may face mandatory quarantine at their destination. Reconfirm itineraries prior to departure and closely follow travel alerts and advisories.
During travel to any destination and for up to 14 days after returning, people should monitor themselves for any flu-like symptoms - especially fever or shortness of breath. If experiencing any symptoms, travellers should self-isolate and contact their doctor or local authorities.
According to the Riskline report, the following countries have been rated according to risk: 
 Covid-19 risk level 'extreme'
China
France
Germany
Iran
Italy
Spain
Covid-19 risk level 'high' 
Albania
Algeria
Angola
Argentina
Austria
Belgium
Bermuda
Bolivia
Cameroon
Canada
Central African
Republic
Chad
Chile
Colombia
Costa Rica
Czech Republic
Denmark
Ecuador
Egypt: Red Sea
Estonia
Finland
Greece
Guatemala
Guinea-Bissau
Honduras
Hungary
Iceland
Iraq
Ireland
Jordan
Kuwait
Latvia
Lebanon
Lithuania
Libya
Liechtenstein
Luxembourg
Mauritius
Mauritania
Mongolia
Montenegro
Netherlands
New Caledonia
Niger
Panama
Paraguay
Peru
Philippines: Metro
Manila
Poland
Portugal
Puerto Rico
Qatar
Russia
Rwanda
Sao Tome & Principe
Saudi Arabia
Senegal
Slovakia
Slovenia
Somalia
South Korea
Svalbard and Jan Mayen
Sweden
Switzerland
Taiwan
Tunisia
Turkey
California
New York, Metro Area
Venezuela
West Bank and Gaza
Yemen
Significant updates
From 23 March, Brazil will stop entry to anyone from the EU, UK, Norway, South Korea, China, Switzerland, Iceland, Northern Ireland, Australia, Japan and Malaysia, without a valid residency/work permit.
From 22 March, all people travelling from Europe to South Korea will be tested for COVID-19 infection and made to self-isolate for 14 days at home or at a government-approved facility.
On 20 March, Argentina ordered a nationwide lockdown until 31 March, which means people have to self-quarantine at home and prohibiting non-essential movement outdoors.
Also from 20 March, Australia and New Zealand suspended entry to all foreign nationals and non-residents into the country until further notice.
On 19 March, California, USA, issued a stay-at-home order to residents, statewide, to avoid non-essential movement outdoors until further notice. Hong Kong also announced that all arriving travellers will undergo mandatory quarantine for a period of 14 days.
After suspending international flights, Saudi Arabia suspended all domestic flights, buses and taxis until at least 3 April. Qatar instituted similar controls on local public transport; non- essential businesses and public offices were also closed in Lebanon, Iraq and Kuwait.
In Bolivia, Colombia and Ecuador land borders were closed from 19 March, and long-distance transport and flights were suspended. Borders were also closed to foreign nationals in Argentina, Chile, Panama, Costa Rica, Guatemala, Honduras, Peru and Paraguay.
European Union (EU) authorities suspended arrivals from outside the EU to Schengen Area countries for 30 days.
Cameroon closed its land, sea and air borders to all foreign visitors on 18 March until further notice.
As of 18 March, an overnight curfew from 18:00 to 06:00 local time was in effect in Tunisia, amid a nationwide lockdown
Malaysia announced that all international flights were suspended from 18 March and foreign arrivals will be barred from entering the country through at least 31 March.
Spain and Germany announced the reintroduction of border screening measures from 17 March.
American Airlines (AA) cancelled the majority of its flights from the US to Europe and Asia due to low demand and travel restrictions, following competitor Delta Air Lines.
For more features and breaking news sign up to C&IT Magazine's daily Newstracker.
Have you registered with us yet?
Register now to enjoy more articles
and free email bulletins.
Register now
Already registered?
Sign in