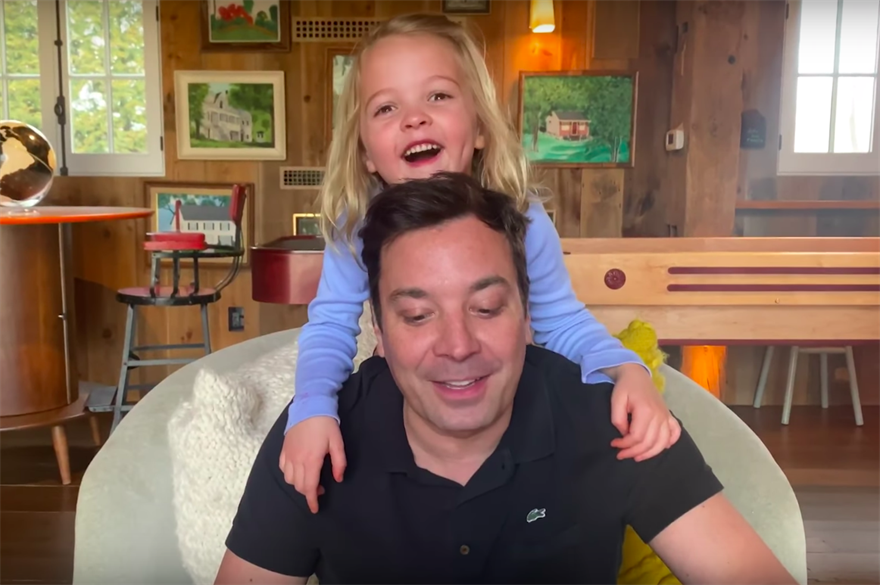 I am an optimist by nature, and I think in a time where all the news right now is seemingly quite negative - especially for the events industry - I'd like to turn your attention to the positive.

Today I woke up and saw something that reminded me that the show must go on, and that the show can go on. The Tonight Show with Jimmy Fallon: At Home Edition.

This time last year I was lucky enough to sit in the audience of the aforementioned talk show and see just how incredible the studio and production levels are. But now it has been reduced to Fallon sitting at home while his wife records him, and his daughters interrupt him. Is it a sleek and seamless high-quality production? No. Is it just as entertaining? Possibly more so.

It makes it clear that you don't need things to be perfect right now, and that everyone is in the same boat, but by being innovative and thinking outside the box Fallon is still able to deliver a very candid version of the show. In fact part of the charm is its rawness, it is the fact that Lin-Manuel Miranda is on a zoom call with him, that you can hear his wife laughing from behind the camera and that the titles are hand-drawn by his daughter.

And remember this is a multi-million dollar show with huge investment pumped into it daily. NBC can't afford to jeopardise such a thing, and yet they've taken a risk, thrown out something that is below the usual standards, that is not 'the norm', and yet it's worked wonderfully.
The particular episode that I refer to has over three million views, 89,000 likes and comments that praise the concept. One YouTuber comments: "Jimmy getting horribly tortured by his daughters for 17 minutes whilst attempting to tell jokes. 10/10 content, loving it." while another says: "Is it weird that I like this even more? You get to see celebrities, as their "real" selves (nobody is totally real on camera) in their homes. Pretty cool! Thanks Tonight Show staff and Jimmy & family."

It all reminds me of a FAM trip I attended to Israel last year - a destination, I will confess, I knew very little about. As we explored Tel Aviv and Jerusalem, my ignorance was amplified when I was educated about just how innovative the nation has been, and how many inventions were created by Israelis across almost every sector including medicine, agriculture, technology and defense. For example, the USB flash drive - who knew?

But the lesson was that this innovation came from difficulty. Shimon Peres, the former Prime Minister and President, is quoted saying: "In Israel, a land lacking in natural resources, we learned to appreciate our greatest national advantage: our minds. Through creativity and innovation, we transformed barren deserts into flourishing fields and pioneered new frontiers in science and technology."

And it is a similar lesson that I believe we are being taught now. We are facing difficulty in the industry; self-isolation, social distancing, travel bans, all of which has a direct impact on events. However, there is a silver lining. Everyone is being forced to innovate.

Our normal day-to-day schedules usually don't give us this luxury, we can often be robbed of time to think strategically and creatively because we're just 'too busy'. And what's more, the need hasn't been there. The problem hasn't existed, for a solution to be created.

I'm not oblivious to the worries and concerns that are rippling through the industry, and C&IT plans to do everything we can to support businesses and individuals, but I want to encourage you all to try and smile, try and find the laughter amongst the disarray, and try to remember we are a tight-knit community that has always supported one another.
Have you registered with us yet?
Register now to enjoy more articles
and free email bulletins.
Register now
Already registered?
Sign in