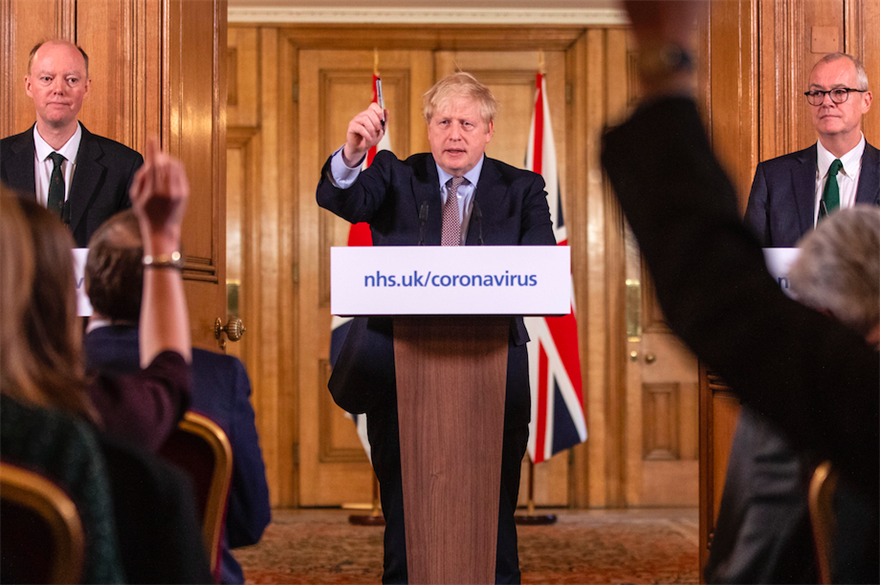 UK government advice announced by prime minister Boris Johnson yesterday stated that people should work from home if they can and avoid "non-essential" travel and contact with others. This includes urging the population to avoid social gatherings, such as pubs, clubs and theatres. 
As a result, many hospitality industry experts and media commentators are calling for more clarity on the language surrounding the advice.
"Do pubs, bars, restaurants, cafes, theatres, cinemas close or not?" tweeted Piers Morgan today.  "Ridiculous of @BorisJohnson to just 'suggest' it & not ban it. Not least because these businesses will be forced to close but can't claim on insurance if they're not ordered to. This must be clarified - urgently."
Food critic Jay Rayner also tweeted: "Let me add my voice to the justifiably outraged clamour of those furious at the govt for insisting hospitality and entertainment industries shut down without legally mandating them to do so, meaning they can't claim insurance. Staggeringly reckless." 
Meanwhile, British chef, restauranteur and food writer, Stevie Parle, said: "The idea that a mandated closure would be a help is NOT the thing to focus on right now. Most won't be covered, some MIGHT get a business interruption claim eventually. We need help paying our staff teams and overheads as we have basically no revenue. We need that help NOW."
James Calder, chief executive of the society of independent brewers said that while the government is right to follow scientific advice to prevent the spread of this disease, "advising people to stay away from pubs, rather than ordering them to close is an ill-thought-through halfway house. 
"Government's package of measures announced at the Budget last week was a step in the right direction but we need more. A lot more. Pubs and the small breweries that supply them now need direct Government help if they are to survive." 
The latest government advice has been called "catastrophic for businesses and jobs" by UKHospitality CEO Kate Nicholls. 
"The government has effectively shut the hospitality industry without any support, and this announcement will lead to thousands of businesses closing their doors for good, and hundreds of thousands of job losses. 
"Over the past few weeks the industry has suffered unprecedented drops in visits and many business are already on their knees. This latest advice leaves the industry in limbo, with no recourse to insurance.
"The government must act now to stop them going under and protect the people's jobs. These venues play a unique role as community hubs and it's in all our interests to protect and preserve them so they are still there once we emerge from this crisis. 
"We need immediate and far-reaching support from the government, and meaningful business continuity measures." 
"The industry feels like we've been hung out to dry," Michael Kill, chief executive of the Night Time Industries Association told The Guardian. 
"We're happy to take into account public safety, but we also have to consider the survival of businesses. 
"It will have a devastating impact on an industry worth billions of pounds to the economy. It's taken years of growth and entrepreneurial spirit to get to this point, and now what's happening is the government has turned its back on us."
The call for more support has been echoed by UK travel trade association UKinbound, which has asked the chancellor Rishi Sunak for "aggressive and urgent Government intervention" to protect people working in UK tourism and hospitality from the business impact of COVID-19.
UKinbound's request for urgent measures include:
Guidance on how businesses can apply for Business Interruption Loans

Extend rate relief to medium and large businesses, not just small businesses

Corporation tax, VAT, PAYE and other tax payments to be deferred for 12 months
Employees in tourism and hospitality who have been temporarily laid off or put on reduced salaries to be compensated

Suspend the requirement for tour operators to refund customers who cannot travel and instead issue credit notes valid for 12 months
Joss Croft, CEO of UKinbound said: "The UK's tourism and hospitality industry simply has no revenue stream or working capital with which to sustain itself, and so we hope that the chancellor's announcement today about further financial support for the economy will include our sector. 
"Additionally, any support packages must be rolled out and available immediately with absolutely clear guidance; tourism businesses have days, not weeks, in which to survive."
European response
Similar measures are being demanded more widely across Europe.
The European Tourism Manifesto alliance has urged the European Commission and national governments to implement measures including:
Temporary state aid for the tourism and travel sector from national governments

Fast access to short and medium-term loans to overcome liquidity shortages

Protection of workers from unemployment and loss of income and support for self-employed tourism stakeholders

Fast launch of the European Unemployment Reinsurance Scheme

Deferment of fiscal and social contributions

Better coordination between national authorities in terms of alignment of travel advice to affected regions

How has the coronavirus affected you? Please fill in this 15-question survey (all answers are anonymous) so that we can provide a measure of the impact of this pandemic worldwide.
For more features and breaking news sign up to C&IT Magazine's daily Newstracker.
Have you registered with us yet?
Register now to enjoy more articles
and free email bulletins.
Register now
Already registered?
Sign in