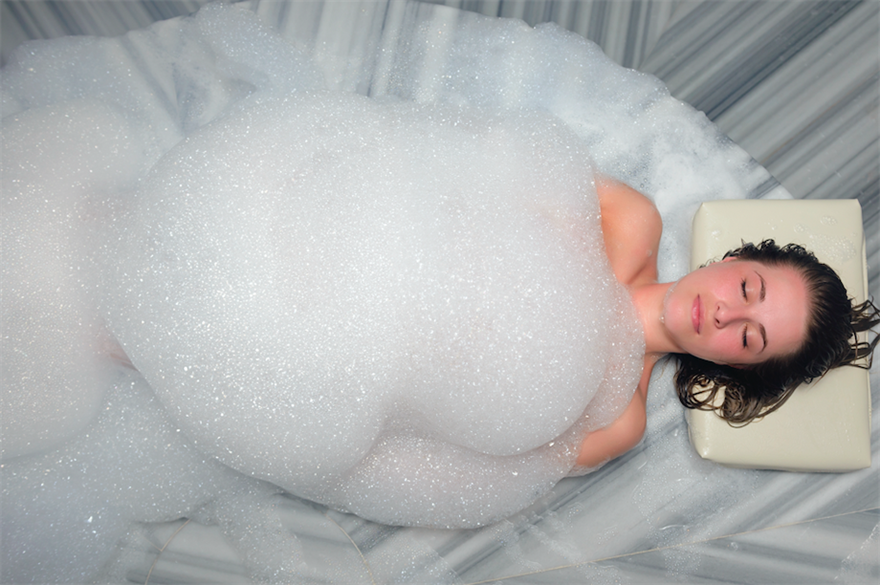 I recently joined a group of journalists on a press trip to Istanbul, a city brimming with culture and history. 
Between a boat tour on the Bosphorus and browsing the Grand Bazaar, we were treated to a couple of hours at Ayasofya Hurrem Sultan Hamam – a sixteenth-century Turkish bath.
None of us had been to a Turkish Bath before so we asked our guide what to expect. He was more keen to tell us about the history of the building and the surrounding sites. But from what we gathered, the bath involved a lot of scrubbing and massaging. Fine by me.
In the hamam, men and women were separated into their own sections. Instead of changing into our swimming costumes, we were slightly surprised to be given some disposable underwear and, thankfully, bathrobes to wear over the top. 
Then the attendants steered us towards a steamy marble room where the bath begins – the frigidarium.
Much to our alarm, everyone in there was naked.
We looked at each other in surprise, clutching our bathrobes around us – this wasn't in the description! Mild panic set in as the smiling attendant gestured for us all to de-robe.
I think we all silently agreed that running away might just be even more embarrassing, so suddenly we found ourselves standing there in nothing but our pants. 
Sitting side-by-side on a marble bench we began the first phase of the bath, the steam, which involved pouring copper bowls of hot water over ourselves. I felt like an extra in Game of Thrones.
We had plenty of time to take in the marble and mosaic surroundings. The combination of ancient architecture and bathing rituals that haven't changed for millennia made the perfect setting for an other-worldly experience. But sitting practically naked just a few feet from my colleagues was somewhat distracting. 
The attendants soon brandished some exfoliating gloves and scrubbed every inch of us until we were pink. Then they led us to the massage area – a big marble platform in the middle of the room. 
I had signed up for a 'very firm' pressure, and that's exactly what I got – front and back. 
During the massage, they dip cloth bags into bowls of soap, swing them around and then release huge mounds of scented foam over the top of you. It feels like you're lying a warm cloud. It was also nice to have a temporary soap-shield.
After more scrubbing and rinsing, I feel softer and cleaner than I've ever felt in my life. 
Eventually, we are handed back our bathrobes along with bottomless cups of pomegranate juice and Turkish delight. 
As I sipped the drink, I felt conflicted.
I'm in awe of the Turks' blasé attitude to nakedness, but I was also slightly annoyed with myself for feeling like the uptight westerner that I clearly am.
At the back of my mind, I felt a little indignant that I wasn't warned in advance, but equally, pleased with myself for having embraced a new and totally authentic experience. 
After all, if I had been warned about all the nakedness, would I have gone through with it or found some excuse to skip the activity?
These were the questions whirring through my head as we reunite with our male colleagues.
It turns out they had exactly the same experience – and they absolutely loved it. 
Have you registered with us yet?
Register now to enjoy more articles
and free email bulletins.
Register now
Already registered?
Sign in