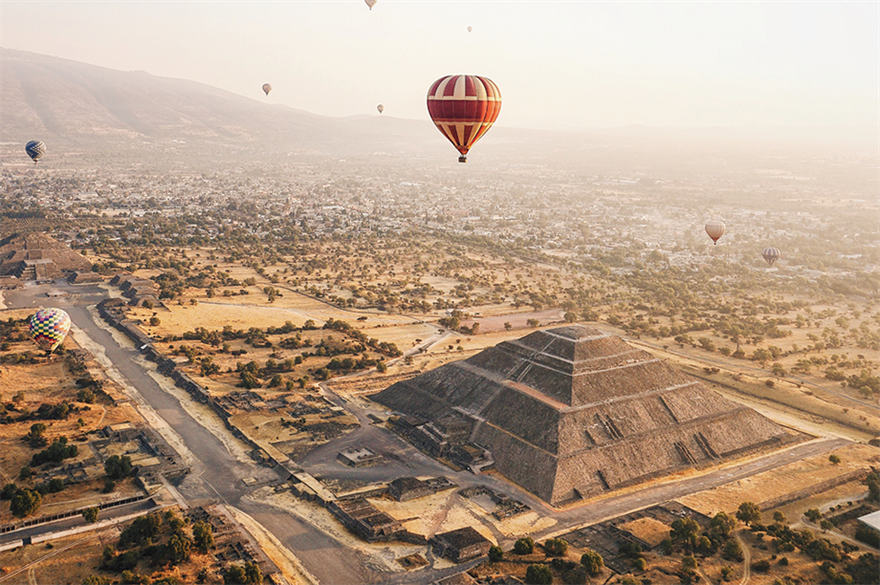 1. Visit Teotihuacan
Northeast of Mexico City, this archaeological complex is well worth a visit. Between the 1st and 7th centuries, this ancient settlement was one of the largest cities in the world. At its heart lies the Pyramid of the Sun, made up of three million tonnes of volcanic rock.
2. See the Guachimontones
In the state of Jalisco, about an hour west of Guadalajara, these circular stepped pyramids date back to 300BC, before the Incas and the Aztecs. Little is known about the people who built them.
3. Experience The Day of the Dead
In early November, The Day of the Dead is celebrated throughout Mexico. The James Bond film Spectre features a Day of the Dead parade in Mexico City, but the parade had never actually taken place there. Mexico City held its first Day of the Dead parade in 2016, inspired by the film and sponsored by the government to boost tourism.
4. See the Toltec warriors
Northwest of Mexico City, in Tula, the ancient Toltec warriors are represented by the Atlantean figures. The ancient Toltecs practised human sacrifice. The site at Tula features a skull rack where the heads of sacrificial victims were placed.
5. Visit the Frida Kahlo Museum (La Casa Azul)
No Mexico trip is complete without a visit to Mexico City. The Frida Kahlo Museum, La Casa Azul (the Blue House), is located in the neighbourhood of Coyoacán in Mexico City. Kahlo was born and died in La Casa Azul, which became a museum in 1958. The urn that holds her ashes is still there. Soviet leader Leon Trotsky lived with the painter for several years in this house and they even had a brief affair.
6. Go to Cancun Underwater Museum
In Cancun, visit these sculptures by British artist Jason deCaires Taylor, which were placed on the ocean floor by a 40-tonne crane. They are made of pH-neutral cement to encourage the growth of corals.
7. Visit Tequila
The home of the famous drink, Tequila is a colourful town full of distilleries and quaint architecture. Farmers who harvest agave plants to make tequila are called Jimadors. Mexicans describe the drink as 'liquid gold', but scientists have also found a way to process the alcoholic drink to make synthetic diamonds.
8. See Chichen Itza
This Mayan relic is one of the most visited archaeological sites in Mexico. It's on the peninsula of Yucatán state in Mexico. 
9. Spend time in Guanajuato
The colourful and historic city of Gunanjuato has colonial-era mansions, churches, and houses built with pink and green sandstone. The city's Kiss Alley is just two feet wide. Couples who pass through kiss each other for good luck.
Have you registered with us yet?
Register now to enjoy more articles
and free email bulletins.
Register now
Already registered?
Sign in