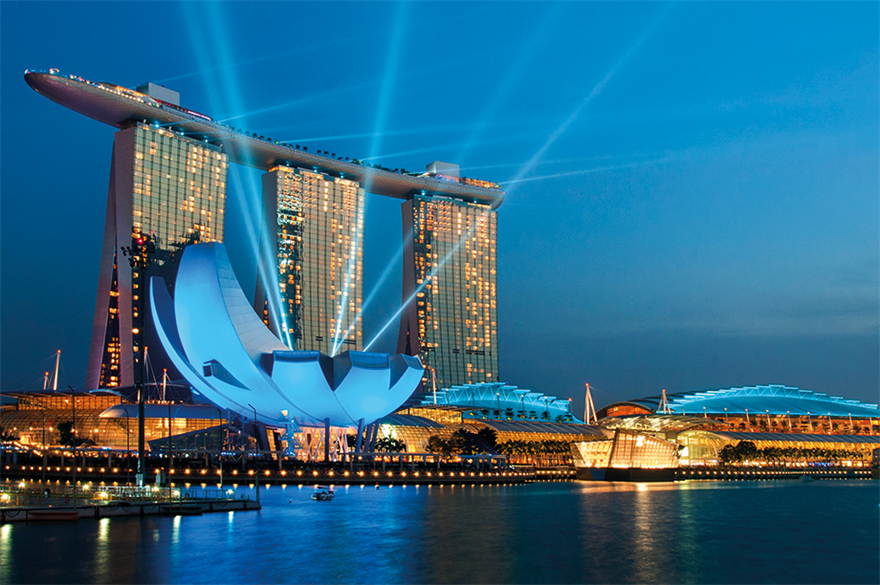 'It's an event planners dream, as your delegates never have to travel too far between locations'
By Marc Hazelden, client services director at Top Banana
Before going to Singapore, I didn't really know what it had to offer, other than seeing photos of its famous city skyline and of course trying a Singapore Sling or two.
Travelling to and experiencing somewhere with no preconceptions was great, as I got to embrace everything with a completely fresh perspective.
Singapore is the only island-city-country in the world and is known as one of the safest places to visit. Every corner of it is clean, accessible and you're made to feel welcome at all times.
From an event planner's perspective, it is exceptionally practical, as you can almost guarantee that your delegates will be happy travelling to and from airports and walking around the city, and feel safe while enjoying the sights.
As Singapore is a tiny country – smaller than many cities around the world – it's an event planner's dream as your delegates never have to travel too far between locations. 
Although Singapore may be well known for its cosmopolitan city, you are only a stone's throw away from nature and traditional Malayan culture. What really resonated with me was the harmonious culture, as it's a real fusion of East meets West with all religions and cultures living side by side.
One of the greatest experiences was visiting an island off the coast of the mainland called Pulau Ubin, where we had a traditional Peranakan lunch in a local resident's house and had a go at making the food.
It was a snapshot of Singapore 50 years ago and really reminds you of the rich heritage and culture of its people. If you want to get up close to Singapore's natural environment, I would also recommend visiting Sungei Buloh Wetland Reserve (below) and the Bukit Timah Nature Reserve.
As the FAM trip was co-hosted by Shangri-La Hotels, we stayed at the Shangri-La Hotel Singapore which had recently been refurbished with high-end five-star facilities.
This hotel provides a luxury sanctuary in the heart of the city, set in 15 acres of lush greenery and just minutes from the hustle and bustle of the streets of Singapore. It's also commonly used for dignitary visits, so if you are looking for high-end security, it's your best bet.
We also stayed at Hotel Jen Tanglin, part of Shangri-La's Hotel Jen brand – a modern hotel with playful designs and tech-driven experiences including a robot that delivers room service. But you definitely can't go to Singapore without experiencing what has become its most iconic hotel, Marina Bay Sands.
While its famous infinity pool is reserved for residents only, the Sands Sky Park Observation Deck is open to the public and definitely worth a visit.
Located 57 storeys up, it offers panoramic views of Marina Bay and Singapore's world-class cityscape. One thing I can promise you'll love about Singapore, is that there's always something exciting to do.
Gardens by the Bay brings nature into the heart of the city and is an area of outstanding beauty and futuristic thinking – it's also a perfect representation of what Singapore stands for – preserving the country's nature, while developing in line with the rest of the world.
Sentosa Island, however, could be described as an adrenaline-junkie's dream, boasting the AJ Hackett bungee jump, Asia's steepest zip wire and an 11-storey-high sky walk.
For slower days, the historic riverside area of Clarke Quay and bustling districts of China Town and Little India (below) are beautiful spots for exploring and provide plentiful dining choices.
What makes Singapore such a magical place is its obvious consideration for the country and its people. It looks like the cosmopolitan future that we all hope to see one day – where nature fuses into the city and litter and crime are obliterated.
For events and incentives, there are not many other destinations in the world as innovative, inspiring and accessible as Singapore – it's high up on my list for 2020. 
'I had my first-ever encounter with a robot waiter'
By David Jones, senior production manager of Live Events at The Creative Engagement Group
I have worked in Singapore a number of times, always within the pharma sector. Generally speaking, I have delivered Investigator Meetings in this region, although my most recent trip was to oversee the set build, branding and technical execution of a live web broadcast where we linked up to several client locations around the world. 
Did my perceptions match up to the reality? Well, let's get the obvious out of the way first. I wasn't prepared for the heat and humidity in Singapore the first time I visited. Compared to the UK, Singapore is hot. I'm always grateful for the ever-present air conditioning inside the majority of internal spaces. 
Having said that, my most recent jaunt to the Far East came right after the hottest day on record in the UK, so the climate in Singapore felt quite pleasant in comparison. 
I think there's a preconception that the country is very expensive and although there are always geographical variations in costs, I've found the quotes from my AV suppliers to be reasonable, with manpower rates being generally lower. 
The crews are always well-trained and know their way around their designated equipment. And although the teams there tend to arrive in great numbers, they require minimal coordination and set about their tasks without the need for additional guidance, following our initial preproduction meetings and calls. They bring a very polite and happy demeanour to proceedings and there is always a solution at hand. 
It's easy to quickly build a rapport with a crew that has a positive mindset (and one that brings you a chicken katsu curry for lunch without being prompted). 
I also had my first-ever encounter with an automated robot waiter when I was working in Singapore. After ordering room service, I opened the door to be greeted by 'R2-D2' brandishing a tray of food – I just wish I'd had the presence of mind to take a photo.
Have you registered with us yet?
Register now to enjoy more articles
and free email bulletins.
Register now
Already registered?
Sign in