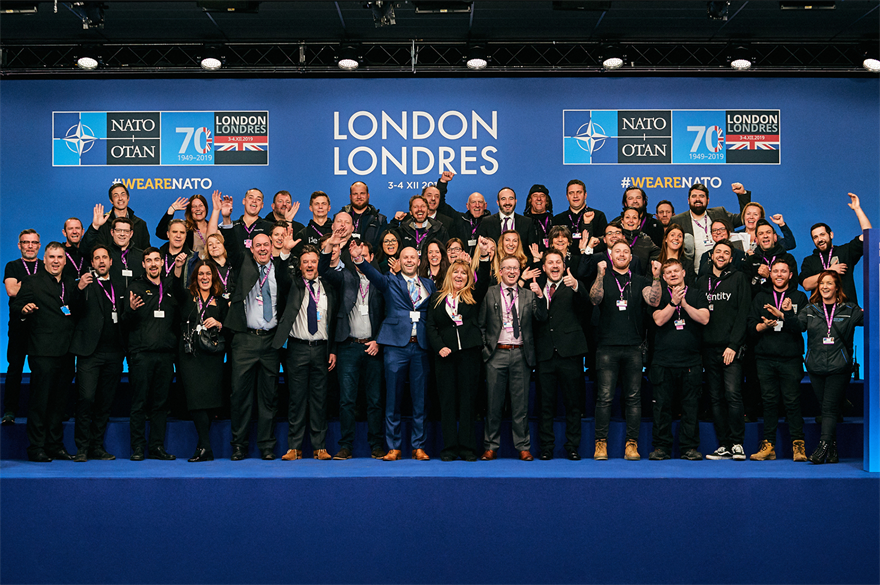 Eastbourne-based event agency Identity capped off a strong year in 2019 by making onto the Sunday Times Fast Track 100, where it was one of three event agencies to make the prestigious list.
The agency's MD, Michael Gietzen, leads a team of around 100 people to create events for clients including Siemens, Google and the UK government.
C&IT caught up with Michael to find out more about a very successful year for the agency and why he's targeting the higher reaches of C&IT's Top 50 Agencies in 2020.
How did it feel to make the Sunday Times Fast Track 100?
We were incredibly proud of that achievement. It's a serious award. It's incredibly well respected and has been the best recognition of everything we've worked hard for. The team is really buzzing at the moment.
Part of our journey is about getting into the top 20 of the C&IT Top 50 and this is another way of showing we're doing the right things to get there.
How did you get on the list, have there been some big client wins?
Siemens was a great win for us. We're now responsible for delivering everything Siemens in the UK, including a big activation at the Goodwood Festival of Speed.
Part of our work for Siemens was a hydrogen fuel cell (pictured below) that powered the supercar paddock at Goodwood. It was very well received and exciting to work on.
We've also had some cracking UK government wins this year. We've been saying we're the agency behind some of the UK's biggest events, including the Media Freedom Conference and the NATO Leader's Summit in December.
Then we've been working with the Department for Transport on its Get Ready for Brexit campaign. That was the biggest event staffing contract of the decade. And we also picked up the RAF and Royal Navy this year, looking after outreach events.
It's been a fantastic year for new business but at the same time many of our clients have been with us for five years or more. If Identity wasn't growing and we weren't being innovative with these new client wins our old clients would leave us.
How do you see Identity in terms of its size and strength next to other event agencies?
I've got the utmost respect for the big agencies like WRG, Jack Morton and George P Johnson and I see them as competitors now. It's great to feel like Identity has become a company that competes at that level. We're very proud to be mixing with companies that are industry stalwarts and legends.
Am I right in thinking the company began life as an exhibition stand maker?
My dad was in the exhibition industry for 30+ years (he got to retire early which he's quite happy about!) and Identity itself started as a design and build exhibition stand project management company called Downland Exhibitions.
I'm a chartered accountant by trade but I found out that I'm a closet creative - and I never would have lasted as an accountant anyway.
The live events and full service agency stuff is where the success is so we've been evolving into that for the last five years.
What are the benefits of being headquartered in Eastbourne?
We're very close to the Eurotunnel, which gets us into Europe when we're trucking to events on the continent. And back in the eighties there used to be a very large exhibition contractor around here, so it was a good strategic move to be based here.
There's quite a large events infrastructure around Sussex and however much I travel I find myself coming back to Eastbourne with the South Downs and the seaside and my family, thinking if I can have Google and Siemens as clients and stay in Eastbourne then that's a better work-life balance.
Janet Dodd, director of live events and Michael Gietzen at the NATO summit
What has changed the most in the events industry during your 10 years as MD of the Identity Group?
Three things. On the technical side, procurement plays a much greater part in the selection or relationship that an agency has at that top level. That choice of decision making that was coming from the event manager or event director hasn't fully shifted over but during the last decade, there's definitely been a big transition to the sheer amount that procurement has got involved in.
The second is technology. You can no longer say "I'd like to put on an event and I'd like to look at the digital please" - they're inextricably connected. It reminds me of that story that people born before 1996 see the world as what's on the internet and what's real, whereas people born after see the internet as part of life. There's been a similar shift within the events space.
The third is one of the biggest changes in our industry: sustainability. Our office has just won plastic-free status and we're really pleased with that. And because we work with the government and sign up to its pledge around carbon emissions we're probably the most sustainable agency in the UK at the moment.
There's still so much waste in the exhibitions and live events industry but that is changing.
What's exciting is what technology can do for an event, whether it's holographic projection, better data capture and the way we engage with audiences, or how we bring stories to life, it's super exciting to think about what the next 10 years are going to bring.
For more features and breaking news sign up to C&IT Magazine's daily Newstracker here.
Have you registered with us yet?
Register now to enjoy more articles
and free email bulletins.
Register now
Already registered?
Sign in