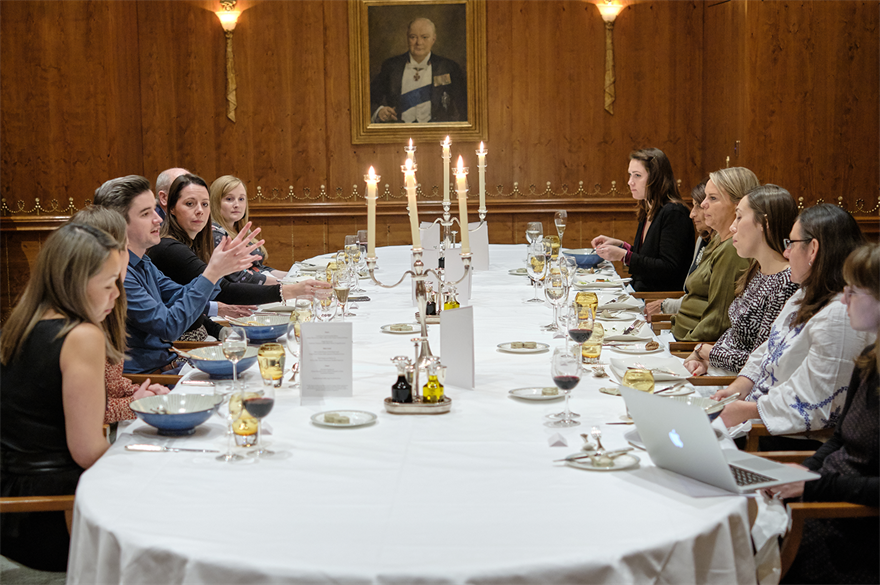 Corporate event planners from across the industry gathered at The Savoy to discuss C&IT's annual State of the Industry: Corporate Report, in partnership with Cvent.
During the discussion, guests tackled the big topics in the industry including sustainability, talent and health and wellbeing. "How do you build sustainable practices without downgrading on quality?" was the first question C&IT's editor Calum Di Lieto asked.
Yin Khoo from Sports Pro Media said: "It's small steps, you have to get clients to understand. At our next big event we have added a sustainability element, so we have the same budget but I now need to make lots of areas sustainable so I have to look at the small things."
Judy Elvey from Cvent said: "At the moment we are investigating what we can do, our industry does have a lot of waste and we are a bit behind."
Nicole Hatch from Civil Society Media added: "As more products become sustainable things will slowly change but getting old school companies to embrace that change is tough. You are on a journey and sometimes you have to pull sponsors along."
Sponsors and internal politics aside, guests were then asked whether planners were seeing pressure from delegates.
"Everyone says that they want to see vegan or at least vegetarian options," said Hatch.
Charlotte Boaden from South Wales Chamber of Commerce said: "Individuals are really passionate about sustainability if you tell people the story they understand that - for example, if you remove meat from the menu but tell the story of why then they warm to it."
Stephanie Johnson from The Economist runs the publication's annual sustainability summit. She said: "We have a lot of methods in place and sometimes it turns out that plastic is the best option. Naturally, people don't realise that or understand the work we have done to find that out so they just assume that we haven't thought of it."
But where do you begin when the world of sustainability is ever-growing in its scope?
Boaden said: "In my previous role, we found that we had to pick certain things to focus on so we picked water bottles for one particular conference. Every message we sent we had a tagline about bringing their own bottle.
It worked really well and nine out of 10 people had their own bottle but naturally big organisations are risk averse so we had to have some plastic bottles ready in case."
"Sir David Attenbrough himself said let's not talk about everything let's just focus on one thing that people can actually do, so with Blue Planet they focused on plastics in the ocean. It's an interesting and sensible way to look at it" added Di Lieto.
All the small things
What is the one thing that people can tackle - what is the event planners' equivalent of plastic in the ocean?
Hatch said: "Signage is the bane of my life! I need branding solutions that don't cost a fortune. I know in the future that things will change but right now I need to make signage. How do you make a venue look beautiful without wastage?"
Boaden offered a solution: "It's expensive but we use a supplier called Ecobooth. They are amazing, once you are finished you break it down and send it back."
Badges were another point of contention. Kevin Christensen from Cvent had some insight: "Badges are an obvious thing that we get asked about a lot. We don't actually make the badges but there are a lot of options, including recyclable and eco-friendly options, but obviously you have to pay a premium for it."
But what do you do if you aren't spoilt for choice?
Shirin Dhala from Inmarsat said that she only holds international events: "In some places sustainability doesn't even feature, for example next year we are going to Ho Chi Minh City and it is going to be a real challenge."
Helena Silver from Broadgroup agreed, saying: "All our events are abroad and we haven't worked out how to make it sustainable. Some countries are great and some are awful, you have to fly literally everything out, which seems ridiculous."
Talent
'Health and wellbeing' and 'talent recruitment and retention' were among the top challenges cited in the SOTI Corporate Report. Both areas come up time and time again at C&IT's industry events too.
"It's hard to inherit talent I think," said Hatch. "If you have people in the same jobs for the same time then you are dragging them along and it's hard to bring people up to where you need to be. Event degrees mean nothing to me, the only way to be brilliant at events is to do them."
Sports Pro Media's Khoo told the group that if people want to come and work for them, she asks them to come for a trial run at one of their events: "I ask people to come and work for us to give it a go so we don't waste their time or ours."
Workload
The agency world answers to the corporate world and often they complain that their work-life balance is a struggle. Is there a vast divide in workload?
Johnson said: "If you are recruiting, recruit from an agency. The corporate world offers so much more. Aside from going home on time you can make decisions because it stops with you, your recommendations can actually go to stakeholders."
"There's a perceived glamour about working agency side. I always wanted to do it but now I have a lot more to say, it's more rewarding," said Khoo.
Christensen concluded the evening: "I'm convinced that one day someone will look at the DNA from people in the MICE industry and realise there's a special sort of resilience there."
For more features and breaking news sign up to C&IT Magazine's daily Newstracker.
Have you registered with us yet?
Register now to enjoy more articles
and free email bulletins.
Register now
Already registered?
Sign in