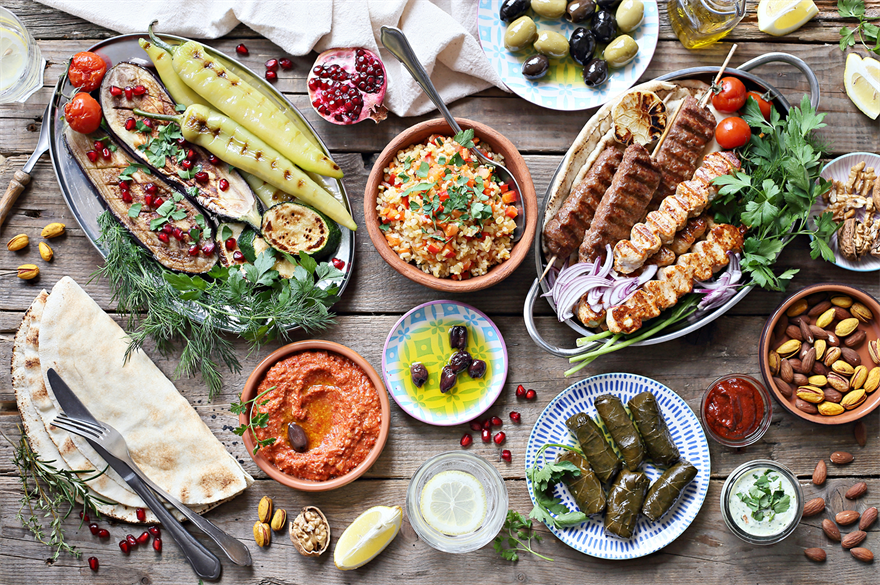 Black pepper ice cream, coconut ceviche, Levantine (eastern Mediterranean) cuisine and Japanese whisky highballs are just a few of the intriguing food and drink trends that will be popular in 2020.
That's according to Kimpton Hotels & Restaurants' sixth annual 'Culinary & Cocktails Trend Forecast', which says adventurous health ingredients and plant-based menus are going to be big next year.
Chefs will be getting creative with ingredients such as seaweed, ashwagandha (a plant in the nightshade family) and nutritional yeast as they cater to changing dietary and lifestyle preferences.
"Diners continue to be more educated, mindful and globally connected than ever before," said Scott Gingerich, Kimpton's SVP of restaurants & bars.
"This forecast has been able to pinpoint past favourites like last year's Aperol Frosé and predict the next big thing in flavours and ingredients like black garlic, s'chug [hot sauce] and nutritional yeast for 2020."
Drink-wise, lower-alcohol spritzes will be a top choice at bars, as well as grilled, roasted and fire-blasted fruits for ingredients in cocktails.
Here are some of the other food trends identified:
More gluten-free options in traditionally carb-centric dishes like pasta and breads, using almond flour, rice flour and guargum (guar bean extract)
Continuing last year's trend, fermented foods with gut-healthy probiotics are growing in popularity with tempeh, pickled vegetables, infused vinegars and fermented dairy products popping up on more menus
Levantine cuisine, including Israeli, Turkish and Lebanese, is predicted as the most influential style for menus in 2020, according to nearly 40% of chefs surveyed
Dishes that bridge culinary regions will be popular, with more than half of chefs incorporating cross-cultural fusion dishes on their menus. These include Mexican and Southeast Asian cuisine, French with Scandinavian flavours, Cantonese Chinese and Peruvian (or Chifa) and American South with Japanese
Ingredients with sour flavours such as rhubarb, tamarind and vinegar will grow in popularity, with nearly 23% of chefs selecting sour as their favourite experimental flavour
Veganism will influence dessert menus, with 47% of respondents highlighting vegan desserts as the strongest sweet-tooth trend for 2020. Examples include lemon tarts made with cashews, coconut, and lemon zest or vegan chocolate peanut butter cheesecake
Aromatic, inedible garnishes were cited as one of the up-and-coming trends bartenders are most excited to experiment with in 2020. Examples include spice sachets with cloves and allspice, burning sticks of wood, or even absorbent, scented squares of paper clipped to glassware
Spritz culture will also affect coffee, according to nearly a third of respondents. Drinks such as the Espresso Tonic will be requested all year round
Mezcal will continue to dominate in 2020, with more than a third of respondents choosing it as the predicted spirit of choice next year. For example, one bartender pairs mezcal with rum, macadamia orgeat, La Colombe espresso and caramelised pineapple for a smoky, sweet, rich cocktail
Whisky highballs – a trend largely driven by the popularity of lighter Japanese whiskies – are predicted to be a big hit next year, followed closely by 'spiked seltzers' and the return of the Paloma
Botanical-infused sparkling drinks are cited as the non-alcoholic trend bartenders will most likely experiment with, followed up by alcohol-free spirits and teas with exotic fruit flavours like guanabana, lulo and passionfruit
There's more information on the forecast including recipes, photos, infographics and more insights from Kimpton chefs and bartenders here.
For more features and breaking news, sign up to C&IT Magazine's daily News Tracker.
Have you registered with us yet?
Register now to enjoy more articles
and free email bulletins.
Register now
Already registered?
Sign in