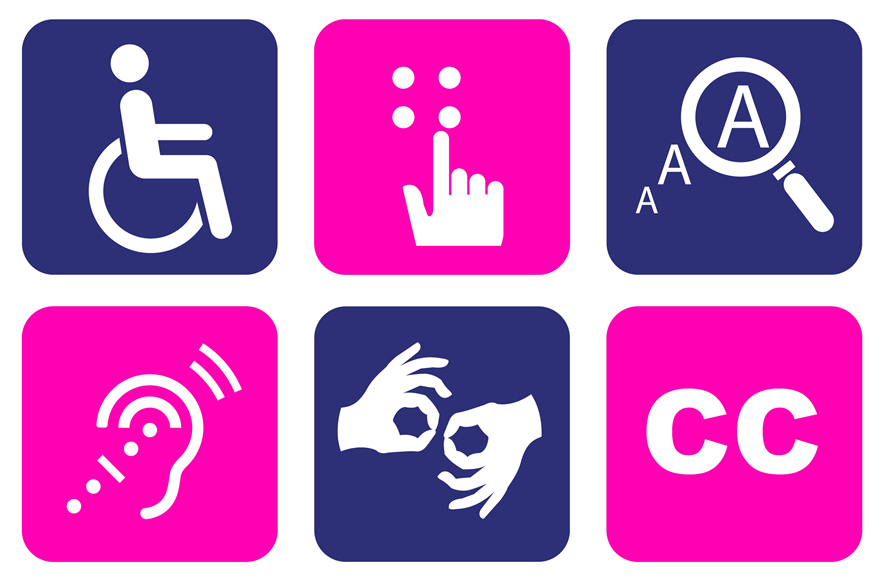 Doctor Helen Grote is a neurology registrar at Imperial College NHS Trust. She has been deaf since birth and, as a regular attendee of medical conferences, has some advice on accessibility and inclusion for event planners.
With input from Dr Charlotte Cuddihy, a clinical fellow at the General Medical Council who is also a wheelchair user, and Alexandra Adams, a deafblind medical student at Cardiff University School of Medicine, she has created seven steps for more accessible conferences.
Whether I can hear at a conference makes all the difference to whether I am able to engage with the conference – and by extension – glean any useful information that will help me to be a better doctor at work, both for my patients and colleagues.
I make a habit of informing conference organisers in advance of my access needs – and often follow this up with another email shortly before the conference. Too often, however, my messages are ignored, or simply not acted on.
In the past few months, I've been frustrated by the experience of conference organisers failing to tell audiovisual (AV) teams that I need access to a working loop system in all rooms. Or by speakers who don't face the audience, meaning I can't lip read. Such experiences leave me feeling isolated, and I'm not alone.
In the UK, 7.6 million people of working age (16-64 year olds) have a disability – this equates to 18% of the working age population. In many professions, my own included, conferences are an important part of keeping up-to-date with new research findings, developments in practice and policy, as well as providing important networking opportunities.
The Public Sector Equality duty requires public bodies to have 'due regard to the need to eliminate discrimination, advance equality of opportunity and foster good relations between different people when carrying out their activities'.
Private organisations should also have due regard to the same, under the 2010 Equality Act, when carrying out public functions.
1. ASK THE DELEGATES HOW YOU CAN HELP
Ask attendees in advance what their access needs are – disabilities take many forms – and each individual will find some adjustments more helpful than others. It means a huge amount to disabled delegates to know that you've read their conference application form and are considering how best to accommodate their needs to make the conference inclusive, enjoyable and useful.
2. PROVIDE CLEAR INFORMATION ABOUT VENUE LOCATION AND ACCESS
Mobility impaired delegates and those using wheelchairs will find information about accessible transport and parking arrangements very helpful. If parking is available, it is helpful to know the route from the parking area to the venue. Is it over gravel? Is it well lit? Are there heavy fire doors to negotiate?
It is also helpful to inform delegates about which door to enter by for level access to large lecture theatres. Those who are visually impaired may appreciate being met by a designated guide.
3. CONSIDER ACCESS AND FACILITIES AT THE VENUE
Check access routes to conference rooms and facilities; delegates with mobility issues may require lift access. Wheelchair-accessible bathroom facilities should be provided, with clear signage.
Ask delegates with disabilities if they require reserved seating; those who are deaf may wish to sit nearer the front, to assist with hearing and lipreading. Wheelchair users may prefer a designated space with easy access.
All delegates should be provided with clear timetabling and directions to conference rooms – but this is especially important for those with impaired vision or mobility, for whom the sudden rush to a 'breakout room' in the crowds can be a challenge.
Visually impaired delegates may appreciate the offer of a guide or 'conference buddy' who can help them navigate around the venue. Those with mobility impairment should be given information about stair-free routes, ideally with people on hand to provide directions.
All delegates should also be advised of planned evacuation routes in the event of an emergency – while this is hopefully never required, do bear in mind that lift access is not an option in the event of a fire.
4. AUDIOVISUAL ARRANGEMENTS
Blind and partially sighted individuals may require transcripts, or slides in advance, and conference materials printed in a format they can use, depending on the level of visual impairment they experience.
Provision for the deaf at conferences isn't difficult – a few simple considerations go a long way to ensure that delegates can participate, feel included and learn.
Remind speakers to face the audience, this helps hugely with lipreading. A high-quality loop system is also a fantastic asset. This works by transmitting an audio signal directly to a hearing aid via a magnetic field.
Please advise audiovisual teams to test loop systems before the conference day, especially if they're not frequently used, or you're in an unfamiliar venue.
Loop systems should be present in all conference rooms, and not just in the main hall. Have staff on hand to advise deaf delegates which part of the room the loop system functions in best, as smaller loop systems may be limited to a particular seating area.
Real-time captioning is a fantastic tool and helps all delegates – not just the hard of hearing. Several companies now offer professional captioning, either in person or remotely. The Association of Speech-to-Text Reporters (STTRs) (www.avsttr.org.uk) provides details of registered reporters.
5. DON'T FORGET THOSE WITH HIDDEN DISABILITIES
Remember too that not all disabilities are visible. Those with anxiety or autism may also appreciate access to a quiet room where they can rest, away from the crowds. Providing advance notice of what format breakout groups might take helps, too – not everyone enjoys forced discussions or 'team games' with people they've never met.
6. LUNCHES
Not everyone can manage a 'standing lunch' – make sure there are chairs available, and that there is someone on hand who can assist delegates with visual impairment. Dietary requirements for all delegates should be noted in advance and catered for appropriately.
7. FEEDBACK
Once the conference is over, remember the value of feedback. Ask delegates what worked well and be open to suggestions for improvement. We want to work with you and help your company show what inclusion and diversity really looks like.
This article was written by Dr Helen Grote, a neurology registrar at Imperial College NHS Trust.
For more features and breaking news, sign up to C&IT Magazine's daily News Tracker.
Have you registered with us yet?
Register now to enjoy more articles
and free email bulletins.
Register now
Already registered?
Sign in