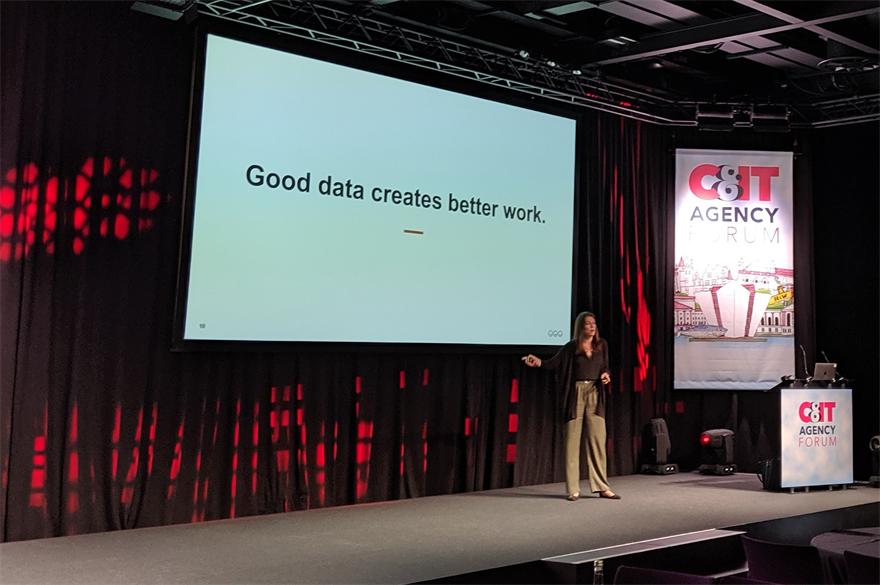 At C&IT's Agency Forum in Belfast, Carrie Mahoney, senior strategist at Jack Morton, gave a talk about how data can impact the experiences that event planners create, how data can be put to good use and how it can create better and more creative experiences.
"Conversations around big data in this industry have been going on for around a decade," said Mahoney. "It always seems like there are new ways to talk about it and new ways of trying something out but we haven't quite nailed it yet."
And there's been a growing apprehension about how to use data, she says. When giant tech brands like Facebook and Google are getting fined, and non-digital brands like British Airways and Marriott are also penalised for the way they've used data, it feeds into this apprehension.
"I used to feel a bit apprehensive too but I knew that I had to use data even if it seemed like a lot of hard work," Mahoney said. "Luckily I can say that I'm now converted [...] because what it does and what it provides us with new opportunities, which is very exciting."
Good data creates better work
"When you put good data to use, you can create better work," said Mahoney. "More importantly, you can create better creative work. And that's what we're here for, to develop better more engaging, exciting and successful experiences. And the way to do that is with data."
This is done on several levels, she explained. "The first is rational versus emotional. The rational level is how many people accepted the invitation, how many people walked across the floor etc. The emotional level is did it work and did it connect with people? Did it create an emotional response?
"That difference between rational and emotional is very important in any sort of experience if you're trying to make a difference. If you're just looking for sheer numbers, stick with the rational and you'll be fine.
Good data makes budgets grow
We have to change the way we think about data – that it's a report we do at the end of an event, said Mahoney. "We need to look at it as the place we start in order to create things," she explained. "It's the inspiration for a good event, it's how you develop a good idea and bring it forward and produce it.
"Good data and proven success are very hard to argue with," said Mahoney. "So making sure that you have not just good data but qualified data that goes back to the live experience and gives you insights, that's incredibly important and that's how you make budgets grow.
"Data is an incredibly powerful tool for us to use. It changes the way we work and sometimes it can be incredibly frustrating because it messes up our processes. But we can't forget about what it gives us.
"By using data in every stage of the event creation process we're able to have a great understanding of what it is we're trying to achieve and how to understand whether or not it worked.
"Data is not just an analytics tool, it's not just here for number crunching or that final slide of your wrap-up report, it's a source of creativity which allows you to create great things and produce great work."
Have you registered with us yet?
Register now to enjoy more articles
and free email bulletins.
Register now
Already registered?
Sign in