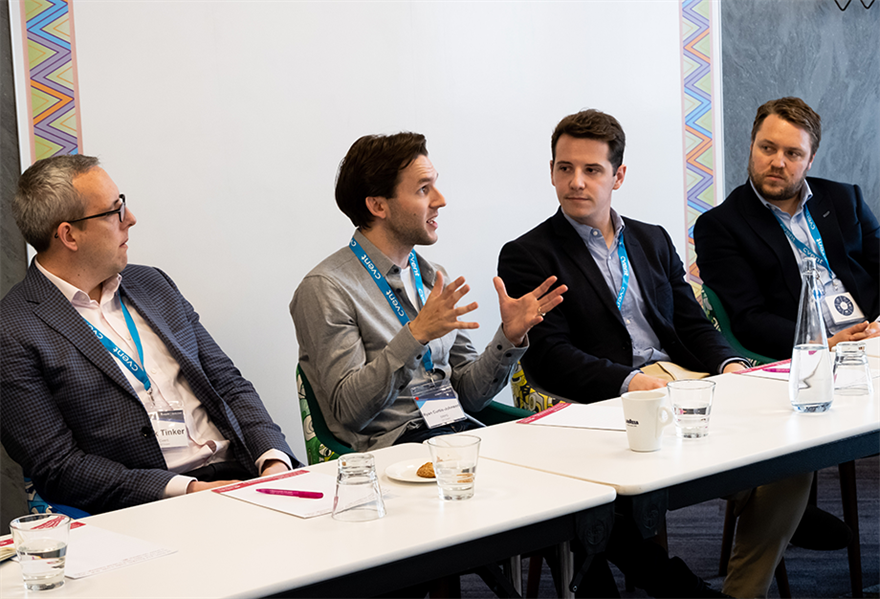 Event planning is high pressure and so the C&IT Surgery, a one-day event held in June in association with Cvent, sought to solve the industry's biggest challenges on hot topics ranging from personalisation and the "invisible workload" to event marketing. Here is a round-up of the key insights.
The day kicked off at Etc. Venues Monument in London, with a thought-provoking session from Ian Houghton and Dan Brain, co-founders of the highly successful MAD/Fest, a disruptive-style event for the advertising and marketing industries.
Addressing planners from Formula 1, Nationwide, Walgreens Boots Alliance, MCI Experience, DRPG and Sledge, among others, Brain explained the thinking behind MAD/Fest: "We just got bored with events. There was never a differentiator. We wanted to do every part of an event differently and made sure there were brilliant business reasons to attend. Appealing to people emotionally cannot be underestimated. Go with your gut instinct."
Next, a panel of experts explored the importance of data-driven events and how to collect, process and store the right data to inform decisions and improve the event experience. Kim Myhre, managing director of MCI Experience, pointed out: "Data is valueless if it doesn't generate insight. Carefully consider what data to gather, how to analyse it and how to use it."
Max Métral, senior analytics manager at Formula 1, added: "If there is a question in your survey where a delegate asks, 'why does the company need that?' then you have lost them. If you don't need it, don't collect it."
The panellists also said that successful measurement of ROI starts with defining objectives in advance, and sourcing the right tools to compile and extract relevant data.
The invisible workload
The first of five roundtables delved into a concept that is quickly rising up the business agenda: the "invisible workload". Defined as the unseen mental and emotional load of planning, anticipating, co-ordinating and monitoring to deliver successful events to budget, to all stakeholders' objectives and often within a short time frame.
Hosted by Charlotte Boaden, engagement and events consultant at Nationwide, the debate recognised how technology is blurring the lines between work and home, and how to reduce and manage those indiscernible tasks. One way forward is to make the invisible visible. Event professionals must become their own ambassadors and management must recognise and reward their teams for doing the "invisible" to motivate, enhance loyalty, create a positive working culture and, ultimately, to fuel their passion for events.
Charlie Hepburn, managing director of BE Vivid, highlighted the value of managing expectations on workload by having open and honest conversations between employees, managers, clients, suppliers and other stakeholders. He added: "It is the responsibility of management to remove the fear that prevents people opening up."
There is a need to recognise an emerging generational divide, as millennials and Gen Z dominate the workforce with their varying approaches and attitudes to work. This requires upskilling and educating employees and companies shifting their working cultures. Boaden concluded: "The events industry must move towards a more positive working culture, where employees are given the opportunity for flexible and agile working. Younger generations expect it and so businesses must adapt."
Event marketing
In a crowded and noisy marketplace, creating standout events is one of the toughest hurdles. To combat this challenge, the C&IT Surgery dedicated a roundtable talk to event marketing, led by Formula 1's Métral and Dane Cave, head of marketing and events at the Institution of Mechanical Engineers.
The session revealed email marketing as the most popular and fruitful marketing channel for events, despite people suffering from "inbox overload". Personalised and highly visual email invitations boost numbers. Increasingly, organisers are turning to technology for support with their event marketing needs, as personalisation is often at the core of new solutions.
Destination and venue appeal are significant factors in marketing events, although they appear to be not as highly prized as delivering exclusive expert content and networking opportunities that cannot be found elsewhere. Establishing digital communities and brand advocates is also imperative to the marketing mix.
The session kept returning to one central theme: knowing your audience. Cave said: "Event marketing, essentially, comes down to knowing your audience – knowing what they want to see, do and hear about at your events and how they want to be communicated to. Another key point made was to ensure there is consistency across all touchpoints, so people can trust your brand. It is vital not to oversell and under-deliver."
Personalisation
Holly Clark, head of events at the British Medical Journal, headed up a talk on the global marketing trend for personalisation and what it means in the context of conferences. Planners agreed that the move towards personalisation is about using data to understand your audience to meet their individual needs, exactly when they want it.
Clark explained: "Everything from marketing and content to networking can be tailored to your delegates. Using data to understand your audience, and the problems they face, allows you to present solutions. Sometimes it is as simple as honing messaging and tone of voice or suggesting content and people to connect with to ensure the event is relevant, seamless and an efficient use of their time. Create human experiences at every touchpoint to show delegates that you know them as a person."
Sustainability
A tidal wave of collective societal and environmental consciousness is underway and, as a consequence, sustainable event management needs to climb the priority list. Sustainability consultant Tracy Gold urged organisers to get on board because it will reduce costs: "You can't become mini campaigners in your own right, but embracing sustainability will help your PNL line. Small pennies work their way into big pounds."
Gold recommended starting small and identifying quick wins, such as food and choice of venue and destination. "Longer-term, the industry needs to establish industry guidelines and standards. It also must use data and trend analysis to make events as sustainable as possible," she said. "The future is about companies making smarter choices."
The event experience
The world of events, and the traditional role they play in the marketing ecosystem, is in transition because audiences are changing. Myhre introduced a discussion on "The Event Experience": "Today, attendees are digitally enabled, with access to more immediate information about the world around them – they no longer need to sit through boring content and they network in different ways. The key components of events must be redefined. Events are still extremely valuable, and are becoming more so, as brands recognise human interaction and engagement as a way to cut through the digital clutter and crowded noise in marketing."
Design thinking is at the heart of great experiences and starts with asking questions and listening to your audience to better understand them. The next stage is about applying behavioural economics, where event managers start to consider how to nudge audiences in a desired direction.
Myhre summed up: "It is vital to be more strategic in the positioning of our events and find ways to know the different personas within our audiences better so we can move from event planning to experience design. This is important for the future of events and will require new skills, disciplines and expertise."
Have you registered with us yet?
Register now to enjoy more articles
and free email bulletins.
Register now
Already registered?
Sign in