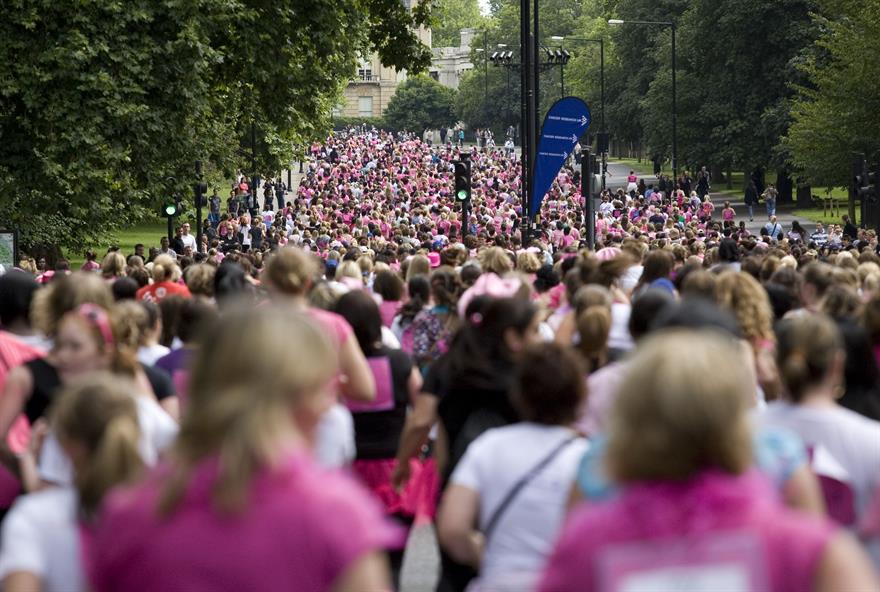 The top 25 charity-owned mass fundraising events of 2018 have been revealed by mass-participation events specialist Massive.
Both Race for Life and The World's Biggest Coffee Morning reported falls in income, whereas Alzheimer's Society's Memory Walk event chalked up its 6th successive year of growth.
Some 14 events grew their income, 10 saw falls and one saw income stay flat. The fastest growers were: Dyathalon up 53%, Kiltwalk 46 % and CupCake Day up 25%. The total raised by the events outside the top five increased again, as did the average amount raised by each event.
Top events
1. £37,100,000 - Race For Life Run, run/walk, Cancer Research UK
2. £27,000,000 - World's Biggest Coffee Morning, social, Macmillan Cancer Support
3. £7,700,000 - Memory Walk, Alzheimer's Society
4. £5,800,000 - Mighty Hikes, Macmillan Cancer Support
5. £5,000,000 - Kiltwalk, Kiltwalk
5. £5,000,000 - Movember, Social, The Movember Foundation
7. £4,900,000 - Moonwalk, Walk the Walk
7. £4,900,000 - Brave The Shave, social, Macmillan Cancer Support
9. £4,450,000 - Go Sober, social, Macmillan Cancer Support
10. £4,000,000 - Christmas Jumper Day, Dress, Save the Children
11. £3,950,000 - Shine Walk, Cancer Research UK
12. £3,650,000 - Sleep In The Park, social, Bite
13. £3,000,000 - BHF London To Brighton, cycle, BHF
14. £2,700,000 - Relay For Life, walk, Cancer Research UK
15. £2,600,000 - Walking All Over Cancer, social, Cancer Research UK
16. £1,800,000 - The Marsden March, walk, Royal Marsden Hospital
17. £1,700,000 - Wear It Pink, dress, Breast Cancer Now
18. £1,400,000 - Cupcake Day, social, Alzheimer's Society
19. £1,100,000 - ByteNight, other, Action for Children
20. £1,050,000 - BHF De-Chox, social, BHF
21. £1,000,000 - Longest Day Golf Challenge, Golf Macmillan Cancer Support
21. £1,000,000 - Dryathlon Social Cancer Research UK
21. £1,000,000 - London Legal Walk, London Legal Support Trust
24. £970,000 - Palace To Palace, cycle, Princes Trust
25. £960,000 - Jeans For Genes, dress Jeans Jeans For Genes
Massive's John Tasker said: "Over the last six years we've regularly seen new events successfully launch and deliver significant income in their first year and older campaigns refresh to reverse declines so it does feel like there is space for more innovation.
"Two of the fastest-growing events in the Top 25 were introduced less than two years ago and four out of five of events that are less than four years old grew in 2018 suggesting - there is an opportunity and appetite out there for new mass participation events."
Overall there was no significant change in the fundraising income from the 25 largest events in 2018, with income down by just 1% from the previous year.
Walking events continue to see substantial growth with big increases for Macmillan's Mighty Hikes and Memory Walk.
For more features and breaking news sign up to C&IT Magazine's daily News Tracker.
Have you registered with us yet?
Register now to enjoy more articles
and free email bulletins.
Register now
Already registered?
Sign in