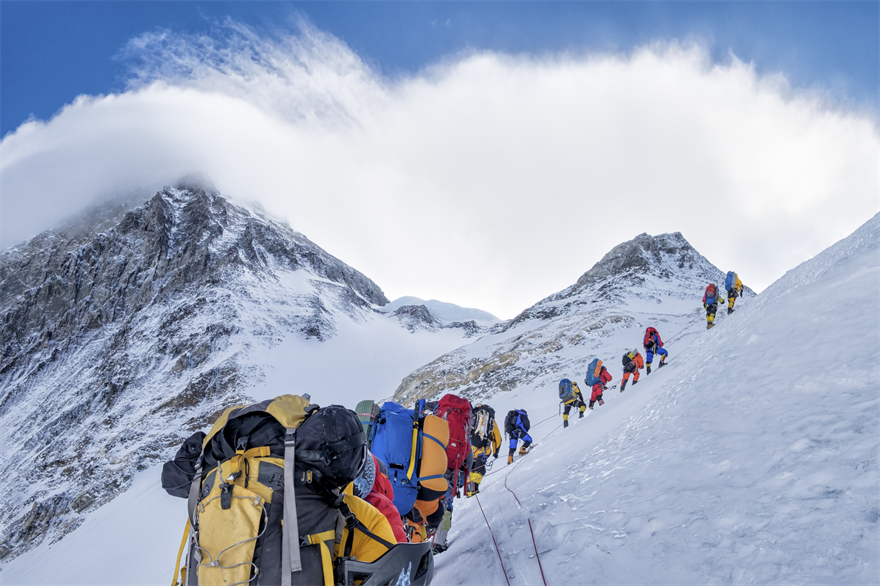 Some tour companies have described climbing Mt Everest as "easy", which is contributing to the widely reported queues to reach the summit and high numbers of deaths among climbers.
Experienced local mountain guide Kami Rita Sherpa told the BBC that an increase in the number of less experienced climbers is being caused by tour companies underestimating the risk that novices face when trying to summit the world's tallest mountain.
The image below, taken by @Nimsdai went viral recently and highlighted the number of people taking on an ascent that was once only attempted by the most skilled, fit and mountain-ready of climbers.
Image credit: @Nimsdai, Project Possible
While the problems being encountered on Everest are an extreme example of overtourism, it's an issue that many destinations around the world are struggling to cope with.
Venice is a prime example of a city struggling to cope with its popularity, and one that has had to introduce a tourist charge for its centre as well as gating certain areas to keep visitor numbers manageable.
Overtourism was discussed last week by a panel of incentive travel experts at the C&IT International Forum in Madrid. The debate covered the logistics of taking large groups to busy areas and whether the most popular places should be avoided altogether in peak seasons by incentive travel planners.
"In the very popular areas there are fewer resources like hotels, tour guides etc, which means we have to book things much further out and go outside of the busy season," said Kuba Piotrowski, global conference and event manager at Oriflame Cosmetics.
For Marilyn Levi, managing director of the Corporate Entertainment Consultancy, overtourism has led to slipping standards of hospitality in certain cities.
"In places like Nice and Paris the hotels get so many customers that they don't have to try so hard any more and the service levels have dropped," Levi said. "That's why we look at other destinations like Lyon."
At 'Tomorrow's Urban Travel', a conference held in Copenhagen last year, Harvard University professor Megan Epler Wood told an audience that the economic benefits of tourism can often be outweighed by an "invisible burden" that leaves destinations economically worse off in the long-run.
Crowds of visitors to Venice
For Everest, part of the solution may lie in privatising access to the summit, suggested Bloomberg columnist Adam Levi.
"Reforms that restrict the numbers of paying climbers and trekkers are unlikely to make much progress against the economic incentives to increase traffic," he said.
"Instead, Nepal should seek to invite the private sector to help manage Everest and other peaks. More commercialisation, not less, is the best route to promoting safety."
For more features and breaking news sign up to C&IT Magazine's daily Newstracker.
Have you registered with us yet?
Register now to enjoy more articles
and free email bulletins.
Register now
Already registered?
Sign in