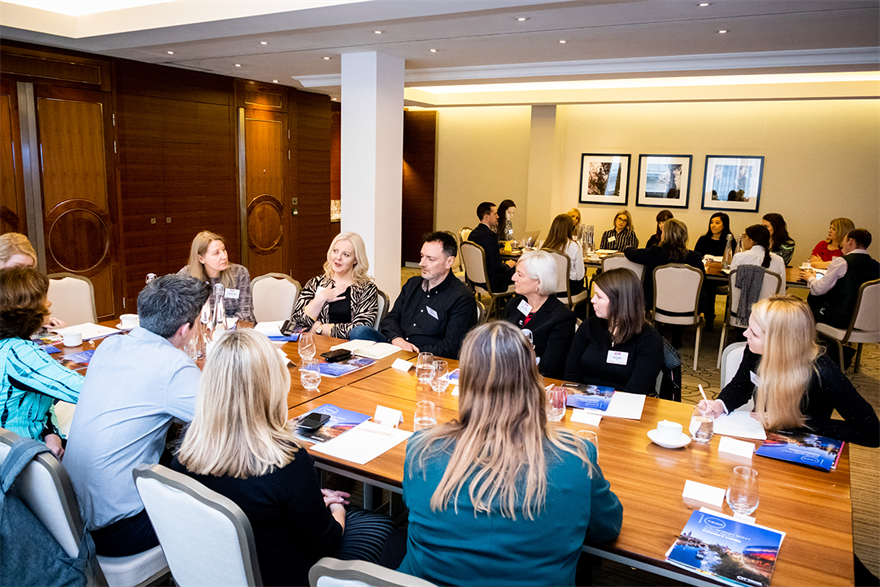 C&IT, in partnership with Ottawa Tourism and the Shaw Centre, hosted a breakfast at the Langham, London, for corporate, agency and association event planners to discuss possible answers.
Safety and wellbeing
Helena Vella from Seven Events, said that crisis management is imperative for event planning. After being in Paris on an incentive trip with a group of 100 people during the 2015 terrorist attack, she admitted this was the "first time I really thought we are responsible for these people and their safety".
Though as an event planner, you are always aware of crises: "It was that experience which led the team to take it seriously," Vella said. "You need plans in place and a team back in the office who can help deal with a crisis beyond your control."
Rachel Sodani of BNP Paribas, was also in Paris at the time, she said: "Nothing can prepare you 100 percent, but having a back-up in place is key to ensuring you are more prepared." She went on to say that crisis management training should be a "priority", especially in London.
But when asked about crisis management training, no one around the table had received any. Sophie Rose from the World Energy Council said that training would "definitely help".
Chelsea Tossoun, from the Association of Corporate Treasurers, discussed an upcoming work trip to Kenya. A recent terror attack there meant "extra measures are in place".
But is anywhere in the world free of risk?
Vella said: "You can't let fear stop you, things still need to happen abroad and you will have to travel."
John Kelly at BCD Meetings & Events, said dealing with a crisis comes down to communication: "The key is balancing this without scaring people."
Health and wellness – a consideration?
Helena Silver, from the Association of Corporate Treasurers, discussed how when planning events in the finance sector, health and wellness "isn't much of a consideration". More important is "the time and length of our conferences and how these fit into people's busy schedules".
But for incentive trips, health and wellness is definitely "a big focus" said Vella. With the current focus on mental health she explained how yoga, meditation and switching phones-off are a huge trend.
Lesley Mackay of Ottawa Tourism said putting mindfulness and meditation sessions on the agenda at events for senior and c-suite leaders is also proving popular.
Julie Watterson added that mindfulness can still be seen as a bit "hippy". She added: "People can be negative about it, but we often get feedback afterwards from people saying they wanted more and asked for longer sessions."
But what about the health and wellness of event planners?
Speaking about the industry's 'always on' culture – using apps such as Whatsapp for work purposes "people expect responses very quickly" Rose explained. Which is where "the lines between work and personal life can become blurred."
It seems there is now almost an expectation that as an event planner, you're always accessible. Bridie Gilbert from Fisher Productions said how some companies are looking to pause outlook for an hour a day as they find it affects productivity so much. But this can be a challenge when working with clients in different time zones who expect a response 24/7.
Eating healthily at events is also a challenge not only for delegates but for planners behind the scenes.
Mackay highlighted the hypocrisy, "We're bad at taking our own advice," she explained. "We spend so much time planning healthier food choices for delegates, we often end up forgetting ourselves."
The rise of veganism is also a big factor, especially for venues. On dietary requirements, Silver said: "Some people take it as 'What do you want to eat?' Rather than, 'What can you genuinely not eat?'"
Alice Franks from CWT, said: "As event planners we need to be mindful, especially if it impacts costs. And we are paying more for specific requests which are personal preferences rather than allergens."
Can events be sustainable?
Kelly discussed environmental considerations vs people's experience. Virgin Atlantic planes won't recycle alcohol empties that are mixed with food but they won't communicate that as they don't want to confuse customers and disrupt the passenger experience but "this is at the sake of the cost to the planet", he explained.
C&IT editor Calum Di Lieto asked the group whether they would drop a venue if they didn't prioritise sustainability.
Ulrike Von Lonski from the World Pretroleum Council, said the earlier you have that conversation the better. Kelly added: "We are seeing hotels that have zero waste and even solar panel-powered venues. You have to ask 'how much do you want your event to be sustainable?'" he said. But added this is likely to become the standard as more event planners keep asking for it.
Giselle Ripken from Taylor Bennett Partners, said: "The sheer volume of waste by our industry is quite shameful. We don't make it easy, it's far easier to throw it away than find a way to reuse it."
Shiryn Millard-Hill from SAS Event Management is hoping to source sustainable lanyards made from recycled materials which can then also be recycled. "No one is there yet," she said, "we are all in the early stages of these conversations."
Mark Gamble from the Shaw Centre in Ottawa discussed the convention centre's corporate social responsibility: "We ask event planners to donate any new, unused event materials to local community organizations in need. Staff volunteer to organise the donations, identify a recipient and deliver the goods, so our clients have a positive impact with minimal effort. Paying it forward with what's left behind shows the community we care about the environment and the causes that they champion."
Tokenism vs meritocracy
Di Lieto discussed diversity in events: "The industry is predominantly white and female-heavy up to a certain level. So, how do we ensure we create events that cater for everyone?"
Von Lonski spoke about the importance of creating a safe environment for all delegates when hosting in different cultures. How do you ensure volunteers, especially young women – are safe and not being abused, she said. Not just in terms of sexual abuse but harassment or being abused simply for being a woman: "This is a big issue we are trying to address," Von Lonski said.
But can you go too far with diversity and inclusion?
Von Lonski explained that the problem is when gender diversity is on the agenda then it's only women who tend to show up: "You want to have a balance and have the right people for that event," she said. Franks added that you don't want someone on a panel just to tick a box.
"You can't force women into sectors just for inclusivity in events. Unfortunately, the higher you get, the more men you see," added Ripken.
"As an industry we need to be more inclusive and have support networks, especially for women coming back into work after having children. Not just women helping women and men helping men but, everyone supporting each other," said Kelly.
Nicola Engler from Babylon Health mentioned a well known mental health charity offering free childcare during conferences helping to make the event accessible for working mothers.
---
Contact Ottawa Tourism Lesley Mackay, email: lmackay@ottawatourism.ca, tel: (613) 237 5150 or the Shaw Centre https://www.shaw-centre.com/
Have you registered with us yet?
Register now to enjoy more articles
and free email bulletins.
Register now
Already registered?
Sign in