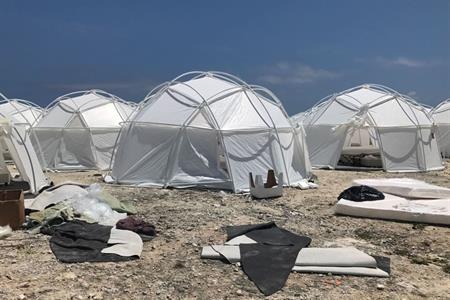 ILEA members have reacted in shock and disbelief as they reached a damning verdict over the failings of the Fyre Festival debacle.
Fyre: The Greatest Party That Never Happened is the Netflix documentary which brought event professionals breaking out in cold sweats on watching.
The words Fyre Festival have became synonymous with PR disaster, with many event planners in disbelief over just how the event turned into a catastrophe of epic proportions. Here's what ILEA members had to say:
First thoughts on the failings of the Fyre Festival?
Sabina Fechisin, program manager and director of Etc. & Stuff speaking to ILEA says: "I couldn't believe how unorganised and unethical the planning process was. I couldn't help but think of all the ways they could have done better."
Elizabeth Nutting, director of events for Production Canada says: "I spent most of the time aghast at what I was seeing… I could not understand why on earth the event professionals involved in Fyre Festival would ever want to show their faces, let alone share the stories that they shared on a documentary."
Michael Weishaus president of the Live Events Association at Johnson & Wales University says: "I was in complete shock. I could not believe that these people would even let the attendees get on planes knowing there was no way the event could happen."
As an events professional what was the 'craziest' thing you saw in the documentary?
Elizabeth S. Covino, associate professor in the School of Hospitality at Johnson & Wales University says: "Even when all the information was apparent, lack of facilities, supplies, housing and cancellation of performances, most of [the] team carried on with a blind faith that it would all work out."
Aisha Thomas, event producer and destination specialist at Aisha Thomas Events LLC says: "The craziest thing is the concept of an event with such a large magnitude was promoted and implemented without not only a full plan but no real location."
Sabina Fechisin says: "To me, by far the craziest thing was [asking] one of the event producers to get the Evian water released from customs. I also can't believe that the event producer was going to do it! Did they not know to budget for taxes and fees?"
Elizabeth Nutting says: "How is it that the pilot who taught himself how to fly by playing computer games was the only person raising red flags?"
What's the biggest thing you have taken away from the Fyre failures?
Sabina Fechisin says: "Be realistic about your budget, timeline and workload. Take your time and be thorough in the development phase.
"Don't let a client talk you into doing some shady stuff."
Elizabeth Nutting says: "Warn the client when your event is going off the rails. Hold steady to your values when your expertise is being questioned by an amateur. And walk away."
Michael Weishaus says: "The biggest takeaway would be to know your limits and to really know what you can do prior to marketing your event."
Elizabeth S. Covino says: "The biggest takeaway for live event professionals is that what we plan can have an impact on a much larger community then ourselves."
Aisha Thomas says: "Put contingencies in place and perform the proper research to understand the scope prior to attempting to produce."
More reactions may be found on the ILEA website and newsletter.
For more features and breaking news sign up to C&IT Magazine's daily Newstracker here.
Have you registered with us yet?
Register now to enjoy more articles
and free email bulletins.
Register now
Already registered?
Sign in