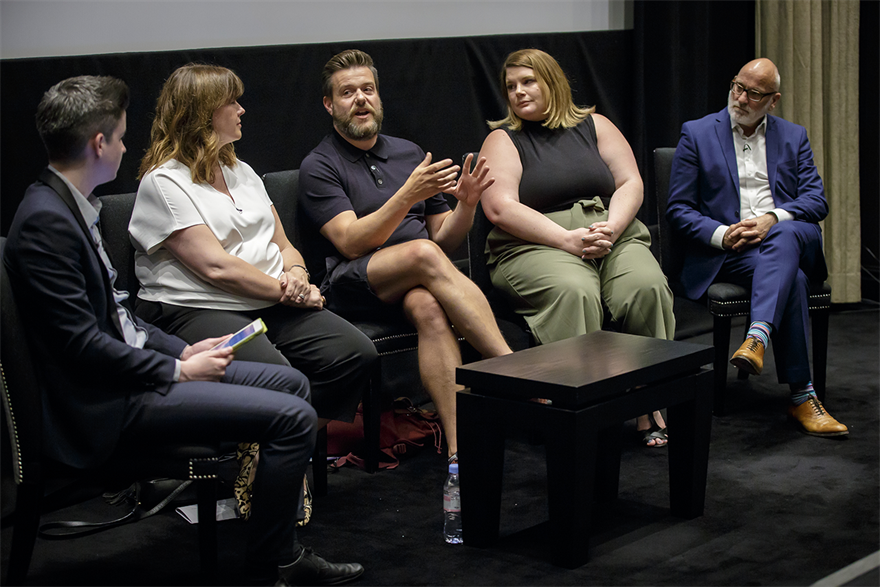 You could call ROI: return on inspiration. Has someone changed their behaviour as a result of what they've seen at your event?" said Nicola Wedge, head of events for Barclays UK at C&IT's Big Questions Live, in partnership with Cvent.
The event was chaired by C&IT's editor Calum Di Lieto in front of a live audience at London's Soho Hotel. The panel of event managers included Dominic Franks, director at experiential agency The Persuaders, Top Bananas commercial director Jemma Peers and Cvent's senior marketing director David Chalmers as they discussed the theme: 'Then, now and the future: where is event technology headed?'
Di Lieto kicked things off by debating the journey of event tech and asked the panel their thoughts on how to convince clients that the initial investment is worth it. "When it comes to event management, it really is split into two camps; one is operational efficiencies and cost savings. And the other is allowing you to scale and improve the results of the event," said Chalmers.
From an agency perspective "operational tech should be a given," added Peers. "What we need to do to further promote tech within our clients' business is to create a compelling reason to use it. It's about how we create the compelling reason, that a piece of tech is going to meet the client's objective. If you don't have that, don't bother pitching it."
The same rule applies for clients: "Don't just come with a problem, come with a solution as well," said Peers. "Getting that involvement from all stakeholders internally, and having the right people in the room, will really help. Don't be afraid to embrace new tech, because ultimately the audiences are probably already using it."
But it is not only about meeting client expectations, it is also about exceeding them. "Sometimes the client wants a piece of tech that doesn't even exist [yet], because they want to prove they are doing something different," said Franks.
So how do you get over the hurdle of convincing clients that the time, budget and investment is worth it? It is a really big focus, said Chalmers: "We call it the 'consumerisation of IT'. We've spent a huge amount of money overhauling our products to make them really simple and easy to use."
It is about proving the return on your events and that requires integration with the rest of your corporate systems. "Integrating with that stuff is key," added Chalmers.
Building trust in technology is a major part of securing that investment. Di Lieto quizzed the panel on how to do this. "We're so heavily regulated that we have to be very careful," Wedge reflected on her role at Barclays. "Time is a big consideration, so you need to stop and think, have we got time to test it?"
The same goes for agencies. Peers pointed out that you should not be afraid to take your client on the journey with you. "There's no harm in having an open relationship with your client," she explained.
However, with ever-increasing budget restrictions, agencies are often asked to do more for less. They need to be bold and brave and explain they can only provide a tech if it is relevant, said Peers. Ultimately, if it doesn't help with the message and the content of the event, then what is the point?
Tech for tech's sake
In light of this, "it's important to remember we must be ideas, experience and message-led," warned Peers. Franks added: "We never lead with tech, we lead with creativity." Tech should only be used to solve a problem or to achieve something – not just because it is cool.
Peers suggested that we need to be looking at how we can do "quirky, but not gimmicky" ideas that allow people to remain engaged.
But it is not just about budget restrictions and convincing clients. Venues need to step up and move with the times. For a start, they need to start offering complimentary high-speed internet because "you can't expect my clients to pay for that", said Peers.
While some venues are behind with technology, other hotel chains are embracing it. Chalmers gave examples of hotels using digital signage or keyless access and mobile check-in: "Those venues are already realising tech is a key differentiator for them; they have stuck their neck out and are invested in becoming a high-tech venue. Eventually, it will become more standard."
Knowing your audience
There is still a place for more traditional methods, though. It is about understanding and tapping into the demographic. "An app is perfect for some, but others might still need sheets of paper to relay information," Di Lieto offered. "We've got four generations of delegates at some events," said Peers, "so the tech we use has to be inclusive."
It is up to us to find ways of engaging the audience properly, said Peers. They need to want to engage with the tech in the first place "so when they come on site, they're ready and using it". Whether its an app, social media or a vote, start to think about the end result you want. Use competitions or gamifications to engage attendees, said Wedges, but "keep it simple and intuitive". Whoever is running the event needs to understand it. If they cannot explain it simply then it is not going to work.
Peers spoke about organising a session on AI and the future of that: "We wanted to be different, so we had Sophia the robot deliver the keynote. It's about thinking how can we spin this differently to land the message, but also really engage our audience."
Fast-forward to the future
On the future of event tech, the panel agreed it is about creating an emotional connection and enhancing the delegate experience. Chalmers predicted we will soon be able to interact with screens that appear out of the air, like Iron Man.
But the key thing, said Chalmers, "is to ensure you make the tech you want people to use integral to taking part in the event".
Have you registered with us yet?
Register now to enjoy more articles
and free email bulletins.
Register now
Already registered?
Sign in