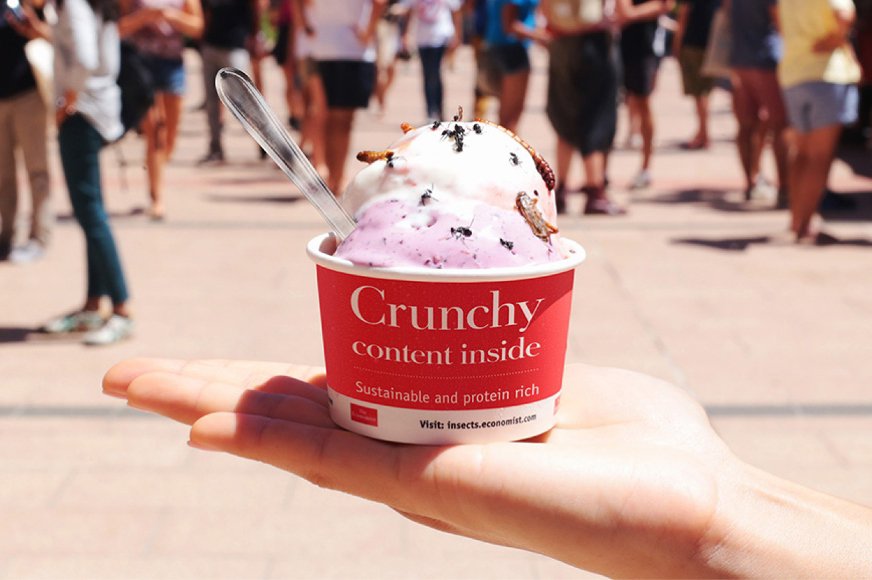 Senior marketing manager Kristi Egerth told delegates at Event360 why The Economist started doing experiential marketing, the types of activities and how they worked out.
Attendees the County Hall event on London's Southbank heard how a key pillar of The Economist's subscription strategy is to distribute journalism in smart ways. But the publication also aims to raise awareness among its target audience - the "globally curious".
Egerth spoke about the origins of the award-winning Discomfort Future experiential marketing campaign.
She talked about how five years ago, two young subscription marketers in the publisher's London office thought that people might be interested in a trial subscription with The Economist if they were given a cup of coffee - while they were in the street at a subscription recruitment stand.
"In doing so they had captured the basic notion of reciprocity," Egerth said.
"It's quite simple – give somebody something first because then they will be more likely to engage with you. The results were promising but something was missing. It didn't feel quite right for The Economist."
She explained how it brought The Economist's journalism to life in a way that people could experience its content in the real world.
That meant ice creams and crepes laced with protein-rich insects to smoothies and soups made from produce destined for the rubbish bin.
The Economist considers its readers to be "globally curious, outward-looking, forward thinking" and "seeking challenges while wanting to change our world".
As a publication, it is able to highlight critical global questions and possible solutions through its "mind-stretching" journalism.
"It was this overlap – those people wanting to know about solutions that would impact our future – and also being able to create such content – that we were able to find a natural fit in which to operate," Egerth added.
"We created an experience to attract readers who might be up for the challenge when looking for ways to address or solve critical global issues affecting our future."
Egerth gave the following examples:
Serving ice cream with grasshoppers and mealworms. Crepes and energy bars made with cricket flour with "buggy" toppings. Some two billion people around the world already eat insects. In 2014, The Economist explained how insects might become a mainstream source of protein to boost the food supply and sustainably feed people.
50% of all the food the world produces is wasted, meaning 600 tonnes of food is thrown away by restaurants, but one in nine people don't have enough food to live. So The Economist partnered with a company that "rescues aesthetically challenged" fruit and veg from farmers and supermarkets. These are turned into soups and smoothies.
65 billion farm animals are needed every year to feed the global demand for meat. But livestock production accounts for one-fifth of all greenhouse gas emissions, even more than from transportation. In 2016, The Economist produced a film called The Meat Makers that highlighted plant and lab-based meat alternatives and draws attention to greenhouse gas emissions from livestock farming. The content of the film was used alongside serving meatless hamburgers and tacos using a plant-based alternative.
Grounds For Change campaign served coffee with used beans donated to a company that turns the ground in biodiesel, some of which has fuelled some of London's buses.
For more features and breaking news sign up to C&IT Magazine's daily Newstracker here.
Have you registered with us yet?
Register now to enjoy more articles
and free email bulletins.
Register now
Already registered?
Sign in