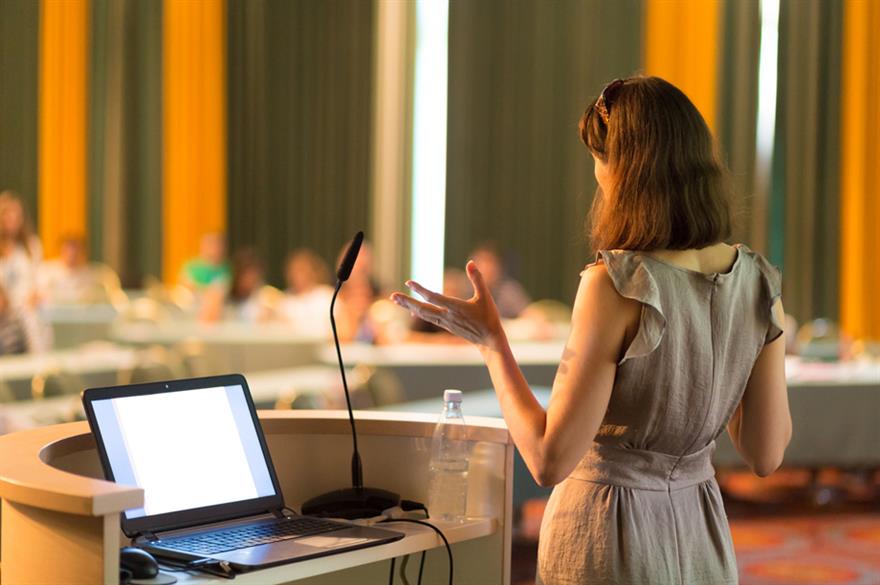 CES 2018, a mega tech conference hosted by the Consumer Technology Association which begins today, has been criticised for failing to find a single female CEO to fill any of the keynote slots. CES has cited a lack of takers.
What about when it comes to sourcing speakers in the events industry which has a plethora of high-profile female players?
"The issue with an under-represented area of society on any panel or conference programme is when it doesn't reflect the wider industry," said Hannah Luffman, director of Unicorn Events. "Every educational panel should be a direct representation of the social and gender pool of its wider stakeholders. In events, we are largely made up of young women and so it is only correct that our 'expert' panels are made up of the same."
Clearly the events industry with its majority-female demographic merits the inclusion of female speakers, whereas tech is known to be largely male-dominated. "I suspect that if one was to look at the percentage within the technology industry of men to women at the top of the ladder, there would be more men than women simply due to the nature of the business," commented Charlotte Wilson, director of Pure Events.
Holly Moore, founder of Make Events thinks that CES might just be making excuses: "I am actually astounded because whenever I go to an event there is always a good mix. In Manchester the magazine Business Cloud talks about the top women in tech so it's not like there is a shortage. I am gobsmacked particularly with the current climate on equality."
Of key importance however, is the avoidance of tokenism and a focus on expertise as the deciding factor, according to Jenny Jenkins, chair of EVCOM. "There is only one thing more uncomfortable (for speakers and audiences alike) than not having any women speaking. And that is having a token woman speaking," she said.
"If the right post holders and/or commentators have been matched to the right topics (regardless of gender) then this is a sound piece of programming surely? I have no issue with an all-male panel," she continued.
Nel Flint, director of operations at Capita Travel and Events, agreed that: "It should be the most appropriate speaker for the event. This sometimes means thinking beyond the most well-known person!"
A good benchmark for measuring appropriate speakers is by looking at client objectives and which speakers and topics will resonate with their audience, said Dan Laurence, managing director, HGA. "The most successful, captivating and inspiring speakers are those who have strong and meaningful stories to tell, irrespective of gender.
"We have an exciting cross section of both male and female speakers lined up for our events throughout 2018, all of whom are the best voices to reach an audience."
What about content though? A compelling and relevant set of topics could in itself lead to greater speaker diversity, says Jenkins. "Are the topics the right topics? Surely, the content would benefit from commentary from a diverse group of commenters? The mostly-white panel is probably as much of a concern as the all-male panel. But let's not fall into the trap of inviting women to speak because they are women. We invite them to speak because they are experts and leaders in their respective fields."
Having a panel or set of speakers who are diverse in a number of ways, gives a breadth to the subject "whether they are old, young, male, female, transgender, gay or straight," said Moore. To ensure this diversity you should "plan ahead. Identify what diversities the event should include as well as what topics they want to cover. Consider a focus group."
Wilson added that planners can also "Spend more time researching their speakers, and look for new and innovative up and coming specialists in that particular sector."
Most importantly, potential speakers must see value in attending and giving a keynote at an event. "They will say yes, if they recognise the value of the platform to their business and/or cause," said Jenkins.
For more features and breaking news sign up to C&IT Magazine's daily News Tracker.
Have you registered with us yet?
Register now to enjoy more articles
and free email bulletins.
Register now
Already registered?
Sign in