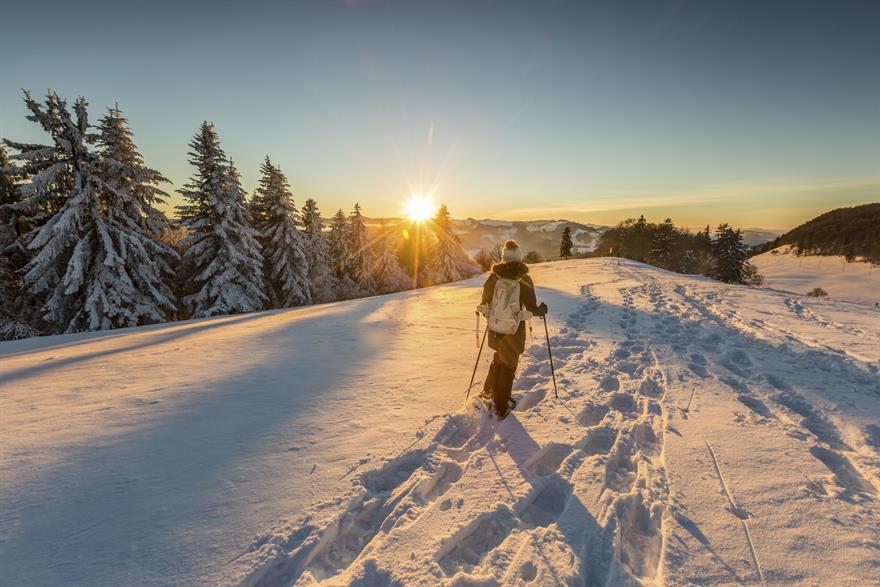 1) Adrenaline adventures
The longest, the oldest, the highest… when it comes to adrenaline activities, Switzerland is hard to beat for incentive groups looking for thrills. In every corner of the country, there are adventures to be had, with options including ice climbing, quad tours, ski jumping, tobogganing, bubble football, laser tag, glacier tours and paragliding. The Olympic Bob Run St. Moritz-Celerina is the world's only natural ice bob run and also the oldest bob run still in operation, while Zermatt boasts the longest pedestrian suspension bridge in the world. For the ultimate adrenaline rush, head to Lago di Vogorno to make a leap of faith on the 007 jump or GoldenEye Bungee Jump from the 220 metre-high Verzasca dam - the world's highest stationary bungee station.
2) Winter wonders
What could be more inspirational for your incentive group than a mountain and glacier landscape viewed at 3, 400m above sea level? With all-year-round attractions on the Jungfraujoch - Top of Europe, your event becomes an unforgettable experience on the summit. The Restaurant Bollywood is open from the beginning of April to the end of October. Switzerland offers plenty of opportunities to get out and enjoy the snow, from exploring the 56.5km of snowshoe trails in Chateau-d'Oex to building and testing your own sled in Grindelwald. Or explore the winter wonderland of Arosa in a special and adventurous way by husky sled – get up close to the huskies and learn how to steer the sled.
3) Culinary creations
Swiss chocolate is world-renowned and groups with a sweet tooth can head to Bern to create their own chocolate masterpieces. miniSchoggi offers a range of group activities from creating chocolate bars to filling truffles with the finest praline. For groups with a more savoury palate, why not spend a day at the dairy in Hemishofen? Just imagine being able to make your own soft cheese in a huge copper kettle over an open fire. You can also churn your own butter and sample it on freshly made bread. Or check out The Balik Farm in the lovely rolling hills of Toggenburg, where the world's most famous smoked salmon is manufactured by hand. Experience truly authentic cuisine combined with a tour through the smokehouse followed by a salmon tasting.
4) Sustainable Switzerland
If you're looking to leave a positive legacy from your incentive, the Swiss parks organise regular volunteering outings with companies that wish to do something for the environment. Located in the triangle between the cities of Bern, Fribourg and Thun, the Gantrisch is a diverse nature park covering 402km2. Groups that volunteer to spend the day here will accomplish important work to protect nature. Meanwhile in Zurich, Kovive camps provide poverty-stricken children and adolescents some carefree time filled with fun and adventure. Kovive can suggest tailor-made and project-related activities in camps for socially disadvantaged juveniles. Participants will have the chance to accompany a child or an adolescent throughout a day in camp.
5) Terrific Teambuilding
The newly developed outdoor "Tatort Tell" game leads groups through the mountain and lake landscapes of fabled URI. Armed with a game plan, crime scene cards and a Commissioner identity, participants follow in the footsteps of the unerring marksman, Wilhelm Tell to solve a murder. Some 15 stations scattered around Bürglen, central Altdorf point, bring you closer to unravelling this mystery. Or head to Grindelwald to learn the tradition of Flag Throwing. This typically Swiss tradition is a great cultural activity to add to incentives. Groups, who are introduced to the basics of this art by flag-waving experts, create their own choreography for the team. Accordions, Alphorns, and yodelling provide the musical accompaniment.
6) Cultural classics
Switzerland is also famous for its watches. Inspire delegates with a course in watch-making with the help of the master watchmaker of Initium in Le Noirmont. Make your own mechanical Swiss watch in a Swiss watchmaking factory in the heart of the Jura mountains – enter the fascinating world of miniaturised mechanisms. There is room for up to 12 people in the shop and there are different types of programmes from a simple introduction to watchmaking (1.5 to 3 hours) up to the full assembly of a watch (1 day). Alternatively, immerse delegates in St.Gallen's world of couture. At the Atelier der Manufaktur workshop, participants will be introduced to the creativity of embroidery and create their own personal accessory.
To find out more visit: www.myswitzerland.com/meetings
Or contact Livio Goetz at scib.uk@switzerland.com
Have you registered with us yet?
Register now to enjoy more articles
and free email bulletins.
Register now
Already registered?
Sign in