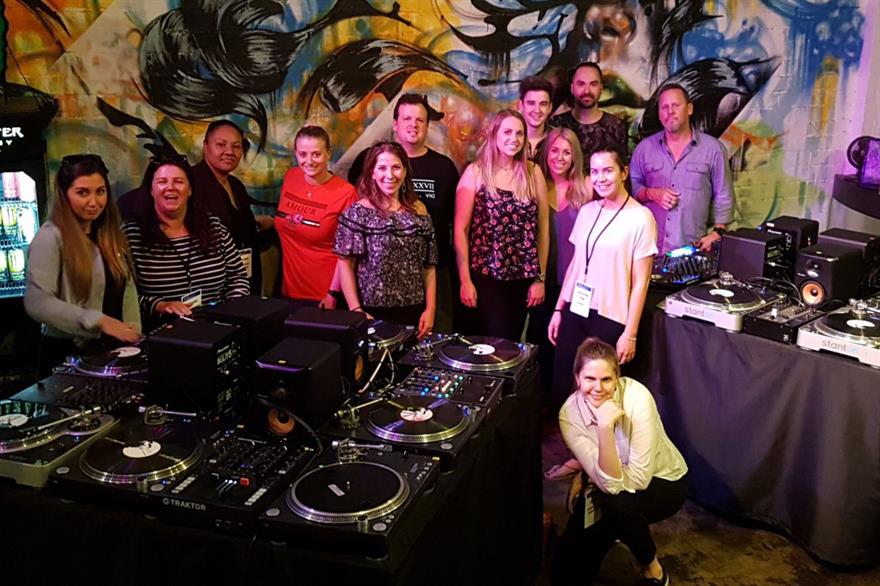 Every year C&IT compiles a list of 35 event professionals under the age of 35. Individuals going above and beyond in their career who are the 'ones to watch' within the industry. This is the long-established A-List.

2017's A-List was sponsored by Los Angeles Tourism & Convention Board and so a handful of A-Listers were invited to attend a FAM trip in the City of Angels for a musical experience like none other.

It was an unbelievable trip that involved hiking the Hollywood hills, learning to DJ at Jam Master Jay's Scratch Academy and attending the high-profile, celebrity-filled American Music Awards 2017.

One of the deserving A-Listers was Paul Moynihan, director at wefindvenues, part of AOK Events, who blogged about his experiences. Here's what he had to say…
Earlier in the year, I was lucky enough to be chosen as one of C&IT Magazine's industry A-list, a compilation of 35 industry figures making waves in events, all aged under 35. This involved a photoshoot (awful), a launch party (great fun) and many of my colleagues questioning if I was in fact under 35 (totally uncalled for). Each year the accolade is sponsored by a different tourist board, this year it happened, very luckily, to be the Los Angeles Tourism & Convention Board.

Some months after the fanfare had died down, I received an email akin to finding Charlie's golden ticket:

"The Los Angeles Tourism & Convention Board looks forward to welcoming you to the Los Angeles Music Experience 2017. Experience the best of Los Angeles as we visit the destination's most exclusive hotels, special event venues and celebrate music."

Well, who am I to refuse such an offer? Therefore, on a miserable Thursday in November I headed off to Heathrow Airport to join another nine A-Listers for five days of Californian sunshine, and as if things couldn't get any better Air New Zealand had agreed to sponsor the trip in the form of return business class flights. For someone who thinks Ryanair's priority boarding is a luxury, this was quite something.

After just under 11 hours of being wined, dined, and sleeping in a bed more comfortable than my one at home, we landed at LAX. We were whisked away to our hotel for the night, the Ritz Carlton in Marina Del Rey, and within 15 minutes we had arrived in a place that felt a million miles away from a major airport, enjoying drinks and canapes on the hotel's terrace overlooking the Marina. For those who think LA is so big, it takes forever to get anywhere, think again, and then think about where you could get in 15 minutes from Heathrow - that's right – Hounslow.
The following morning, we were up at the crack of dawn with helmets donned ready for a bike tour. We meandered up through the beautiful Venice canals, took in the hipster high-streets and eventually ended up at Venice Beach, which is every bit as cool as you'd hope. Sadly, Muscle Beach was closed so I didn't get a chance to show the lads how it's done, but thankfully the super cool Hotel Erwin was open and had laid on quite the breakfast spread for us.

A quick trip around the shops of Santa Monica preceded a visit to the world-famous pier, which can be privately hired for events for up to 2,000, and a quick spin on the Ferris wheel. After the morning's excitement, we settled into The Huntley Hotel and enjoyed lunch, and possibly the best Bellini I've had outside Venice, while drinking in the views from the top floor restaurant.
DJ school
The last activity of the day was a slight change of pace; we were to be taught how to become DJ's at the Scratch Academy, one of a chain of academies set up by the late, great Jam Master Jay. Initially I was sceptical that a couple of guys wearing their baseball caps the wrong way around could entertain, let alone teach a musical luddite like me anything. However, it was brilliant! The amazing DJ Hapa had us all mixing beats, dropping bars and spinning decks within the hour. While I can imagine it may have sounded a bit off, it was incredibly good fun.
Day two was another early start – those Californians don't believe in lie-ins apparently – and breakfast at the Luxe Hotel on Sunset Boulevard. We dined outside in the bright sunshine while sipping Bloody Marys (with bacon in!), as mighty fine start to the day.
Turns out we'd need the energy as next up was a VIP tour of Universal Studios, which has been making films in Hollywood for over 100 years. We started with an exclusive backstage tour of the sound stages, streets and props department. Then utilising our VIP status, we queue jumped a few rides in Harry Potter World, both of which made me glad we had done this before lunch. We arrived back to our hotel on a TMZ bus tour of Hollywood celebrity hotspots but sadly failed to see anyone we recognised.

That evening we headed to Beverly Hills, renowned for its luxury, decadence and glamour. We started at the five-star Montage Hotel where we enjoyed a glass of champagne in the '£10 Bar'. Sadly, they didn't see it fit to give us A-Listers a glass of their $64,000 a shot Macallan whisky, a speciality of theirs, but this was one of the coolest bars I've ever visited. From the manager's name, Cash Black, to the dark moody interior I loved the place in an instant. Dinner was served over the road at Mastro's, a buzzing restaurant where we relaxed in the private dining while listening to the live jazz band play.

Hitting the red carpet
After a night in a new hotel, the modern Sheraton Downtown, we had a leisurely start for this was to be our BIG DAY. A major part of this whole trip was a ticket to the American Music Awards, which take place at LA Live. Our hosts had kindly booked out a downtown salon for our exclusive use and we headed there for pampering. Mimosa in hand I enjoyed the most expensive haircut I've ever had and came out looking rather dashing, and slightly tipsy. Part one of the evening involved drinks and canapes at The Conga Rooms, a nightclub co-owned by Jennifer Lopez, which overlooked the AMA red carpet.
The awards themselves were incredible, and we enjoyed performances by Pink, Christina Aguilera, Niall Horan and a K-Pop band called BTS, who were quite the hit with anyone not old enough to remember the Millennium Bug. The star of the show and winner of the lifetime achievement award was Diana Ross, who got everyone to their feet and blew us away. No awards are complete without an after-party, for which we headed to Perch, a rooftop bar in Downtown where we sat by a fire, with some great new friends and enjoyed the view across the magnificent city of LA.

Our last day started with an early hike of the Hollywood Hills, a smart move by our hosts in an attempt to blow away the cobwebs of the previous nights' indulgences. No trip to LA would be complete without the obligatory snap of that famous Hollywood sign, but the views of the rest of the city are worth the climb alone.

A quick lunch at the new Freehand Hotels Exchange set us up for the flight home. The sight of our seats on that plane was bittersweet. Lord knows we needed the sleep, but I certainly went home with a heavy heart. I'd come to LA not knowing what to expect, and I left completely in love.

So, would I hold an event there?

Yes, in a heartbeat. It really is a city that offers something for everyone and you can pick and choose what you want. It's hard to describe the size of LA and I think that puts some people off, but you don't have to use it all.

For large events, Downtown is now bristling with mammoth hotels and huge conference spaces. If you want something more refined, Beverly Hills can meet that requirement. Should your group want a chilled-out experience then head to one of the many beachside towns. I think LA is one of the most perfect destinations I've been to for incentive groups. I can't imagine there are many demographics that wouldn't be very happy to explore this fantastic place.

For more breaking news and in-depth features, sign up to C&IT's daily News Tracker here.
Have you registered with us yet?
Register now to enjoy more articles
and free email bulletins.
Register now
Already registered?
Sign in